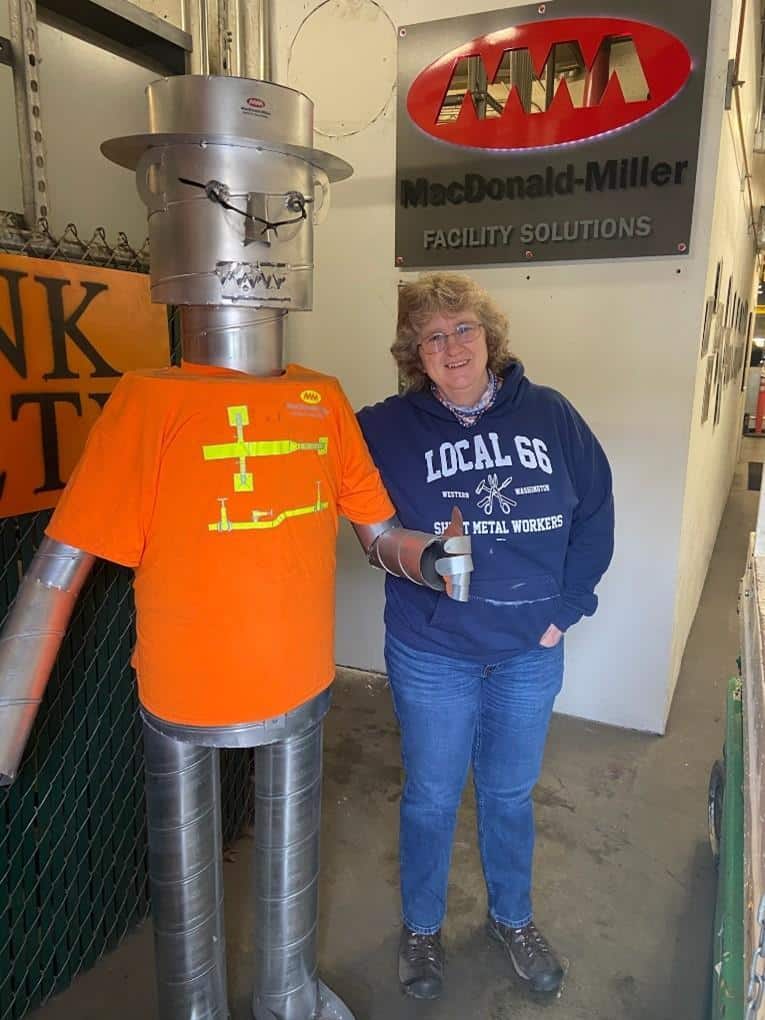 Current title/position? Sheet Metal General Foreman/ Sheet Metal Shop General Foreman
Years in the trade? 25 Years
What unique strengths do you bring to your trade? Creativity. The ability to see the big picture, break down the steps, visualize the flow of work, and prioritize.
What do you love to do when you're not at work? Camping with my family, riding my motorcycle, and kayaking.
Goals in the future–any ambitions or changes to your career, growth or education? Retirement in 3-5 Years
What surprised you about your trade? Becoming a foreman. There weren't that many women who were foremen when I started. Women were more concerned with getting hours.
What do you find frustrating about your job/trade? Not being heard.
What's the coolest job you've worked on? Benaroya Hall. I worked in the field on that project, it was amazing. The sound cells were huge, and the interior of the auditorium was paneled out of one tree.
What traits do you think a good sheet metal worker has? A good work ethic. Showing up on time, being ready to work. Being teachable and willing to do what is asked of them.
Why sheet metal? I took shop classes in junior high. In my 30's I got reintroduced to it in welding school. Getting back into it, I felt I was doing what I am supposed to do.
Tool you can't live without? I can't believe I am saying this, but my computer. There are so many programs I use daily to schedule work.
Best advice you got as an apprentice? When you start with a new company seek out the people that have been there a long a time and try to learn from them.
Best advice for an apprentice? Be teachable and reliable.
Women build nations… thoughts, experiences, etc? I always feel grateful for the upcoming generation. They have such an expectant attitude and energy that I always leave there with the attitude we can do anything!!!!!! This next generation of women see themselves as foremen, superintendents, and running work. Their attitude is when, not if, when it comes to promotions. They have such different outlooks and concerns than we did 25 years ago.
Other advice? Learn as many facets of the trade as you can. The more you know, the more likely you are to stay employed.