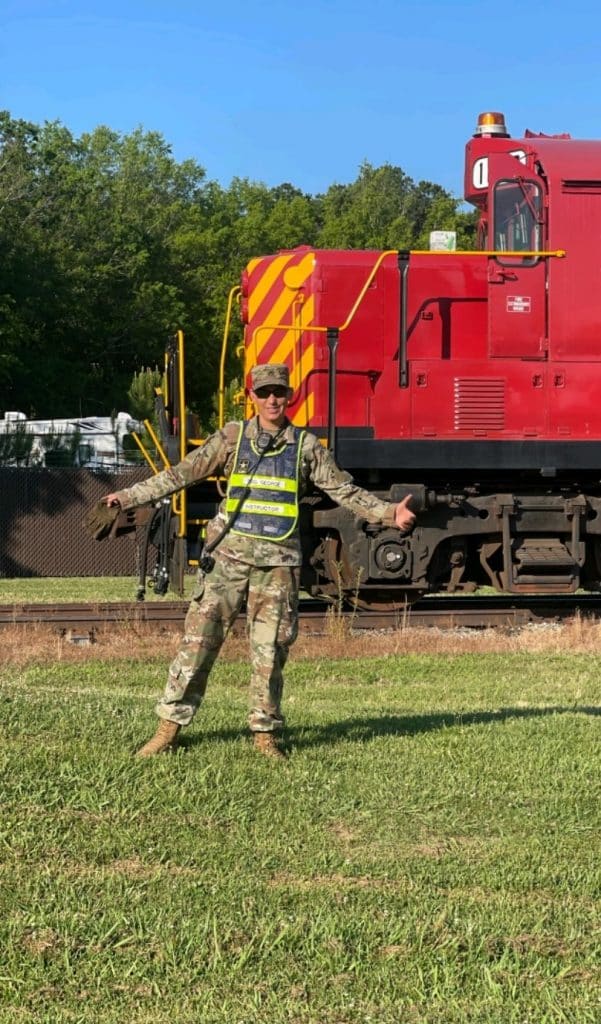 Teresa George has been a member of the SMART Transportation Division for 16 years. But her service extends beyond her time as a conductor; she has been connected with the railroad since December 1998.
"I started with the U.S. Army as an 88U (railway operations crewmember)," George explained. "I am now an instructor teaching the 88U MOS (Military Occupational Specialty)."
Since transitioning to the civilian railroad – she currently works for CSX – she has continued to flourish. Read more about her journey:
What unique strengths do you bring to your trade?
In [my career], I have shown that I, as a woman, am just as capable as others in my craft – if not more so than some of my male counterparts. In addition, I am proud to realize that I have made it easier for other females to follow [in my footsteps].
What do you love to do when you are not at work?
I am an avid comic book collector and love cycling. And of course, I enjoy teaching the 88U MOS for the U.S. Army.
Goals in the future — any ambitions or changes to your career, growth or education?
I look forward to being promoted permanently as a locomotive engineer. And I am presently working hard to prepare for retirement, when I plan to travel to every national park in the United States.
What surprised you about your trade?
I was very prepared for the railroad because of the military experience I have. But the lack of downtime was a bit frustrating at times.
What do you find frustrating about your job/trade?
[Trying to plan] for a life outside of work. I have no idea what I am going to be doing from week to week. I have a hard time being able to spend time with family or friends.
Tool you can't live without?
I have two. One is my fellow union members who diligently work alongside me. The second is a good pair of boots with a hard, thick sole. They make a long day of pounding rocks easier.
Best advice you got as an apprentice?
Just hang in there. Time will go fast, and as you [progress], take advantage of the knowledge of those around you. Do your best to learn as much as you can and get better in your craft as you go.
What do you think about Tradeswomen Build Nations?
I think it's awesome, bringing a spotlight on the fact that not all of the people in SMART are men. And that the women that are out there are talented, skilled and amazing union members.
Are you active in trade-related activities such as career fairs, volunteer work or SMART Army events?
I am a part of the MRS (Military Railroad Society). The MRS is keeping some of the rich military railroad history alive, and in 2021, we brought the Sgt. Santa train back to Fort Eustis – a holiday-themed ride for soldiers and their families that hadn't happened since 1978.