Local 16 (Portland, Oregon) journeyperson Madyson Ebert has spent seven years in the sheet metal trade, working on a variety of jobs and applying her expertise to duct installation, hanger layout and more. Learn more in this sister story:
What unique strengths do you bring to your trade?
I have a bachelor's degree in fine arts from the University of Oregon, so I like to think I bring a critical eye and some creative problem-solving when it comes to duct installation and finish work.
What do you love to do when you are not at work?
I love hammock camping, printmaking and playing any racket sport when the weather is decent.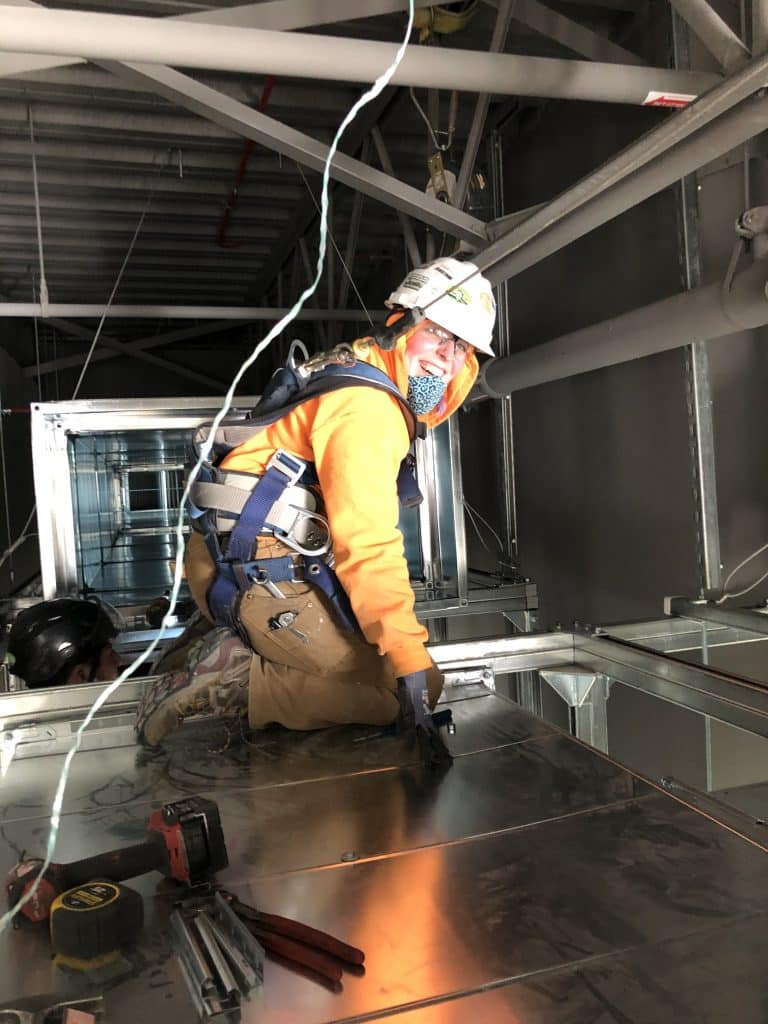 What goals do you have in the future — any ambitions or changes to your career, growth or education?
So far I've been incredibly lucky to have worked on an assortment of job sites. I'm going to be in my first leadership role as a foreperson here this fall on a pretty big project, so I'm looking forward to learning even more about the trade from that position. I've also been able to work with Trimble and Leica doing hanger layout in the last couple years and have enjoyed the challenges and troubleshooting that have come along with it. They're amazing tools that I look forward to mastering further.
What surprised you about your trade?
All of the different people that I get to meet and work with. It wasn't something I was initially expecting to enjoy when I first got into sheet metal, but it's become one of my favorite aspects of work, hands down. I love seeing all walks of life and learning about what has brought people to the trades.
What do you find frustrating about your job/trade?
The lack of communication on job sites. I've seen it improve as a whole, but there still seems to be a lot of problems caused by people not trying to clarify or ask necessary questions about some of the work being done.
How did you get into SMART?
I had worked mostly physical jobs from high school through college and found myself trying to figure out what career I really wanted to pursue in my mid-twenties. I was working at a retail store in downtown Portland when a customer and I got to chatting and she mentioned Oregon Tradeswomen Inc. and their pre-apprenticeship program. As someone who never considered the trades and had no family or friends to consult in the trades, I decided to apply for their pre-apprenticeship. Eventually we visited the Sheet Metal Institute and I thought, "Wow, I can really see myself doing this…" and so I applied and got into the apprenticeship at Local 16 a couple months later!
Tool you can't live without?
I'd have to say my screwdriver or lineman pliers. They seem to be the handiest item for me when it comes to straightening raw edges on duct or helping get S and drive together or some duct through a tricky penetration.
Best advice you got as an apprentice?
If you look at a trade and ask someone what the worst job you can do in that trade is, imagine yourself doing that task for six months straight, and you think you'd be okay with it, you've probably found your trade.
What do you think about Tradeswomen Build Nations?
I was lucky enough to attend in 2019 and was blown away and humbled by just how many women there are and have been in the trades. It really made me feel like a part of something larger. I hope everyone gets to attend at least once to see and experience it.
Are you active in trade-related activities such as career fairs, volunteer work or SMART Army events?
Early on in my apprenticeship I was lucky enough to have the opportunity to speak to a class of high schoolers about my experience and was able to visit Oregon Tradeswomen again and talk to some new pre-apprentices.