Kansas City tradeswoman Pamela Blackmore is a journeyperson, a night shift foreman, a conductor at Local 2 union meetings and the recording secretary for the Local 2 Women's Committee. And after 29 years in the trade, she says she will "talk about or answer any questions about sheet metal, and just maybe inspire a young person into the trade when they hear how long and successful my career has been." Read more in her sister story:
What unique strengths do you bring to your trade?
Tenacity, determination and drive: Without these, I would not have had the successful and long career that I have enjoyed. And leadership: I have the foresight to recognize the talents of my fellow brothers and sisters and understand the tasks that need to be completed.
What do you love to do when you are not at work?
I really love to snag for spoonbill (paddlefish) and crappie fishing with my family and friends. I also find a lot of enjoyment cooking for myself and others. If I find a neat recipe, I have to give it a go in the kitchen just to see how it tastes.
Goals in the future — any ambitions or changes to your career, growth or education?
My goal is to retire in two years and enjoy time with my husband at the Lake of the Ozarks.

I hope to still be an active and viable member of Local 2. Would I change anything about my career? Probably nothing. Yeah, it would have been easier on the old body if I had an office position, but I think me being out there working alongside my brothers has made it possible for the women who have entered the trade to be accepted, and for the most part equally important to the contractors.
What surprised you about your trade?
Being able to take a flat piece of metal and transform it into a unique shape or form that has a purpose, whether it is round or square duct or the always visible architectural metals. I have always worked with my hands, and now I make a great living doing just that.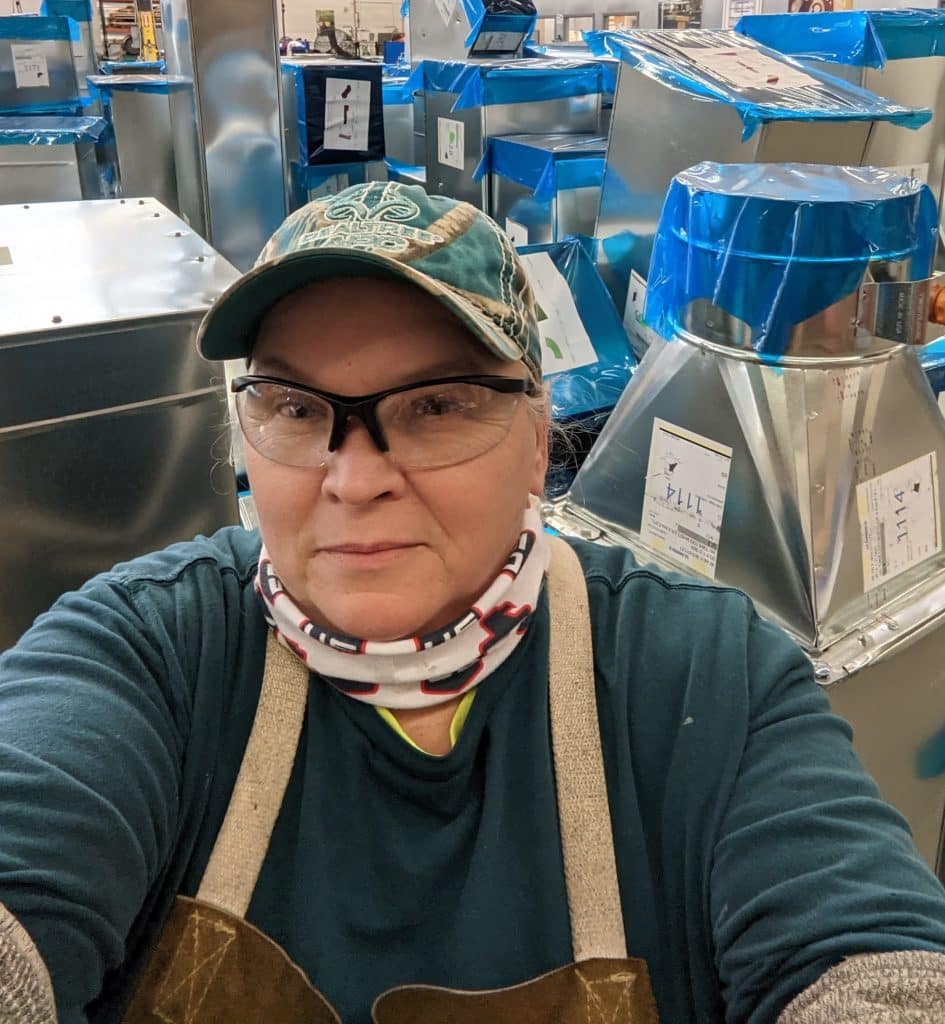 What do you find frustrating about your job/trade?
My biggest frustration is how little pride in craftsmanship some members have. We are paid good money and contractors deserve a quality product – the "looks good from my house" mentality angers me.
How did you get into SMART?
I have a Bachelor of Science degree in machine tool technology and tried three years in a row to become a machinist, but they were not taking applications. My dad was the union Teamster driver for a sheet metal contractor, and he told me that I should apply because he knew I would be able to do the work.
Tool you can't live without?
My hammer!!! Not just any hammer: a 20-ounce, leather-wrapped, East Wing tinners' hammer. I used it on my very first day in the trade, and chances are I will use it the last day before I retire.
Best advice you got as an apprentice?
Show up and do your absolute best that day, things get a tad bit easier each following day. – Roy K.

Best advice I could give an apprentice: Learn everything you can. Take the extra classes at your JATC, take the online classes too. The more knowledge and training you have, the greatest chance you will have for success in your career.
What do you think about Tradeswomen Build Nations?
I love it. To be part of this conference and feel the energy of empowered women of all trades is truly wonderful. I look forward to networking with sisters across the country and having fun as well.
Are you active in trade-related activities such as career fairs, volunteer work or SMART Army events?
Oh my, yes. I have spent many hours doing outreach at school career days, vo-tech fairs, and at community festivals. I help during Camp NAWIC and Heavy Metal Summer Experience. On several occasions I have helped people in the community with Habitat for Humanity projects in Kansas City.

I'm not really the kind of person to toot my own horn, but I will talk about or answer any questions about sheet metal, and just maybe inspire a young person into the trade when they hear how long and successful my career has been.