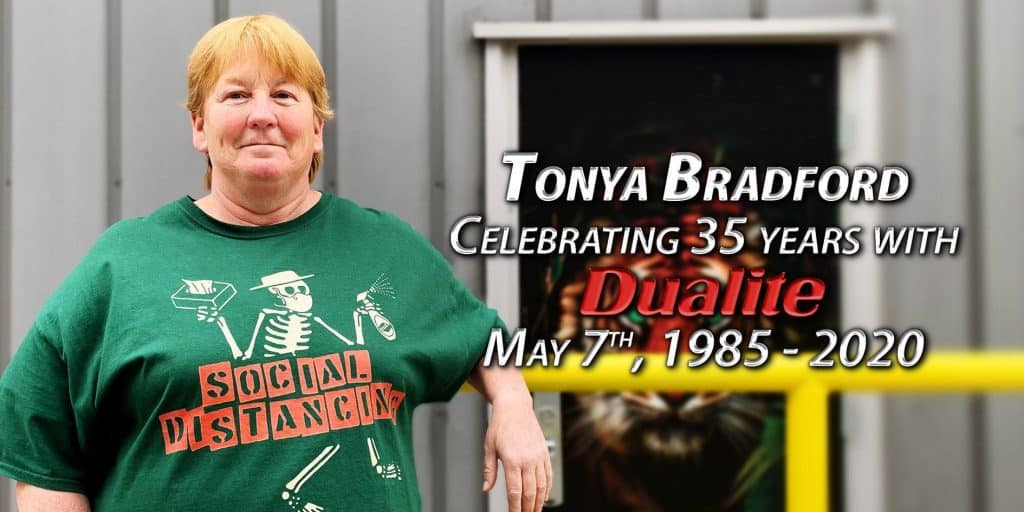 Current Title/Position? I am currently the department Lead Person in the Silk Screening Department at Dualite, Inc., which is one of the largest identification sign companies in the world, located in Williamsburg, Ohio, and part of SMART Local #24 with 120 sheet metal production members.
Years in the Trade? Over 35 years.
What unique strengths do you bring to your trade? I make sure to keep the production flowing in my department to meet customer needs and demands and to fulfill shipping schedules for national accounts such as Dollar General Stores, Chevron, Texaco, and Sherwin Williams Paints. I also pitch in when and where I am needed to get the job done.
What do you love to do when you are not at work? I love to ride my motorcycle, spend time with my kids and grandkids, and watch my grandson play football.
Have you been in Leadership position? I started out as a Lead Person in the Silk Screen Department at the Dualite Indoor Facility in Owensville, Ohio. In July, 2015, that facility was shut down and the members were transferred to the main plant in Williamsburg, Ohio. In 2017, I was appointed as the Lead Person over the Silk Screen Department at the Williamsburg facility. I have also been on the Union contract negotiating committee many times negotiating Collective Bargaining Agreements at both plants. I have recently been appointed as a Union Steward and will be a teller at the upcoming SMART Local #24 officers election. I have been part of organizing and helping to form the first Women's Committee in Local #24.
Goals in the future – any ambitions or changes to your career, growth or education? I do not plan on changing my career. Providing my health and body allow me, I plan on retiring from my current job.
What surprised you about your trade? The joy I got from printing a sign and enjoying it.
What is the coolest job you have worked on? Printing four (4) color process. That is the process of printing successive layers to create a full color image. You end up with an awesome looking sign.
Tool you can't work without? Right now it would be my computer. That's where I get all the jobs from and scheduling information to keep the work flow moving.