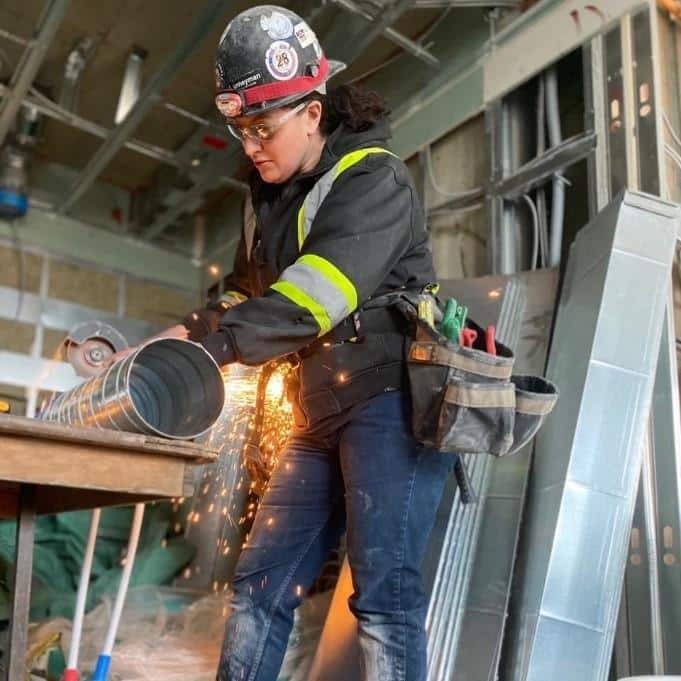 Current title/position?
Journeyman sheet metal worker
Years in the trade?
8 years
What unique strengths do you bring to your trade?
Grit, organization, and passion
What do you love to do when you are not at work?
Coaching softball, volunteering and mentoring Up and coming tradeswomen
Goals in the future–any ambitions or changes to your career, growth or education?
Maybe union work, or part owner in a company
What surprised you about your trade?
How much there is to our trade, so many directions you can go with your ticket!
What do you find frustrating about your job/trade?
Poor engineered systems haha kidding but no really 🙂
What's the coolest job you've worked on?
The empress hotel and the Hudson market. Huge grease duct projects
What traits do you think a good sheet metal worker has?
Organized, on time, and can think outside of the box
Why sheet metal?
Why not? I loved the fact we make everything we install, or most!
Tool you can't live without?
Hammer
Best advice you got as an apprentice?
Work smart, not hard! Practice makes perfect. If he can do it so can you!
Best advice for an apprentice?
Find a mentor.
What do you think about Women Build Nations?
Best experience, every single woman in our international should have the opportunity to attend! All Business reps should too!
Are you active in trade related activities such as career fairs, volunteer work, or SMART Army events?
Hero work radical renovation for peers, children's hospital car show, jeence place fundraiser, governance committee for the bc centre for women in the trades (BCCWITT)governance committee for the equity workforce project, A director of the BC trades women society, co chair of local 276 women's committee, regular speaker at Camosun college promoting trades