Vice President Kamala Harris visited the SMART Local 17 union hall in Boston on Wednesday, November 2, emphasizing the work SMART members will perform as part of the Biden administration's push to lower energy costs. Harris announced a variety of steps the administration will take – part of the Inflation Reduction Act – to help working families stay warm in the winter and cool in the summer; many of which will create union jobs manufacturing, retrofitting and installing energy efficiency equipment.
The vice president was introduced by SM Local 17 member Shamaiah Turner, who proudly represented our union and the many boundary-breaking women and people of color in the union trades.
"The Inflation Reduction Act … pushes the boundaries of what's possible in terms of providing good jobs and a sustainable way to address the climate crisis," Turner explained.
"Shamaiah, you represent the heart and soul of Local 17," Harris said upon taking the stage. "Thank you for that introduction and all that you have done – and all that you have left to do."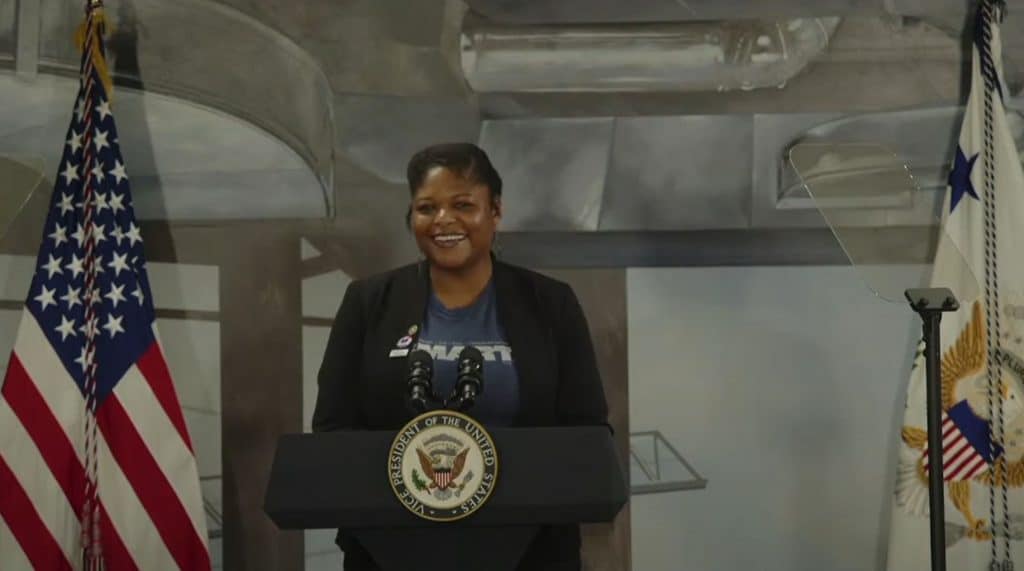 After thanking Local 17 sheet metal workers for their work building our nation, Harris outlined the Biden administration's aim to "create millions of good-paying union jobs, to protect workers' rights, to expand American manufacturing and to lower costs for American families."
"One of the best ways a family can reduce the energy bill is to make their home more energy efficient. But here's the challenge," Harris added. "For many homeowners, energy efficiency upgrades are expensive. … And that is why we are investing $300 million right here in Massachusetts, and $13 billion nationwide, to help families upgrade their homes and to lower their monthly energy bills."
As part of the White House's plan to lower energy prices, the U.S. Department of Health and Human Services is providing $4.5 billion in assistance to help cut heating costs for the Low-Income Home Energy Assistance Program (LIHEAP), helping families make necessary repairs and upgrades to their homes to increase energy efficiency. Additionally, the Department of Energy will allocate $9 billion in funding from the Inflation Reduction Act to support up to 1.6 million households nationwide in upgrading their homes to decrease energy bills, including by installing heating pumps – efficient technology that can heat and cool homes and buildings using half or a third of the energy used by traditional heating systems. Importantly, Harris noted, the labor standards included in the funding incentivize the use of skilled, certified workers to perform such upgrades.
"These investments will also create jobs. Jobs for electricians, who do the residential wiring. Jobs for laborers, who install energy efficient windows and doors. Jobs for sheet metal workers, who build and install electric heat pumps. Jobs for union workers who will be trained right here in this building."
In a fact sheet released ahead of the event, the White House specifically directed stakeholders to BetterAirInBuildings.org – a resource that enables interested parties to find skilled, certified SMART workers and SMACNA contractors for their building needs. The administration also announced its intention to designate funding for workforce development and training, helping local communities and unions like SMART expand access to good, union jobs.