Wisconsin sheet metal worker Stacy Ironside has been a Local 18 apprentice for two years – after initially fearing that she wasn't physically capable of entering the industry, she says, "I am in the career and the trade that I was meant to be in." Read more in her sister story:
What unique strengths do you bring to your trade?
Something unique that I bring to the sheet metal trade is that I am pretty computer-literate, which I think helps with the job – especially with how things are changing. I also have an office background and my communication skills are pretty good, which helps as well.
What do you love to do when you are not at work?
When I'm not working, I like to go camping and do arts and crafts. I like to quilt. I also enjoy working on house projects with my husband!
Goals in the future — any ambitions or changes to your career, growth or education?
My goal for the future is to learn all the aspects of the trade and figure out where I want to go from there. I really like the CAD programming aspect of the job, but I also like working with my hands, so I don't necessarily want to sit at a computer all day. I'd also like to learn more about welding and get better at it.
What surprised you about your trade?
Originally, I was worried that I wouldn't have the strength to do the job, but you actually get a lot of help from your coworkers. You're not expected to lift heavy amounts by yourself. Nobody wants you to get injured. I found it surprising that I didn't need as much help as I thought I would, and also the fact that if you do need help, everybody is willing to help out.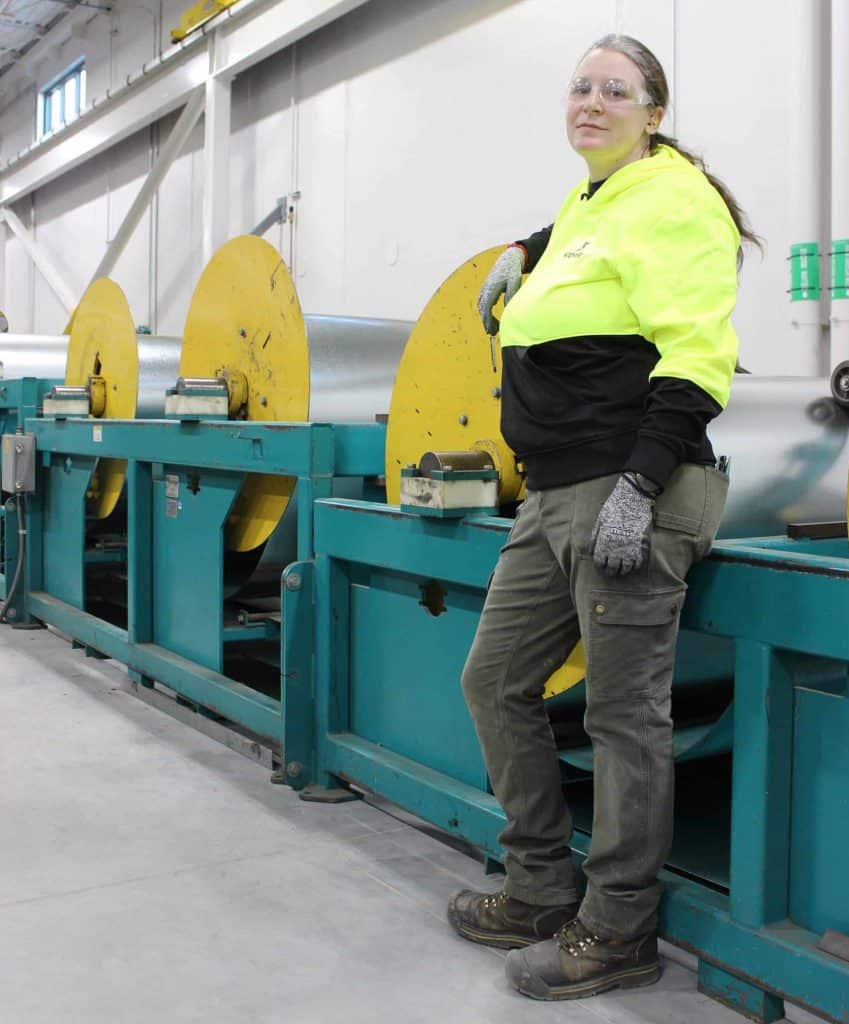 What do you find frustrating about your job/trade?
I work in the shop right now and people trade out a lot to go work in the field, so you are meeting new people all the time. I do enjoy meeting new people, but you have to figure out what their strengths and weaknesses are and how to communicate with them appropriately. It's not necessarily frustrating, but it's a different aspect of the job: You have to learn a lot more about different individuals.
How did you get into SMART?
I was working a computer job and wanted to find something where I worked with my hands, and I started looking into the trades. I tried for an electrical apprenticeship, and I didn't make it through the first round of interviews. I had to take a class to apply again, so I met with Wisconsin Regional Training Partnership| Big Step and took their MC3 program, and I learned about all the different trades. I decided to apply to electrical again, and to also apply to sheet metal. The sheet metal union picked me up right away.

A lot of the stuff that we do in the sheet metal apprenticeship and in this career, I was interested in from the beginning. Sheet metal was my first choice in my heart, but I wasn't sure I was capable of doing it. I've always wanted to work with metal and make sculptures, and welding is important to me in that way. Now, I am in the career and the trade that I was meant to be in.
Tool you can't live without?
The tool that I can't live without is my tape measure. I've been doing a lot of quality control for the materials leaving the shop, so I use the tape measure all the time.
Best advice you got as an apprentice?
In this trade, you have lots of journeypersons who will tell you how to do something, and there are multiple ways to get things done. I think it's always best to listen to what all of them have to say, and then take what you have learned from all of them and find what works best for you – or what's most efficient – and combine that advice.
What do you think about Tradeswomen Build Nations?
I have heard about Tradeswomen Build Nations, but I have not gone yet. I think it's a good opportunity to meet other women in the trades and learn about their struggles and triumphs, and also learn from them on how to get through certain things if you find yourself in a situation where you need help.
Are you active in trade-related activities such as career fairs, volunteer work or SMART Army events?
I helped out at a career fair recently. It was fun to talk with high schoolers, try to get them interested in the sheet metal trade and teach them more about what we do. There were a few girls that seemed more interested in the trade after I talked with them, which felt good!