Ashley Burton started her nine-year career in the trade at a nonunion company, where – despite subpar pay, unsafe working conditions and more – she developed a passion for the variety and versatility of sheet metal work. Now, as a Local 206 journeyperson and detailer, she says her only regret about the union is "not joining much, much sooner." Read more in her Sister Story:
What unique strengths do you bring to your trade?
My resilience and my need for more. I can't stop pushing myself to advance or learn. My need for growth has given me experiences and challenges I don't think I would've been granted otherwise.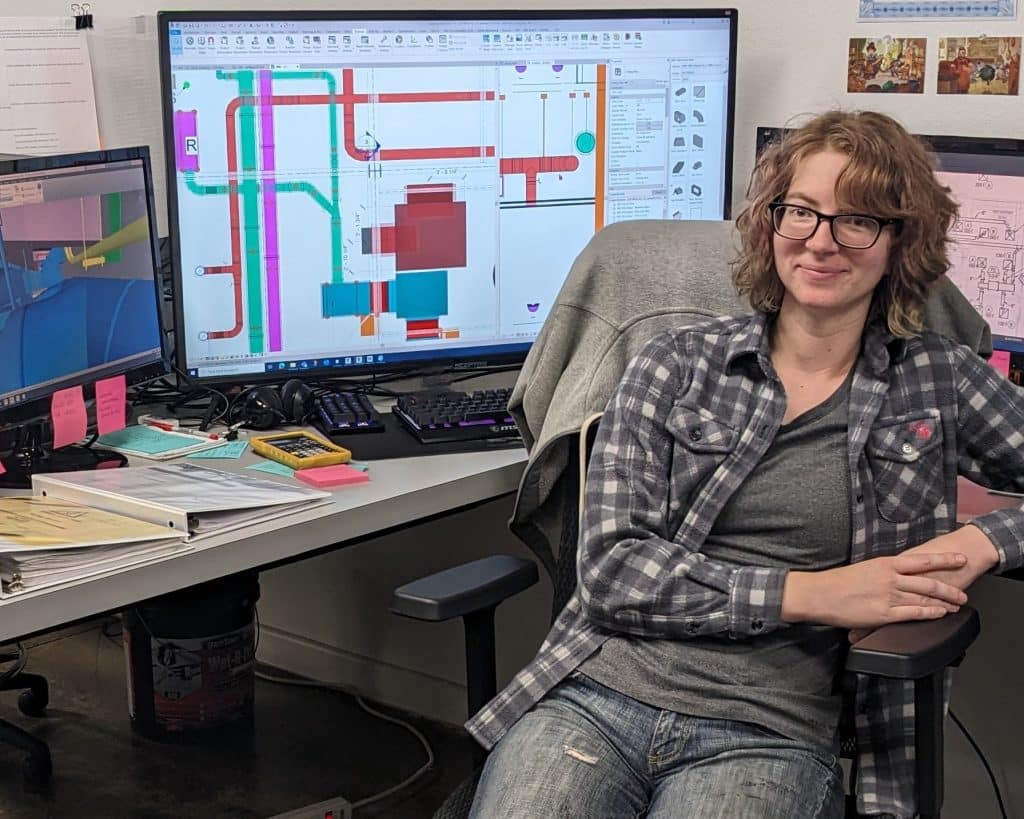 What do you love to do when you are not at work?
I enjoy training my dog, writing, karaoke, working out or sewing and doing crafts. I love being a part of things.
Goals in the future — any ambitions or changes to your career, growth or education?
I have been considering two main paths: furthering my education and becoming an engineer or architect, or continue working my way into my union's leadership and possibly into politics as a whole. For now, I plan to eventually run the BIM department in my current company.
What surprised you about your trade?
How much I enjoyed it. I started nonunion, found an ad on Craigslist for a company I can say without a doubt should not have been able to stay running as long as it did. But I fell in love with the work despite the circumstances. It was fun, challenging, and it made sense. I loved how depending on what task I was doing, I could either completely zone out while my body did the work or take a moment to do math and draw out a unique fitting. And now I detail, and it's a completely different experience that takes everything I've learned and puts it all to the test. I don't think I would get that much versatility from any other type of work.
What do you find frustrating about your job/trade?
The resistance to change, or perhaps the unreasonableness behind a lot of designs in buildings. Things like adapting to new technologies should be focused on a lot more, I think – not as an afterthought but as an actual investment. But more frustrating than that is how we need taller ceilings but refuse to make taller buildings to accommodate what goes in those ceilings.
How did you get into SMART?
When I started doing HVAC for residential buildings, my foreman used to be a member of SMART, but left during the crash of 2008. He praised the union nonstop and took the time to teach me so much of what he had learned. So after a few years of terrible pay, questionable ethics and safety procedures, I finally took the plunge and joined the apprenticeship. My only regret is not joining much, much sooner.
Tool you can't live without?
This was a very hard question to answer. But I think I'd have to say pliers. Linesman's and duckbills can be very different tools, but whether it was in the field or in the shop, I think pliers were one of the tools I always had on me. But I was also the person who carried around 30 pounds of tools in my bags, so I was rarely without what I needed.
Best advice you got as an apprentice?
When given instructions, repeat the information back to the person giving them. It will give an opportunity for the information to be corrected if you misunderstood anything. Once the information given is confirmed, write it down! Always have a notepad on you for this reason.
What do you think about Tradeswomen Build Nations?
I think it's a great opportunity to network and learn from others. It also gives a boost of encouragement and inspiration.
Are you active in trade-related activities such as career fairs, volunteer work or SMART Army events?
I try to attend all the career fairs I can. I attend union meetings and events regularly, as well as help with the San Diego Building Trade Sisters. I also had the opportunity to become a trustee this year!