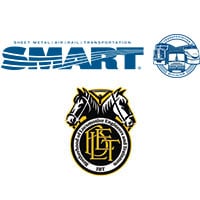 CLEVELAND, Ohio, (Dec. 9, 2021) — The Transportation Division of the International Association of Sheet Metal, Air, Rail, and Transportation Workers (SMART-TD) and the Brotherhood of Locomotive Engineers and Trainmen (BLET) yesterday filed motions for a preliminary injunction, seeking to immediately halt a unilaterally implemented vaccine mandate imposed by Amtrak, and require the carrier to negotiate over the issue.
Through the motions, SMART-TD and BLET seek to restore and preserve the status quo that was in place prior to the implementation of the mandate.
This action is a follow-up to two November 23rd complaints filed by SMART-TD and BLET against Amtrak. In those suits, the unions allege, among other things, that the carrier's unilaterally implemented vaccine mandate is a direct violation of the Railway Labor Act. The carrier made no effort to bargain with the unions over their vaccine mandate, or the effects of the mandate, despite the fact that the parties have long been engaged in negotiations for successor agreements, and that all parties have a duty to maintain the status quo regarding working conditions during such negotiations.
The SMART-TD and the BLET are actively embroiled in similar lawsuits with four other rail carriers: BNSF, Metra, Norfolk Southern (NS), and Union Pacific (UP). The litigation is pending in the U.S. District Court for the Northern District of Illinois.
In related news, two district courts have recently blocked enforcement of vaccine mandates for federal contractors. Most recently, on December 7, U.S. District Judge Stan Baker in Savannah, Ga., issued a nationwide injunction which temporarily halts the vaccine mandate issued by the Biden administration through an Executive Order.
SMART-TD and BLET will continue to monitor this case and other related legal challenges to determine if there is any impact on rail carriers.
President Ferguson and President Pierce issued the following joint statement: "The language contained in the Railway Labor Act is clear cut, and the carriers' unilateral implementation of their vaccine mandates without negotiating with the union is a direct violation of the Railway Labor Act. We will continue to stand up for the rights of our members."
###
The SMART Transportation Division is comprised of approximately 125,000 active and retired members of the former United Transportation Union, who work in a variety of crafts in the transportation industry.
The Brotherhood of Locomotive Engineers and Trainmen represents nearly 57,000 professional locomotive engineers and trainmen throughout the United States. The BLET is the founding member of the Rail Conference, International Brotherhood of Teamsters.