SMART TD, with more than 450 locals in the U.S., has more members than any other railroad labor union and holds some of the best freight rail contracts in North America. It is the only labor union that has united various operating crafts while protecting craft autonomy and has the most effective voice among transportation unions before state legislatures and the U.S. Congress.
The vast majority of SMART's railroad members work in the U.S. freight rail industry: moving goods and materials across the nation, 24 hours a day and seven days a week in the variety of crafts described below.
DUTIES: Engineers control starting, stopping and train speed. They constantly check meters and gauges that show speed, fuel, power and air pressure. In the yard and on the road, they watch for signals that indicate movements of other trains, obstacles on the track, equipment malfunctions and speed limits. They keep in radio contact with dispatchers and their co-workers on the train.
Before and after each tour of duty, engineers check the condition of locomotives and see that defects are reported to the engine foreman. On the road, they must know the makeup of their trains in order to safely regulate travel at different speeds, through curves and on grades. They must know the location of full and empty cars and prepare for slack action during starts and stops. Engineers also keep in touch with traffic control centers. Yard engineers work in switching yards, where they sort out cars and run switching engines to move cars around to make up trains. They are also prepared to cope with fire, explosions, short circuits and mechanical failures.
Employees known as hostlers service, move and deliver locomotives to crews at terminals, yards or layover points. Inside hostlers, limited to an engine house area, cannot take an engine beyond the confines of the service area. Outside hostlers are qualified to run locomotives beyond the engine house area and can use signal systems, crossovers and mainline tracks to deliver engines.
QUALIFICATIONS AND TRAINING: Starting in the 1960s, industry changes reduced the number of firemen and increased demand for qualified engineers. Some railroads have adopted intensive training programs to shorten the time required to learn the engineer's craft. Most railroads promote engineers from the ranks of conductors and brakemen. Since 1985, most operating employees must accept promotion to engineer.
Engineer candidates must pass a series of tests to prove their ability to safely operate different types of locomotives and trains in all kinds of weather and operating conditions. Initially and periodically, they must prove their knowledge of hundreds of operating rules and facts necessary for the safe movement of trains and crews over the road.
Locomotive engineers also must pass government-mandated proficiency tests to earn a license (similar to a driver's license). They also must know how to make minor emergency repairs to engines and how to safely shut down or isolate a defective locomotive and use remaining engines for power.
OUTLOOK: The industry trend of longer and less-frequent trains also means decreasing demand for engineers. Job growth is expected to decline by 2% by 2026. Projected job openings between 2016 and 2026 are expected to be around 3,000. The outlook for hostlers and yard service employees should remain steady and should increase as railroad business improves. The outlook for firemen, however, is not good. This craft has mostly been eliminated through attrition and promotion to engineer status. Earnings of engineers are determined by the job they perform. Most are paid a "trip rate" for the specific job they do, whether it is in a rail yard or over the road.
DUTIES: The conductor is in charge of the train and the crew. He or she is responsible for the movement of the train according to instructions from the yardmaster, the train dispatcher and others. The conductor also is responsible for the safety of passengers and cargo. Conductors receive and communicate train orders to other crewmembers.
During the run, they watch for danger and arrange for repair of mechanical breakdowns or for defective cars to be set out on the nearest siding. They also inspect the entire train before signaling the locomotive engineer to start moving. During emergencies, all other employees are subject to the conductor's instructions.
Freight conductors keep records of the contents, origin and destination of each car and see that cars are properly picked up and set out along the route.
Yard conductors, often called yard foremen, direct the work of switching crews, which make up and break up trains. In mechanized yards, they can also operate car retarders to control the movement and speed of cars. Yard conductors usually work at one location on regular daily shifts. Road conductors may travel great distances, staying at away-from-home terminals before making a return trip.
On some railroads, yard service and road service conductors have separate seniority lists and remain in one class of service throughout their careers. On other railroads, conductors can work yard assignments or in freight service according to their seniority and job preference.
QUALIFICATIONS AND TRAINING: Most railroad conductors are high school graduates who have worked as brakemen long enough to have the seniority and skills necessary for promotion. They must pass a physical examination and have good eyesight, hearing and agility. They must also pass tests on signals, air brakes, timetables and operating rules.
OUTLOOK: In the immediate future, there will be a moderate number of openings for conductors, perhaps 3,700 per year. Overall, between 2016 and 2026, conductor jobs are expected to decline 2% as more oil and natural gas pipelines are built and power plants move away from coal use. Jobs will develop primarily as senior employees retire, die or leave railroading. Future opportunities in this craft will be influenced by railroad economic growth and union/management agreements covering the employment of conductors. Most conductors are paid based on the work they perform. Most are paid a "trip rate" for the job they do, whether it is in a rail yard or over the road. Yard conductors, some of whom work a basic eight-hour day and five-day week, are paid time-and-a-half for work beyond these hours.
DUTIES: As assistants to conductors, brakemen perform specific duties to ensure the safe and efficient movement of trains over the road. Brakemen apply and release hand brakes on cars, inspect wheel bearings, inspect and couple air hoses and help test air brake systems. They also check cars to make sure they are mechanically fit and assist conductors in the exacting job of switching cars along the line and placing and replacing cars for loading or unloading.
Brakemen, in particular, are vigilant about close clearances, congested areas, vehicular traffic and people working on or near the tracks. They keep watch over the train on the road, especially around long curves, to check for smoke, sparks or other indications of sticking brakes, overheated wheel bearings, shifted loads and other equipment problems.
Brakemen in yard service and switchmen assist in making up and breaking up trains by operating switches to shift moving cars from one track to another and coupling and uncoupling brake lines. They are responsible for the safe, efficient movement of arriving and departing trains according to instructions from a dispatcher or yardmaster. In yards with automated switching equipment, much of their work may consist of coupling or uncoupling cars in blocks of two or more. Uncoupled cars are pushed over a hump or artificial hill by the yard engine and remotely switched and controlled, using a computerized system, from a control room.
Car retarder operators route and regulate the speed of freight cars in yards by controlling track switches and electronic car braking systems, generally from an elevated tower.
QUALIFICATIONS AND TRAINING: Most brakemen and switchmen are high school graduates who have passed thorough physical examinations. They must have good eyesight, hearing, physical agility, mechanical aptitude, good judgment and the ability to get along well with others. Freight and yard brakemen may work from the extra board for some time before acquiring sufficient seniority to hold regular assignments and advance to become yard and freight conductors.
OUTLOOK: Freight yard work has traditionally provided the greatest number of jobs for brakemen and switchmen, two of the largest occupational groups in the railroad industry. In recent years, however, job opportunities have declined and are expected to continue to decline with increased use of new technologies for braking and switching cars. Future openings will result mainly from retirements, deaths and promotions. The pay of most road brakemen is determined by the work they perform. Most are paid a "trip rate" for the work they do, whether it is in a rail yard or over the road.
DUTIES: The carman builds, inspects and repairs rail cars, ensuring that rail cars are in compliance with all rules and regulations put forth by the railroads and the Federal Railroad Administration (FRA). They inspect rail car frames and bodies, safety appliances and wheels for defects and make sure they're in good repair. Among other things, the carman is expected to be able to weld and fabricate, as well as operate light and heavy cranes, forklifts and other equipment. When there is a derailment or wreck, carmen rerail the cars and locomotives and perform other work associated with wreck service.
QUALIFICATIONS & TRAINING: Most carmen are high school graduates who have passed thorough physical examinations. They must have good eyesight, hearing, physical agility, mechanical aptitude, a valid driver's license, and be able to read, write and communicate well with others. They use their hands to perform activities involving holding, grasping, turning and pulling. They must be able to perform work on uneven surfaces and frequently climb ladders, get on and off equipment and work from various heights. Carmen are able to work in conditions with loud noise and fumes, work on and around heavy moving machinery, bend, walk, stand or sit for extended periods of time and use hand tools.
OUTLOOK: The Bureau of Labor Statistics estimates that employment among rail carmen will grow at a rate of 5 to 9% between 2016 and 2026, resulting in an estimated 2,300 additional jobs by 2026. As of 2016, there were 22,000 carmen employed in the U.S. Carmen work 40 hours per week in shifts governed by union agreements. Mechanical shops are open 24 hours a day and seven days a week. Carmen may be required to work overtime and on holidays. They are paid according to union agreements.
DUTIES: The remote control operator is responsible for the safe movement of the engine and/or cars in carrying out their assigned duties and responsibilities within yard limits. This includes the proper inspection of the locomotive prior to the start of their tour of duty and the inspection of cars and other equipment to assure that there are no defects that could result in unsafe working conditions or damage to the track, the car or its contents.
In addition, the remote control operator(s) properly align switches to move cars and locomotives from one track to another and must couple and uncouple cars being handled, including all air hoses and brake lines as required by the operating rules. They must also apply brakes on cars set out on tracks to assure they do not move once placed on a track.
QUALIFICATIONS AND TRAINING: Remote control operators must pass the necessary training requirements to be qualified as a remote control operator and may be used to train others in the operation of remote control locomotives once qualified.
OUTLOOK: Remote control technology continues to evolve, and it is expected that the number of remote control operator positions will continue to increase accordingly. Qualified remote control operators are going to be needed, and their numbers will no doubt increase as this technology becomes more widespread. Remote control operators are paid on the basis of an eight-hour day and 40-hour week. In addition, remote control operators receive extra compensation per tour of duty at the hourly rate of the applicable position, in addition to all other earnings.
DUTIES: The people who keep tracks, switches, bridges, yards and other rail facilities in good repair are maintenance of way employees. Their ranks include many occupations — from track repairers to operators of track surfacing machines, rail-flaw detectors and track-moving machines. Maintenance of way crews operate equipment to prepare roadbeds, dig ditches, repair and replace ties, and weld, align and replace rails. They also replace and repair highway crossings, grind switches and track to compensate for wear, repair switch heaters, control vegetation along rights-of-way, repair track lubricators and replace worn track spikes. Working conditions are often demanding, and employees may be away from home for extended periods when large-scale track-repair projects are underway.
QUALIFICATIONS AND TRAINING: Most railroads require reasonable levels of education and physical fitness for maintenance of way employees. Most training is on the job under the direction of more experienced employees, with opportunities to learn to operate complex machinery and advance in earnings. The more skilled trades of carpentry, structural engineering, and mechanical and structural inspection require additional formal training.
OUTLOOK: As the railroad industry has come to realize that regular maintenance is cost-effective, the outlook for maintenance of way workers has improved. Longer trains and the trend to haul heavier rail cars means increased track maintenance and repair. More employees are hired for maintenance of way construction and repair in the warmer months of the year. The seasonal nature of the work is likely to continue, but experienced, skilled employees with good work records can almost be assured of continued employment year after year. Maintenance of way employees represented by SMART are among the highest paid in the industry.
In addition to the above, the union is proud to represent crafts such as switchmen, signal maintainers and railroad police officers.

Our Careers
Take a look at some of the job areas SMART is proud to represent!
Architectural Sheet Metal

Architectural sheet metal is a combination of technical skill and artistry. As an apprentice, you will specialize in fastening and joining, managing expansion and contraction, sealing and controlling moisture to ensure the appearance and durability of buildings. You may spend […]

Bus Operators & Mechanics

Bus operator and mechanic duties vary, depending on whether they drive or work on local buses in cities and suburbs, intercity buses, long-distance buses between states, charter buses on tours or school buses. When drivers report to terminals to get their assignments, they in […]

CAD, Drafting & Detailing

Sheet metal detailing, also known as sketching, is often thought of as CAD (computer-aided drafting). A certified detailer is a skilled commercial HVAC trade person who will advance to provide coordination between the fabricators and the installers from various trades. You wi […]
SMART TD, with more than 450 locals in the U.S., has more members than any other railroad labor union and holds some of the best freight rail contracts in North America. It is the only labor union that has united various operating crafts while protecting craft autonomy and ha […]
HVAC stands for heating, ventilation, and air conditioning. In this field, you will work on high-volume mechanical systems. These systems deliver heated and cooled air to commercial buildings such as schools, hospitals, airports, factories and office buildings.You'll wo […]
Sheet metal workers sometimes exclusively, or in conjunction with field installation work, will fabricate, assemble, install and repair sheet metal products and equipment, such as ducts, control boxes, drainpipes and furnace casings. Work may involve setting up and operating […]
Lagging is the finishing material (such as steel, aluminum or other materials) used to cover many types of insulation, especially on large flat surfaces such as boiler walls, flues, ducts, precipitators, selective catalytic reduction systems, baghouses, wind boxes or fans. In […]
SMART represents workers on Amtrak, the largest passenger rail operator in the United States, as well as other smaller regional and local passenger carriers. Rail remains one of the most sustainable and efficient ways of safely transporting travelers to their destination, and […]

Production / Manufacturing

Production and manufacturing is the creation or production of goods from components or raw material with the help of equipment, labor, machines and tools. The term may refer to a range of work, from handcraft to high-tech, but it is most commonly applied to industrial design, […]
Union sheet metal members work in freight and passenger rail transportation, including commuter railroads. They maintain and rebuild locomotives that move freight, long-distance passenger train equipment and equipment used in commuter rail service. Additionally, members of th […]
HVAC stands for heating, ventilation, and air conditioning. As a residential HVAC technician, you will work on installing and servicing complete residential HVAC systems. You'll install ductwork for a wide variety of residences including single-family homes, town homes […]

Service and Refrigeration

Almost everything we do indoors depends on a working heating and cooling system. These systems make buildings comfortable and safe. Demand for skilled technicians in this specialized field is high. As a service and refrigeration technician, you'll work on a variety of job sit […]
A roofer is a skilled tradesperson who installs a waterproof membrane on a building that has either a flat or sloped deck consisting of wood, steel or concrete. They may specialize in residential or industrial roofing. The most commonly used roofing product is a layer of asph […]
SMART members perform work in shipyards from coast to coast, including Pearl Harbor in Hawaii and the Ingalls Shipyard in Mississippi. Most, but not all, of the ships that members work on are vessels for the U.S. Navy. We build new ships from the ground up, and we also perfor […]

Sign Fabrication & Installation

As a sign hanger and builder, your job includes installing, mounting, servicing and repairing signs in commercial, industrial and high-rise residential settings. Your duties include preparing poles, buildings, billboards and other structures for installations, and then mounti […]

Indoor Air Quality and Energy Efficiency (TAB)

Testing, adjusting, and balancing (TAB) is an important part of air and water delivery systems. TAB technicians make sure that air and water in heating and air conditioning systems are delivered efficiently, quietly and safely throughout a building. As a TAB technician, you w […]

Learn more about Indoor Air Quality and Energy Efficiency (TAB) »

SMART represents workers on a number of major regional transit providers, including light and heavy rail carriers in major metropolitan areas nationwide. Rail remains one of the most sustainable and efficient ways of safely transporting travelers to their destination, and nat […]

Industrial and Shop Welding

Welding is the most common way of permanently joining metal parts. In this process, heat is applied to metal pieces which melts and fuses them to form a permanent bond. Because of its strength, welding is used in shipbuilding, automobile manufacturing and repair, aerospace an […]
Yardmasters are the traffic controllers of the yards and terminals in the railroad industry. Using computers and supervising switching equipment in the yard tower, they route trains and engines within the yard. The yardmaster reads switching orders and schedules to determine […]
Member Voices
Hear about the union directly from SMART members themselves.
Meet Carol Jones
Longtime Amtrak conductor Carol Jones — who is also a local chairperson with SMART-TD Local 1361 out of New Haven, Conn. — shares her story of coming up in the transportation industry and working as a pioneering woman in the passenger rail sector.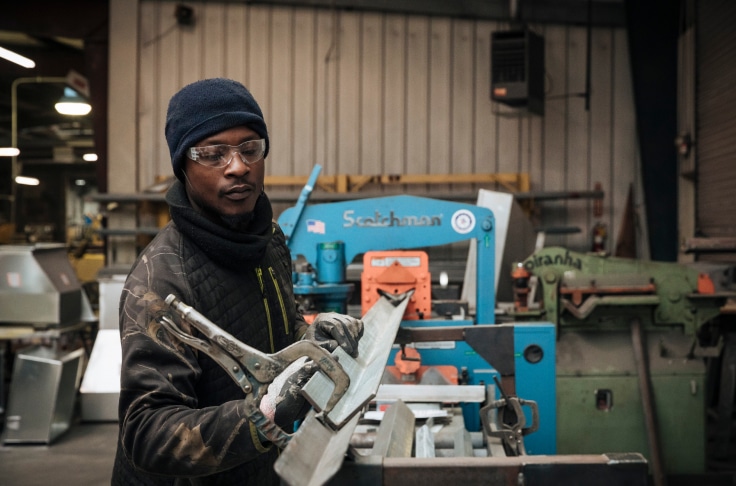 Become a SMART Member
Take the next step on your journey towards a rewarding career. Learn how you can become a SMART member.