SMART works in Washington, D.C., Ottawa, Ont. and in all the provincial and state capitals on behalf of members and all working families. Some of the issues of importance that SMART has traditionally and is currently addressing are included below.
SMART Legislative Priorities
As the Economic Policy Institute's research demonstrates, "right to work" laws make it difficult for unions to financially sustain themselves and do not have any positive impact on job growth. In fact, these laws lead to lower wages and benefits, weaken workplace protections and decrease the chances that employers will be required to negotiate with their employees. In states with right to work laws, the median income is almost $6,500 lower. Workers in these states are also less likely to have insurance and more likely to be stuck in a low-wage occupation. At a time with rising inequality and a nation suffering from a shrinking middle class, this is not what America wants or needs.
At the federal, state, and local levels, the Transportation Division's legislative representatives work diligently to deliver the message loud and clear to America's elected leaders that the only safe operation of America's Class I rail freight trains is by maintaining the Rule of Two — with a certified conductor and engineer present in the cab. In fact, it is the Rule of Two that has delivered the safest, most prosperous rail industry in history, and it is the Rule of Two that best protects against harm to America's communities, infrastructure, and environment.
SMART's years of effort in this area have resulted in no less than nine states implementing legislation or regulations requiring that at least two people are in the cab of the locomotive during train operations. Additionally, two federal bills with 2PC provisions successfully passed the U.S. House in 2020 and 2021 as part of the two INVEST in America Act bills before hitting resistance in the U.S. Senate.
The union's 2PC efforts continue to lead the way on the federal and state levels in both the regulatory and legislative arenas.
Prevailing wages, based on the Davis-Bacon Act, require local prevailing wages on public works projects for construction workers throughout the United States on federal projects and on many state and locally financed projects. This means that on federal projects over $2,000 for construction, maintenance or repair work, and on many state and local government projects, companies are required to pay their workers a wage that reflects wages commonly received in that area. These laws help set wage and benefit floors for workers in a locality and help ensure that government funded projects do not undercut local wage and benefit standards and contribute to a race to the bottom. The Davis-Bacon Act has done more than almost any other legislation to bolster paychecks for millions of American construction workers by preventing unscrupulous stakeholders in the industry from driving down wages, benefits and living standards. Studies demonstrate that prevailing wage laws lead to higher wages, improve workplace safety, increase government revenue, provide good value for taxpayers and support good jobs.
Communities and employers are protected by this law when it keeps the wage standards of low-wage areas from being imported into high-wage areas. Rural and urban workers and contractors are helped, along with both union and nonunion employees. There have been many attempts to eliminate the Davis-Bacon Act over its long history. These attacks typically come from corporate groups seeking to drive wages below community standards in order to increase profits, all at the expense of the workers who build those projects, the taxpayers who finance them and the communities which rely on them. Most elected officials — including most Republicans and independents along with all Democrats — support the benefits the law provides.
Transportation workers, including bus operators and transit workers, deserve to be protected from harm while doing their jobs and to get home safely every shift. SMART played an integral role in getting both the FAST Act and the Infrastructure Investment and Jobs Act (IIJA) made into law, helping to shield the people who move America and their passengers from violence.
Family-supporting Project Labor Agreements, otherwise known as Community Workforce Agreement or PLAs, are a tried and true way of building the nation's infrastructure, from local high schools and neighborhood libraries to America's largest dams and public stadiums. Used for generations, PLAs govern the terms and conditions of employment for craft workers — union and nonunion — on a construction project. PLAs are collective bargaining agreements between building trade unions and contractors. These agreements benefit working men and women, contractors, communities and taxpayers by ensuring projects are completed on time and on budget, requiring employee training, while ensuring that public investment benefits local communities. With PLAs, contractors, sub-contractors, communities and workers agree to working conditions, ensuring coordination for smooth project completion. Training requirements, coupled with fair compensation, save taxpayers money by ensuring on-time and on-budget completion of projects. PLAs helped build the Hoover Dam, Disney World, Yankees Stadium and the Freedom Tower. PLAs discourage unscrupulous contractors from betraying the public trust through inflated profits, low-ball bids, cutting corners or abusive employment practices such as the exploitation of undocumented workers. They set a wage floor based on what prevails in a community, ensuring that an influx of taxpayer construction investment doesn't drive down – or inflate – local wage standards. And workers receive benefits such as healthcare and pensions, preventing a burden on local services. Local workers are provided with opportunity as well. They have access to free union training programs which help open the doors for advancement. Wages and benefits quickly circulate in local economies thanks to these agreements. In fact, these agreements are so effective that major corporations such as Walmart, Boeing and Toyota have utilized them to build their facilities across the United States.
SMART advocates for creating and funding an equitable, highly accessible and well-functioning passenger rail system to serve the nation. Whether it's a long journey across the country for pleasure or a daily jaunt to and from work on an urban commute, SMART officers on Capitol Hill work with politicians so that America's riding public gets well-funded and well-maintained service at the frequency they deserve.
The United States should have world-class infrastructure built by skilled union workers. Instead, the nation has a system in deep need of renewed investment. It's not only roads and bridges, but also our nation's transit, rail, clean air infrastructure and schools that need investment.
With the passage of the 2021 Infrastructure and Investment Act, much progress has been made in addressing the nation's infrastructure needs, but more work is still needed in the future as America's schools, public buildings and indoor air quality needs continue to demand attention.
SMART is continually working to protect and improve the pensions and benefits provided to America's railroaders, which is primarily administered by the Railroad Retirement Board (RRB) via the Railroad Retirement Act. Unfortunately, Railroad Retirement has been the target of rogue legislators throughout its history, and SMART TD has been a large contributor to the successful defenses against those attacks. A current focus is the removal of RRB unemployment and sickness benefits from the long-standing sequestration cuts made in the 2010s. In addition, the union was successful in securing legislation to provide the RRB with millions of dollars to increase staffing and modernize office technologies.
Despite decades of increased productivity, workers are not sharing in the fruits of their labor. The rich — CEOs, corporations, and billionaires — keep getting richer off the backs of lower-income workers, while working people have a harder and harder time making ends meet.
Unions helps foster individuals coming together to make working conditions better for everyone. SMART, and the labor movement, has always advocated for policies that promote an economy at wages high enough to allow working people to support their families. SMART works to combat policies that erode the rights of working people, protects worker health and safety, and supports policies that make sure wealth generated by our labor is fairly rewarded.
To achieve these goals, we support a broad range of policies in our industry and in the overall economies of our two nations to promote living wages by enhancing and enforcing strong worker protections and collective bargaining. Be it the minimum wage or prevailing wages in the construction industry, pay equity for women and people of color, the restoration of federal overtime protections or putting an end to wage theft and misclassification, SMART serves as a force to ensure workers have a strong voice when they join together to ensure an enhanced standard of living.
A short-sighted, profit-driven business strategy on the part of the nation's Class I freight rail carriers called Precision Scheduled Railroading (PSR) has grown freight trains to lengths more than three miles, contributed to commonly occurring multi-car derailments and drawn opposition from rail labor since its inception. SMART has worked with the Federal Railroad Administration (FRA) to hold carriers accountable by offering tools for the public to report blocked rail crossings and continues to work with the FRA to develop new policies and rulemakings to ensure that safety, rather than profit, remains the priority on America's rail systems. At the state level, officers work to raise awareness among state legislators of the dangers of PSR.
The COVID-19 pandemic demonstrated what SMART has known for decades — our schools, hospitals and other public buildings have neglected indoor air quality, and it must be addressed to keep our communities safe now and in the future. We should all be able to enter buildings with an assurance that we are safe. Unfortunately, this doesn't always happen. In the case of our public schools, many buildings have been neglected for decades. A 2020 report by the United States Government Accountability Office (GAO) estimated 41% of school districts need to update or replace the existing HVAC systems in at least half of their schools. Per the report, "If not addressed, HVAC issues can result in health and safety problems."
To address this issue, SMART recommends that buildings follow a Ventilation Verification Program — a physical assessment of existing Heating, Ventilation, and Air Conditioning (HVAC) infrastructure. This is a critical tool to make the air we breathe safe. The key to making sure air in our buildings is safe, is making sure HVAC systems are repaired, installed, adjusted and maintained by technicians who are trained and certified to provide recommended ventilation rates and filtration levels. Numerous studies have documented that poor-quality installation work is common and leads to reduced energy efficiency and increased safety hazards.
SMART encourages all public and private buildings to adopt ventilation verification program standards.
Workers face major obstacles to organize, unionize and collectively bargain for fair wages, decent benefits and safe working conditions. Working people have basic legal rights, but many employers violate them. Click here to find out about your rights at work.
On numerous fronts, U.S. laws fall far short of international standards on freedom of association and collective bargaining. In response, SMART is working with our allies in the labor movement to pass the Protecting the Right to Organize (PRO) Act. This legislation will empower workers to exercise our freedom to organize and negotiate for better wages and working conditions. It will help rebalance the scales between employers and workers by removing antiquated barriers to organizing and increase worker protections. This legislation has passed the House and is currently in the Senate. Tell your Senator: Pass the PRO Act NOW!
Unfortunately, employers often misclassify their employees as independent contractors. As a result, employees can be excluded from National Labor Relations Act protections and be prevented from coming together to form a union or negotiate for better working conditions. By misclassifying workers as independent contractors, employers can also withhold health and welfare benefits, unemployment insurance and FMLA leave, and pay inadequate wages.
Employers are incentivized to misclassify workers because studies demonstrate they can save 20 to 40% on labor costs.
In the construction industry, workers are also being misclassified by the type of services they perform on prevailing wage projects. These projects require that companies pay workers the prevailing rate for the work being performed. However, construction work is often misclassified as service work because the rates are typically lower, depriving workers of the rates and benefits that they are entitled to under the Davis-Bacon and Related Acts (DBA).
Misclassification of workers, regardless of whether it is done deliberately as a cost-saving measure or through insufficient knowledge of work tasks or functions performed, deprives workers of the protections afforded by the DBA.
This problem has persisted for many decades, but we're trying to end it. To address this issue, SMART is working with federal agencies to make sure there is clear and detailed guidance on the differences between service work covered under the Service Contract Act (SCA) and construction work covered under the DBA. We're also calling on Congress to pass the Protecting the Right to Organize (PRO) Act to help fix this persistent problem and provide a clear and fair method for making sure workers receive the protections they deserve.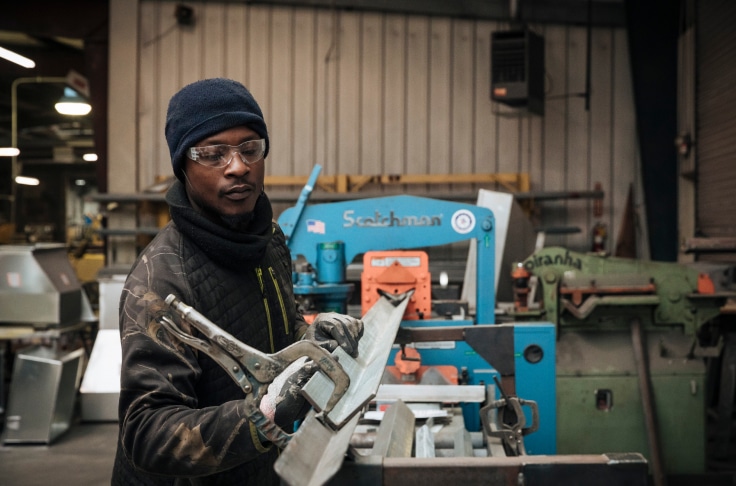 Become a SMART Member
Take the next step on your journey towards a rewarding career. Learn how you can become a SMART member.
Member Voices
Hear about the union directly from SMART members themselves.
Member Stories: Meet Carol Jones
Longtime Amtrak conductor Carol Jones — who is also a local chairperson with SMART TD Local 1361 out of New Haven, Conn. — shares her story of coming up in the transportation industry and working as a pioneering woman in the passenger rail sector.