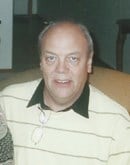 SMART TD mourns the recent passing of Jerry Palmer, former and longtime SMART TD Director of Human Resources, and extends deepest condolences to his entire family, especially to fiancé, Patricia Schmidt, who was also a longtime employee of SMART TD.
Palmer and Schmidt met at the SMART TD Cleveland Office decades ago; they both retired in 2015.
The family of Jerry Palmer has asked that in lieu of flowers, friends and family may make a donation to Matthews Lending Library in Lakewood, Ohio.
Click here for information on funeral arrangements.