After months of waiting, Ronald L. Batory was sworn in on Feb. 28 as the new administrator of the Federal Railroad Administration (FRA).
"This day could not have happened soon enough," Batory said in remarks delivered during the ceremony administered by Department of Transportation Secretary Elaine Chao. "Those of you familiar with railroad work rules will appreciate (this): While I was 'held away from home terminal' from August 2nd to November 19th of last year and on 'initial terminal delay' until today, so needless to say, I'm ready to release the brakes and throttle out."
The former COO and president of Conrail was nominated by President Donald Trump in July 2017 to lead the FRA. However, U.S. Sen. Chuck Schumer (D-N.Y.), the Senate minority leader, placed a hold on Batory's nomination in an attempt to work out federal funding for the multi-billion-dollar Gateway Tunnel project between Schumer's home state and New Jersey.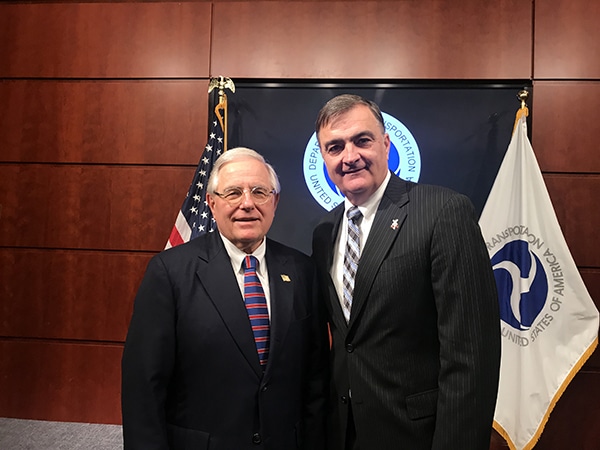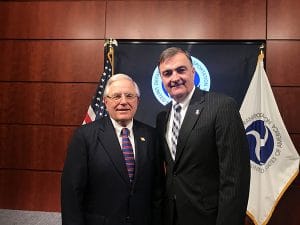 As the delay on his confirmation dragged on, Batory began working in November as a
special assistant to Chao, advising on rail matters. He was finally confirmed Feb. 13 by unanimous voice vote in the U.S. Senate after Schumer lifted his hold.
Now that he's in, Batory said he'll be focusing on safety and technology – how to improve the former and the application of the latter.
"Rail safety is first and foremost. Its practice is non-compromising and non-negotiable," he said. "Safety is embedded into our lives. It is the keystone of the railroad industry."
Batory said FRA safety efforts will extend beyond the industry to the general public, noting that his agency launched a $4.3 million campaign Feb. 26 in conjunction with the National Highway Traffic Safety Administration (NHTSA) to educate people about the dangers of rail grade crossings, something Batory experienced firsthand aboard locomotives that collided with vehicles at crossings.
In addition, Batory also said that his agency will explore technology that decreases the amount of risk and danger on the nation's rails.
"FRA will continue with renewed urgency in seeking ways to foster and encourage the railroad industry's use of technology to bring about continued safety improvements and increased efficiency in railroad operations and maintenance," he said. "We have many fields of opportunity awaiting us to harvest change whether it be safety, technology, infrastructure or a combination thereof."
SMART and SMART Transportation Division leadership, which had supported Batory's nomination from the outset, reacted positively to the long-awaited installation of the new administrator, who has more than 45 years of rail industry experience.
"Ron Batory's swearing-in brings real-world experience and a solid background in railroad operations and safety to the FRA that all stakeholders can respect," SMART Transportation Division President John Previsich said. "In remarks today, he mentioned that 'Rail safety is first and foremost.' We agree wholeheartedly with that statement, and we look forward to working with Administrator Batory and his agency to reduce risk and enhance safety on our nation's rails."
"We are pleased to have Ron Batory as the administrator of the Federal Railroad Administration." SMART General President Joseph Sellers said. "Ron Batory is knowledgeable and experienced in the railroad industry. We look forward to collaborating with him on PTC and other safety initiatives."
John Risch, SMART TD's national legislative director, also highlighted the new administrator's experience and looks forward to working with Batory.
"This is very good news that Ron Batory was confirmed today. We have been very supportive of him becoming FRA administrator, because he knows the railroad industry and because he has always been fair in his dealings with our membership." Risch said. "We look forward to working with Ron and his FRA team in improving safety on our nation's railroads."
While Batory's confirmation remained in political limbo, the FRA was being described as "rudderless" in some media reports.
Deputy Administrator Heath Hall, who had been leading the agency on an interim basis, resigned mere days before Batory's confirmation after allegations surfaced in the media that Hall was working a second job.
Hall had been on a leave of absence from the agency since late January, and Juan D. Reyes III had stepped in to oversee the FRA.
Martinez installed as FMCSA chief
Also on Feb. 28, Chao swore in Raymond B. Martinez to lead the Federal Motor Carrier Safety Administration, which regulates large trucks and buses.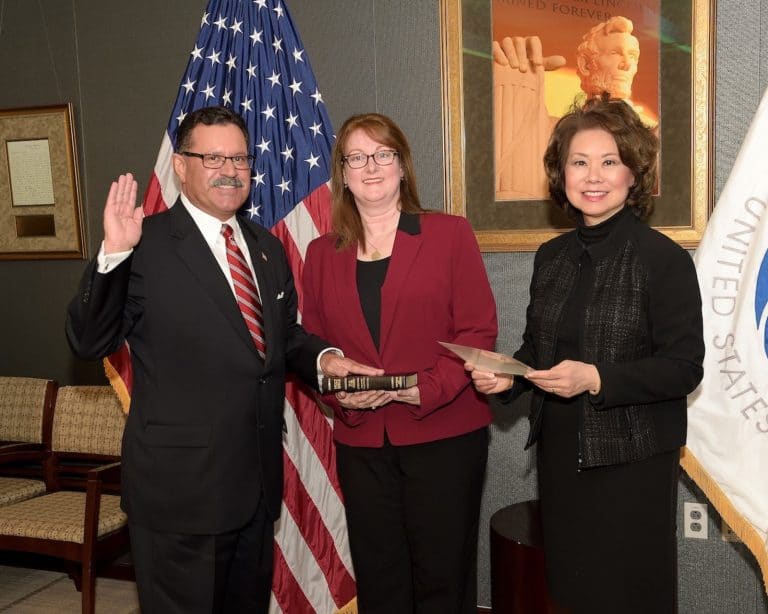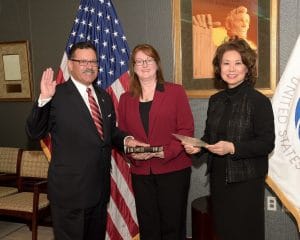 "Ray's years of experience promoting traffic safety at the state level, as well as his knowledge of the commercial motor vehicle industry, will help FMCSA fulfill its critical mission of improving truck and bus safety," Chao said.
Martinez most recently served eight years as the New Jersey Motor Vehicle Commission's chairman and chief administrator, where he oversaw the agency's 2,500 employees and a $330 million annual operating budget with more than $1 billion in annual revenue.
"It's an honor and privilege to serve my fellow Americans in this capacity and, under Secretary Chao's leadership, I look forward to working with all commercial vehicle stakeholders to effectively reduce the number of truck and bus crashes on our nation's roads," said Martinez, a former commissioner of the New York State Department of Motor Vehicles.