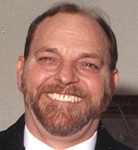 James F. Carrico Sr., 61, former Indiana State Legislative Director of the United Transportation Union, died Jan. 4.
A member of Local 333 at North Vernon, Ind., Carrico entered rail service as a conductor with CSX in 1974 following discharge from the U.S. Army. He was a graduate of Indiana State University.
He is survived by his wife, Marjorie Ann, son, James Carrico Jr., daughter, Alicia, and two grandchildren. He was preceded in death by his parents and infant twin sisters.
Graveside services will be at 11:30 a.m., Jan. 9, at St. John Cemetery in Washington, Ind.