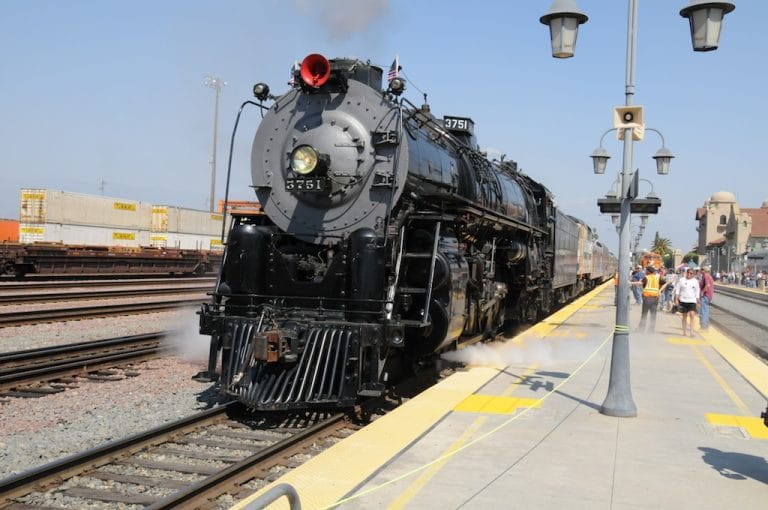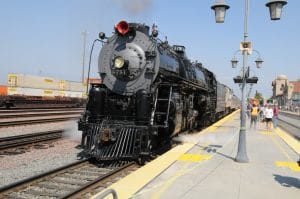 SAN BERNARDINO, Calif. — A steam powered excursion train will be operated to San Bernardino Railroad Days this weekend. The train will have six private passenger cars that will be pulled by the 1927 AT&SF Steam Locomotive 3751.

A diesel-powered Metrolink Locomotive will be placed behind the steam locomotive to provide head end power.  The passenger cars are:
1. "Tioga Pass" – a 1959 Canadian National business car,
2. "Pony Express" – a 1941 Canadian Pacific baggage/express car and rebuilt as a lounge car,
3. "Acoma" – a 1937 AT&SF lounge-dormitory car,
4. "Overland Trail" – a 1949 club-lounge car,
5. "National Forum" – a 1954 UP open-section sleeping car,
6. and the 1988/89 Amtrak Horizon Fleet chair car built as a coach for Amtrak by Bombardier.
The displays will include New BNSF locomotives, Passenger cars, 1927 Santa Fe Steam Locomotive No. 3751, antique vehicles, model railroad displays, historic fire apparatus, BNSF Operation Lifesaver, the Orange Empire Railway Museum's Harvey Girls, Women in Railroading, the National Association of Retired and Veteran Railroad Employees, the Pacific Railroad Society and the Railway & Locomotive Historical Society.
The San Bernardino History & Railroad Museum, the San Bernardino Historical & Pioneer Society, BNSF and the city of San Bernardino are hosting the event. The event will be held April 27 & 28 and hours are 10 a.m. to 3 p.m. The event is free with free parking. Tickets to ride on the steam locomotive are sold out. More information can be found at http://www.sbdepotmuseum.com/.