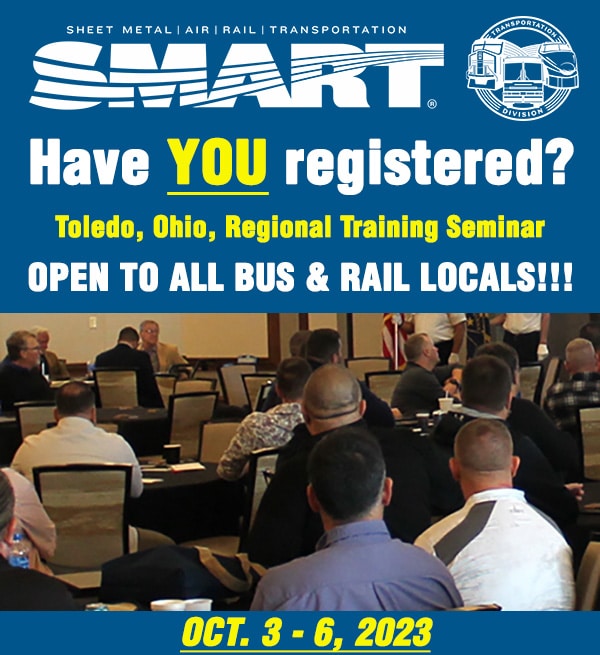 The initial schedule and information about the upcoming SMART Transportation Division Regional Training Seminar (RTS) set for Oct. 3 through 6, 2023, at the Hilton Garden Inn in Toledo, Ohio, has been released and is available through the SMART app or via PDF.
Learning sessions at the Regional Training Seminar (RTS) are all-inclusive for SMART-TD local leaders. From a president to a trustee, all bus and rail members can get valuable information, strategies and tools from union experts who have years of experience on the issues that they face as labor leaders at the meeting.
Attendee check-in for the meeting begins the morning of Oct 3, and those attending should plan to arrive then. The meeting's opening session takes place at 1 p.m. Oct. 3, with the classes and workshops kicking off the morning of Oct. 4.
The cost for TD members to register to attend the seminar is $50.
The RTS includes classes for local governance, roles of a local president, secretary & treasurer, legislative representatives and local chairpersons in protecting members and on the SMART Constitution, among others. Sessions are taught by national officers and other subject-matter experts associated with SMART-TD. It's an exciting opportunity for local leadership and members to engage one on one with union experts to help fulfill the need for live, in-person training from local leaders closer to home.
TD President Jeremy Ferguson and other union leaders are scheduled to appear to answer membership questions throughout the event. To register for the seminar, visit https://register.smart-union.org/. The deadline to register for the Toledo meeting is Saturday, Sept. 30.
Please note: Attendees are responsible for making their own hotel reservations.
A room block has been reserved at the site of the meeting, the Hilton Garden Inn, 101 N. Summit St., in Toledo. The SMART TD event rate is $129 per night with the deadline for discounted hotel reservations being Friday, September 15, 2023.
Follow this link to book online.
For more information, contact Ohio State Legislative Director Clyde Whitaker at 419-565-2629 or by email at smartunionoslb@gmail.com.