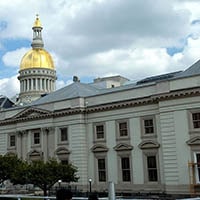 Legislation championed by SMART Transportation Division New Jersey State Legislative Director Ron Sabol to protect transportation workers passed unanimously through a state Senate committee Nov. 8.
The bill (S-4071) or the Motorbus and Passenger Rail Service Employee Violence Prevention Act, was introduced by state Sen. Patrick J. Diegnan Jr. (D-Middlesex) in response to recent incidents in which two NJ Transit (NJT) employees were assaulted for trying to enforce a federal coronavirus mask mandate.
In testimony before the committee, Sabol made it clear to senators that it was past time to toughen enforcement after a pair of violent events aboard NJT trains.
The legislation "is critical to all transit workers, as well as the public," Sabol said. "I'm sure all of you have seen in the news assaults of public transportation workers are on the rise at an alarming rate. This is out of control at this point. I think we really need to look at addressing it in some way here in New Jersey."
In October, an NJT rail passenger pulled a knife on a conductor who asked him to wear a mask in Bergen County, according to NJ.com. The passenger was arrested and charged with assault.
Two months earlier, a rail passenger was jailed after he launched into a racist tirade then got into a physical confrontation with an NJT conductor aboard a Hoboken-bound train, NJ.com reported.
S-4071 upgrades the penalty for all assaults on a motorbus or autobus operator, the operator's supervisor, and a rail passenger employee. It also empowers NJT, motorbus companies and all rail passenger service providers to ban riders from their transportation services for up to one year if the person commits assault on a motorbus operator, the operator's supervisor, or a rail passenger employee.
If a deadly weapon was used during the assault, the rider may be banned for life.
The legislation also requires NJT and motorbus companies to:
Equip each bus and rail and light rail vehicle with a communication system that allows the operator to alert the company or NJ TRANSIT and appropriate law enforcement agencies when the operator is in distress.
Coordinate with law enforcement and transit police to help protect bus operators and rail employees on potentially problematic routes.
Establish an employee assistance program for bus operators and rail employees that have been assaulted.
Provide periodic violence and mental health training to bus operators and rail employees.
The measures are designed to reduce acts of violence against transit employees and to provide transit workers with techniques for deescalating potentially violent situations.
Diegnan, chair of the N.J. Senate Transportation Committee, said the bill was crafted with labor and carrier's safety concerns in mind.
"We all have the same purpose," Diegnan said during the committee meeting. "We want to protect these folks and at the same time not unintentionally harm the carriers."
The bill moves on to the full state Senate for consideration.