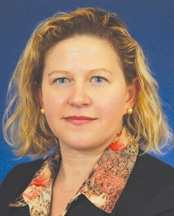 WASHINGTON — The Federal Railroad Administration will soon publish final rules instituting conductor certification and imposing new hours-of-service limitations on intercity passenger-train and commuter employees in safety sensitive positions.
FRA Associate Administrator for Safety Jo Strang made the announcement at the UTU's regional meeting June 21 in San Antonio, Texas.
She observed that since former UTU Illinois State Legislative Director Joe Szabo became FRA administrator, the partnership between the UTU and the FRA in seeking improved workplace safety "has certainly been strengthened."
Conductor certification, which becomes effective Jan. 1, 2012, "recognizes the level of professionalism required by our conductors today," Strang said.
A notice of proposed rulemaking on conductor certification was published in November and is the product of a collaborative effort through the FRA's Rail Safety Advisory Committee, which includes carriers, rail labor and the FRA.
UTU members serving on the RSAC Conductor Certification Working Group include Local 1470 Chairperson David Brooks, General Chairperson (CSX, GO 049) John Lesniewski, Local 538 Legislative Rep Ron Parsons, Local 645 Local Chairperson Vinnie Tessitore, National Legislative Director James Stem, Alternate National Legislative Director John Risch, and UTU safety consultant Larry Mann.
Strang said the passenger hours-of-service regulation will apply sleep science and fatigue management to railroad hours-of-service, "which is the first time in our industry's history that this has been done. It recognizes the inherent differences between freight and passenger service."
For example, intercity passenger and commuter railroads operate on fixed schedules. Commuter railroads operate primarily during daylight hours, and most commuter employees return to their home terminals every night.
The passenger hours-of-service regulation will "balance the need to manage fatigue with the need to maximize income," Strang said. "The rule also recognizes the significant safety contribution that a defined start time has for the employees involved. When the employee knows when they must report for service, they can manage the necessary lifestyle adjustments. The outstanding safety record of our passenger and commuter rail operations is an excellent example of just what it means to have a regular start time."
Strang also mentioned risk reduction programs, acknowledging that their FRA-sponsored implementation on some railroads "have earned a bad reputation. Let me be clear about FRA's viewpoint," Strang said. "Building strong safety cultures can only be accomplished through the establishment and nurturing of voluntary risk mitigation policies and procedures — setting realistic benchmarks and milestones, and favoring constructive corrective behavior over punitive discipline. To be clear, both railroads and labor have to define boundaries since compliance with the rules is at the heart of safety.
"Railroads have had the same culture for 180 years," Strang said. "We have been trying to change it for five years."