UTU member Patricia Smith, a conductor with the Port Authority Trans-Hudson Railway (PATH), has been elected general chairperson (GO 795, Local 1413, Jersey City, N.J.) — the first female general chairperson in the 103-year-history of PATH.
A subsidiary of the Port Authority of New York and New Jersey, PATH — which began operations in 1908 — today transports more than 72 million commuters annually  between the New Jersey cities of Newark, Hoboken and Jersey City and two terminals in New York City, via tunnels under the Hudson River.
Among members of GO 795 are genuine 9/11 heroes — conductors credited with saving hundreds of lives the morning of Sept. 11, 2001, when terrorists caused the destruction of the twin towers of the World Trade Center, which stood above the PATH station.
With the PATH World Trade Center station filling with smoke, PATH conductors held their outbound train's doors open and ensured every passenger on the platform was aboard before departing the station. It was the last train out before the collapse of the towers.
Smith, who lives and breathes the principles of trade unionism — and especially the UTU — hired on at PATH in September 1989, and previously was secretary of GO  795.
Rather than comment on her elevation to general chairperson in January, Smith asked that the hard work and dedication of PATH GO 795 Vice Chairpersons Sean Smith, Dave McQuillan and Kevin Wendolowski, and Secretary Anita Aguilar be recognized.
"Pat Smith has a great attitude and is committed 24/7 to improving working conditions and job security for her PATH membership and moving the union spirit forward," said UTU International Vice President Delbert Strunk, who was assigned to assist the general committee.
The UTU also represents tower operators on PATH (GO PAT).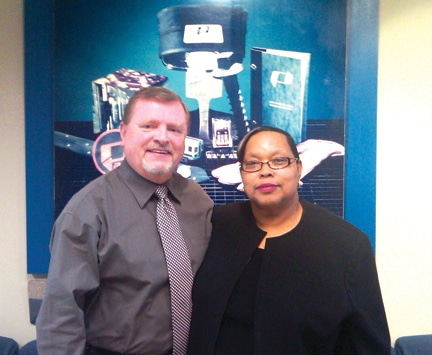 International Vice President Delbert Strunk with General Chairperson Pat Smith