UTU members are stepping up to the plate in the fight to preserve collective bargaining rights, Amtrak, workplace safety, Railroad Retire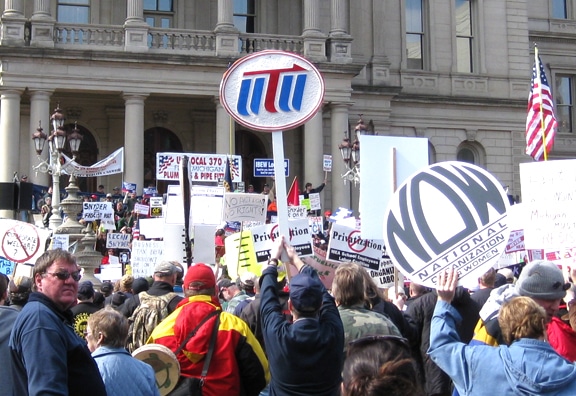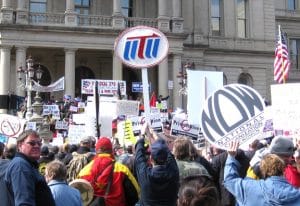 ment, Social Security and Medicare by mounting a counter attack on political extremists intent on destroying organized labor and all it has achieved for working families.
Hundreds of active and retired members — individually and through their locals, general committees and state legislative boards — have contributed to the UTU Collective Bargaining Defense Fund and the UTU PAC.
A $10,000 contribution to the Collective Bargaining Defense Fund was made by Amtrak General Committee of Adjustment 769 and delivered by General Chairperson Roger Lenfest.
In Arizona, , the 292 members of UTU Local 113 in Winslow recently almost doubled their monthly PAC contributions. "They have a lot of pride and they talk about the UTU PAC at every meeting," said State Legislative Director Greg Hynes. "All the officers of this local are dollar-a-day PAC members or more — and some contribute $50 monthly."
Three of Local 113's officers made clear why they are active in the UTU PAC:
Alternate Delegate Chris Todd: "PAC is our political voice. Without it we're just rolling the dice on our future."
Local Chairperson Jim Polston: "I was able to convey to our membership the importance of PAC. Once you do that our members are proud to help out."
Treasurer Mike Branson: "I contribute to our UTU PAC because without action there would be no union."
In the wake of UTU members — in solidarity with brothers and sisters from other labor organizations — demonstrating against state legislative action to destroy organized labor, anti-labor bills have been slowed and education of the electorate and the media has generated public outrage.
In Wisconsin, six state lawmakers who led the fight to strip public employees of their collective bargaining rights now face a recall election; and an injunction against implementation of the legislation was ordered by a state court, with the law now facing state supreme court review.
In Ohio, a petition drive led by union members placed a similar law as Wisconsin's on hold pending a voter referendum this fall.
The UTU Collective Bargaining Fund is providing assistance to UTU members who are engaging in demonstrations and other voter outreach activities nationwide.
The UTU PAC, meanwhile, is helping labor-friendly state legislative and congressional candidates prepare to mount challenges against political extremists who have declared war on working families and organized labor.
The National Conference of State Legislatures reports that since 2009, 729 anti-labor bills have been introduced in 48 separate states. In Congress, a bill is pending to invalidate a National Mediation Board ruling that representation elections be decided on the number of votes cast, without counting those not voting as having voted against union membership.
A U.S. Supreme Court decision known as "Citizens United" opened the door to unlimited political donations by corporations for political advertising that will accelerate attacks on organized labor. While labor unions cannot match such donations, labor-union PACs can make a difference on behalf of labor friendly candidates; and our primary strength is in getting out the vote — and then casting ballots — on behalf of labor-friendly candidates.
It is well established that union families are more likely to vote in elections, and the combination of PAC contributions to labor friendly candidates, voter outreach by union members and union families casting votes for union-endorsed candidates is a powerful response to corporate interests and their candidates whose intent is to destroy organized labor.
For more information on the UTU Collective Bargaining Defense Fund, click on the link at the end of this article, and please consider increasing your UTU PAC contributions. If you are not yet a UTU PAC member, please consider joining.
As President Mike Futhey has said, "If you believe in something strong enough, you fight for it. Together, in solidarity, we can and will win this fight and emerge stronger than ever."
https://www.smart-union.org/collective-bargaining-defense-fund/