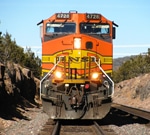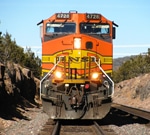 WASHINGTON – A final rule on improved locomotive cab safety and comfort has been published by the Federal Railroad Administration.
The final rule, affecting all new and remanufactured locomotives in road and yard service, follows collaboration among the FRA, rail labor and carriers through the Railroad Safety Advisory Committee (RSAC) process and becomes effective June 8.
Significant in the final rule is a requirement that new and remanufactured locomotives be equipped with a secure cab lock to prevent unauthorized intrusions. While many locomotives do have cab locks, not all are "secure."
As secure cabs create intolerable conditions during hot weather, the new rule also requires climate control – air cooling inside the cab in hot weather as well as a cab environment ensuring a low temperature of no less than 60 degrees in cold weather – for all new and remanufactured locomotives.
"Fatigue management and security concerns require climate controlled locomotive cabs," said UTU National Legislative Director James Stem. He observed that "CSX is doing a good job of consist management to move the newer and air-conditioned locomotives to the lead."
Stem also observed that 22 months ago, a crew member was fatally shot inside a locomotive cab in Louisiana during a robbery attempt. And while that locomotive did have locking devices for the cab door and windows, the locomotive was not air-conditioned, which caused the crew not to secure the cab.
The new rule also affects use and operation of remote control locomotives, and revised standards for locomotive brake maintenance, headlight replacement and locomotive electronics.
To read the final rule, click on this link