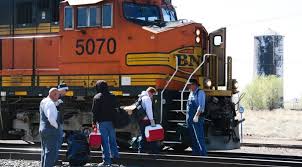 The Federal Railroad Administration (FRA) in a 41-page report released Jan. 13th by its Office of Research, Development and Technology said what railroaders already know.
Researchers at the Volpe Center over a period of years performed cognitive task analyses (CTAs) that examined the mental demands placed on rail workers, including operating personnel, as they engaged with technology and performed their jobs.
"Results from the locomotive engineer and conductor CTAs indicate that train crews, a primary example of an elemental team in railroad operations, exhibit characteristics of high performing teams that are found across industries," the report said. "These include mutual performance monitoring — to catch and correct errors — and active support of each other's activities."
"These teamwork activities went beyond the requirements of formal operating rules and were not explicitly covered in training," the report states.
The Volpe Center has even received accolades from Transportation Secretary Elaine Chao herself, who praised its work at enabling safety and innovation for the nation in regard to transportation and infrastructure during the center's groundbreaking in Oct. 2019.
"It has worked to reduce rail-grade crossing accidents, improve vehicle safety, and better manage the airspace…. The Volpe Center continues to provide important contributions to our national transportation system. Especially now, when we have entered a historic period of transportation innovation that promises to boost economic growth and improve quality of life. These innovations are occurring in all modes of transportation, including roads, rail, maritime, and aerospace…. All these innovations are exciting, but they can be disruptive. This is where Volpe's contribution plays an important role. Volpe's data and analysis provides trustworthy information that helps us distinguish between 'High' and 'Hype' performance innovations. Volpe's data helps build confidence among stakeholders, including the public whose acceptance is critical to realizing the potential of ground-breaking innovations."
So, when a facility respected for its research of transportation issues provides evidence in an FRA report saying that cooperative efforts and communications exhibited by the two operating crew members help keep railroad operations safe beyond the baseline training that every rail worker receives upon hire, it blows a hole in the argument that "rail safety data does not support a train crew staffing rulemaking" from FRA Administrator Ron Batory last May in withdrawing the Notice of Proposed Rulemaking on two-person crews.
There's the old saying that "two heads are better than one." Railroaders live this life, especially when coping with the unimaginable fatigue being an over-the-road crewmember brings. The ability of two people to work together and their collected experience helps them to react to unexpected and potentially dangerous situations as they happen, preserving the safety of the crew and others while crossing the country.
Earlier research from the Volpe Center released in December 2013 also proves this:
"The locomotive engineer and conductor function as a joint cognitive system, meaning that conductors and locomotive engineers jointly contribute to the set of cognitive activities required to operate the train safely and efficiently."
"While each crew member has a distinct set of formal responsibilities, in practice they operate as an integrated team, contributing knowledge and backing each other up as necessary."
"When operating on the mainline conductors not only serve as a 'second pair of eyes', alerting the locomotive engineer to upcoming signals and potential hazards (e.g., activity at grade crossings; people working on or around the track), they also contribute knowledge and decision-making judgment."
"Conductors also serve an important, redundant check and backup role, reminding locomotive engineers of upcoming work zones and speed restrictions."
"If necessary, they will also handle unanticipated situations and activate the emergency brake, in cases where the locomotive engineer has not responded quickly enough."
"Conductors have developed a variety of skills and strategies that enable them to handle non-routine situations safely and efficiently."
But whether FRA's Batory and the Association of American Railroads (AAR) continue to cling to this argument that keeping two people on the train crew has no effect on the safe operation of railroads in America when FRA research reports and plain common sense say the opposite is anybody's guess.
They're fighting tooth-and-nail in court against keeping two people on freight rail crews when laws passed by seven states and public opinion have expressed that a reduction in crew size would add risk and danger to an industry that hauls hazardous and nuclear materials through our cities, suburban neighborhoods and rural areas alike.
It truly is puzzling. Both AAR and Batory's agency tout safe operations as a primary goal on their websites, and they praise the efforts of railroad workers in keeping operations safe in public testimony. Then they simultaneously argue in court and in state legislatures against keeping those personnel working on America's railroads because maintaining two on the crew might crack some fragile egg of future technological advancement.
By the way, Volpe research says Positive Train Control (PTC), will not provide all of the cognitive support functions the conductor currently provides to the locomotive engineer.
Technology does not need to be approached with the final goal of slashing a workforce to save costs and thus fill the pockets of those at the top in the form of higher share prices and lower operating ratios. The FRA Office of Research, Development and Technology report even suggests that new technologies can be layered atop current personnel configurations that carriers operate under, and that approach would make sense from a workers' safety and public safety standpoint.
Technological advances will not deliver first aid to the person whose vehicle has been struck by a train and is trapped and injured after an accident at a rail crossing. Technological advances will not perform CPR on the co-worker in the cab who suffers a medical event while the train is being operated. Technological advances will not physically assist a co-worker in evacuating when a locomotive has derailed into a river.
That people have survived the above scenarios that have occurred on the nation's railroads are examples of safe operation as well. Unexpected events and calamities do happen. But definitive data aren't kept by the FRA or the railroads about accidents that are prevented by worker intervention or assistance that is provided. How can you really track what might have happened if the incident is avoided?
What we can look at what is in the here and now. The level of worker and public safety that the railroad industry has achieved is a result of the collaboration of engineers and conductors and all other employees out in the field. Yes, there are still fatalities — our union lost three members in 2019 — and safety performance can still be improved by adding technology without a further reduction of on-train personnel.
FRA's research on rail worker teamwork, made and released by the agency in charge of regulating the nation's railroads and performed by the Volpe Center, indicates cutting the in-cab crew to one person for the sake of profitability (the railroads continue to make billions, even with rail traffic down) jeopardizes the status quo of safe rail operations. If you ask the AAR, they'll tell you that working on the railroad these days is safer than working at a grocery store.
So with rail carriers being profitable and safe and two on the crew, it looks like America's railroad workers must be doing something right.
The full FRA report, "Teamwork in Railroad Operations and Implications for New Technology," is available here.

Jeremy R. Ferguson,
President, Transportation Division