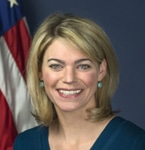 The Federal Railroad Administration (FRA) will soon unveil its expectations for railroads to meet the newly extended Dec. 31, 2018, deadline for positive train control (PTC) implementation, FRA Administrator Sarah Feinberg told members of the Railroad Safety Advisory Committee (RSAC) last week.
Feinberg urged railroads not to make the extension their primary focus, but to focus on "getting PTC up and running as soon as possible," according to a prepared statement of remarks. 
"Over the last year, I am sure you have observed that FRA is in a much more aggressive posture on PTC, and everyone should expect for that posture to continue," Feinberg told the committee, which advises the railroad industry on safety policy.
Read more from Progressive Railroading.