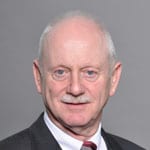 Thompson
Kim Thompson, general secretary & treasurer of the UTU International and the UTU Insurance Association since 2008, will retire Dec. 31.
The UTU Board of Directors has elected International Vice President Delbert Strunk to succeed Thompson Jan. 1. Strunk will retain his position as an International vice president.
Also, International Vice President Paul Tibbit will retire Dec. 1, but the UTU board has not yet elected a successor.
UTU International President Mike Futhey praised Thompson as "one of the most dedicated union officers I have had the honor and privilege to work with. Kim's stewardship of UTU and UTUIA finances is a principal reason both organizations have meaningfully improved their bottom lines in spite of this lengthy economic downturn.
"Delbert Strunk is one of the most loyal and hardworking of International officers," Futhey said. "His experience at all levels and facets of this organization will ensure a seamless transition.
"The retirement of Paul Tibbit will be felt throughout the UTU, as his assistance to general committees in negotiating contracts and successfully pursuing grievances has earned him deep respect from all who have benefited from his expertise and advice," Futhey said.
Thompson, who will be 65 in January, began his railroad career in 1966 as a brakeman on the Moberly Division of the former Wabash Railway (later merged into Norfolk & Western, and now part of Norfolk Southern). He was promoted to conductor in 1972 following four years of U.S. Navy service.
In 1975, Thompson was elected president and chairperson of Local 226, Moberly, Mo., representing conductors, brakemen and yardmen, and was elected by his local as a delegate to two UTU conventions. He was elected legislative representative of his local in 1976.
In 1985, Thompson was elected a full-time vice general chairperson (GO 719, merged in 1998 into GO 687), and elected general chairperson of GO 719 in 1989, representing conductors, brakemen, yardmen, firemen and engineers on the former Wabash lines of Norfolk Southern.
Thompson was elected to the UTU International's Executive Board in 1987, and served as board chairperson for eight years. In 1995, he was elected UTU International first alternate vice president for the South; and elevated to UTU International vice president in 1997.
He served as vice president until he was elected general secretary & treasurer at the UTU International convention in 2007. He took office Oct. 1, 2007, upon the retirement of GS&T Dan Johnson.
From 1988 through 1997, Thompson served on the board of the Wabash Memorial Hospital Association in Decatur, Ill.
"My impending retirement comes with mixed feelings," Thompson said. "There is always another task to do. There is always someone in need of help. But I have learned that there is someone to step up as I once did and the time comes for them, just as it did for me.
"I am indebted to Jim Oliver, former Local 881, Montpelier, Ohio, a vice general chairperson who taught me that preparation fosters success. I am also thankful for Tom DuBose, who taught me to take care of business and the rest will take care of itself. And I will forever be thankful to Mike Futhey for his leadership through the most challenging time faced by this organization.
"I am thankful for the love and support of my bride, Connie, and her sacrifices in following my dream and I look forward to our time being ours."
Thompson and his wife, Connie, have five children and five grandchildren.
DELBERT STRUNK
Strunk, 62, began his career in 1973 as a brakeman on the Cleveland Division of New York, Chicago & St. Louis (Nickel Plate, which later merged into Norfolk & Western and is now part of Norfolk Southern.) He was promoted to conductor in 1977.
In 1975, Strunk was elected legislative representative of Local 225, Bellevue, Ohio, which represents conductors, trainmen, yardmen and engineers. Over the next 35 years, Strunk held the offices of vice local chairperson, local chairperson, alternate legislative representative, legislative representative, general secretary (GO 687) and delegate to the 2007 UTU convention.
In 1983, Strunk was elected as general secretary of GO 687; he was elected full-time general chairperson of the general committee in 1989. Strunk served as general chairperson, representing conductors, trainmen, yardmen and engineers, for the next 20-plus years.
In 1998, Strunk merged GO 719 (former Wabash) into GO 687 (former Nickel Plate), forming what is now one of the largest general committees on Norfolk Southern. Strunk was elected alternate vice president-East in 2007, was elevated to International vice president in July 2009 and was re-elected International vice president in 2011.
He was elected as vice chairperson for the District No. 1 General Chairpersons' Association and was elevated to the position of chairperson when the former chairperson retired.
Strunk has been appointed to the last three UTU national negotiating committees, as well as appointed to the National Wage and Rules Panel. He served as chairperson of the 2007 UTU Constitution Committee and is a member of the UTU Board of Directors.
Strunk and his wife, Diane, have four children and 16 grandchildren.
PAUL TIBBIT
He served in the U.S. Navy from 1965 to 1968 and began his rail career with Atchison, Topeka & Santa Fe (now part of BNSF) in 1971.
He has served the UTU as a local secretary & treasurer, local chairperson and general chairperson of GO 393.
Tibbit was elected alternate vice president-West in 2007, elevated to International vice president in 2009, and elected an International vice president at the 2011 quadrennial convention.