By FRA Associate Administrator for Safety Jo Strang
The Federal Railroad Administration's Risk Reduction Program is a voluntary industry-wide initiative to reduce accidents and injuries and build a strong safety culture by expanding the toolkit to analyze and manage risk.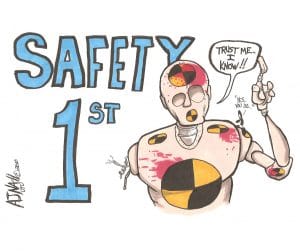 Eventually, these assessments will complement other programs such as safety inspections of railcars and injury reporting.
We are currently drafting a regulation requiring railroads to develop comprehensive risk reduction programs.
The FRA Risk Reduction Program affects every railroader through timely reporting of employee injuries and illnesses.
Additionally, an FRA team is collecting data on current practices and is seeking ways to prevent harassment and intimidation of injured railroad employees.
The data is collected from FRA complaint and enforcement records and directly from rail labor organizations.
The FRA also is working with outside sources, including the Occupational Safety and Health Administration (OSHA), to gain a clearer understanding of that agency's whistle-blower regulation for railroad employees, and other factors that can contribute to solving harassment problems.
Using what they have learned, our Risk Reduction Program team conducted numerous presentations for UTU members on their rights regarding work-related injuries. The team learned a tremendous amount about current conditions railroad employees face daily.
The FRA also is strongly encouraging railroads to take actions that remove the punitive policies and practices that invite or induce retaliatory harassment and intimidation.
Amtrak is one railroad that has taken strides in this direction.
In implementing its Safe 2 Safer program, Amtrak has taken positive steps to improve its safety culture. The FRA Risk Reduction Program team noted that, as a result, the number of injuries reported by Amtrak employees has risen as expected, and the number of OSHA whistle-blower cases reported by employees has decreased.
The FRA hopes this indicates that injured Amtrak employees are now seeking and receiving appropriate care; and that other railroads will learn from Amtrak's success and implement similar programs.
The FRA appreciates the UTU's assistance in providing this invaluable data and input to the investigation team. When and where the team is successful in mitigating risks and hazards identified, safety is improved for railroad employees and the public.
An Advanced Notice of Proposed Rulemaking was published in the Federal Register in December, and we are currently reviewing the comments received. However, in order to obtain as much stakeholder input as possible, we plan to conduct a public hearing.
In the meantime, we would appreciate receiving comments and suggestions from UTU members, which should be sent to the UTU National Legislative Office in Washington, D.C., which will collect and forward them to the FRA'S Risk Reduction Program team.
Thank you for your involvement in building a strong rail safety culture.