The whole foundation of unionism is the idea of putting the needs of other people in a situation similar to yourself — your union brothers and sisters — above the needs of the individual with the intent that things will improve for all through that collective effort.
It's the big motivator as to why officers spend hours of their own time and massive amounts of energy to resolve and help support causes both big and small.
The same commitment can be said of many of the support staff in the Transportation Division's Cleveland-area office. Without them, the union would not operate at an optimal level.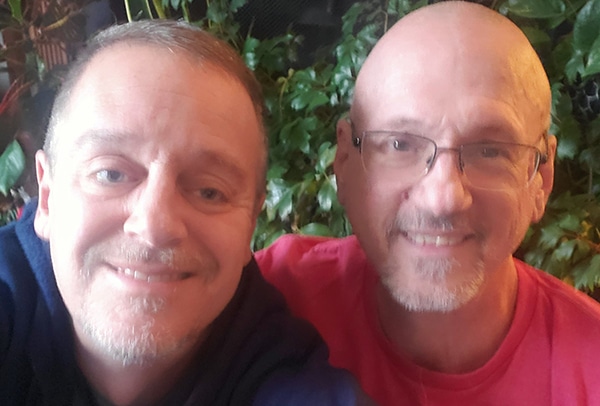 One key member — Carl Morgano — has worked for SMART-TD since 1999 in the Accounting Department, rising to become payroll administrator at the TD office. Recently he and his husband of 10 years, Gerard Kreutzer, have been coping with a major health challenge for Gerard that requires a liver transplant.
"We're at the point where we need a living donor," Morgano said.
Gerard has primary sclerosing cholangitis (PSC), a disease that affects the liver's bile ducts. Since its onset, PSC has reduced Gerard's quality of life, putting him in a constant state of fatigue and requiring him to go on disability from being a building project administrator and, before that, a sous chef.
Gerard is now registered with the American Transplant Foundation, a nonprofit that works to connect patients with potential living organ donors.
Gerard's need is extremely urgent — it is the first step to resolving a second health issue involving his pancreas. A mass of cysts has formed on that organ, and doctors do not want to perform the partial pancreatectomy Gerard needs before he receives the liver transplant.
"The doctors basically want to perform the liver transplant and the pancreatectomy during the same surgery," Morgano said. "The looming threat of pancreatic cancer is what makes the transplant exceptionally urgent."
The multi-step procedure requires a potential donor aged 18-59 with a compatible blood type (Gerard is type O) to first go through an extensive battery of tests to determine whether he or she is a matching donor. The tests would be performed by Gerard's health care provider, the Cleveland Clinic, and then his insurance would cover the costs of the tests and procedure when a match is found.
"I understand that this is a very altruistic act, which takes a very selfless person to undertake," Gerard, an Army veteran, wrote in his American Transplant Foundation profile. "Gratitude for such an act cannot be expressed in words. Your choice to commit such an act has my grateful appreciation from the depths of my heart." 
Morgano said that the donor doesn't even have to be in the northeast Ohio region — if a suitable donor is found, the foundation can assist with accommodations and travel. Once the transplant is done, both the livers in the donor and Gerard's bodies would both regenerate into whole organs, Morgano said.
The surgery would be performed at Cleveland Clinic's main transplant center. For potential donors to receive more information, contact the clinic directly at 216-444-1976.
"Words cannot convey our gratitude for the opportunity to share Gerard's story," Morgano said. "It offers us hope."
Additional info also can be found on Gerard's American Transplant Foundation page.