Gov. J.B. Pritzker (D) of Illinois again has stood shoulder-to-shoulder with rail workers in the battle for national two-person crew legislation.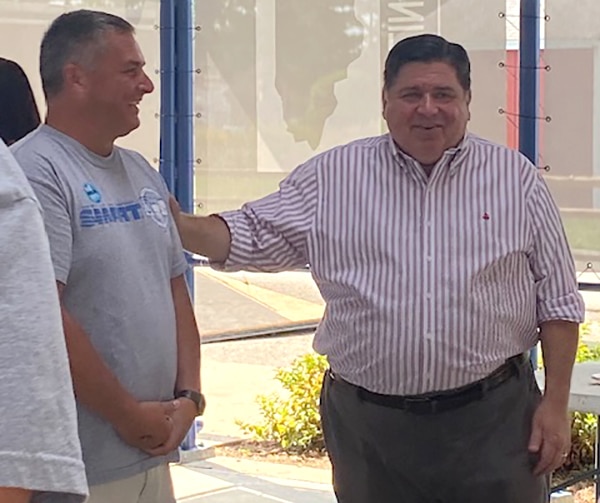 SMART Transportation Division members and the people of Illinois have even more evidence that Gov. Pritzker has their safety as his priority. The governor's office submitted comments to the Federal Railroad Administration (FRA) on Sept. 27 in support of legislation requiring a two-person crew be in the cab of a number of passenger and freight trains. 
"We want to extend our appreciation to Gov. Pritzker for his support for two-person train crews," said Bob Guy, SMART-TD Illinois state legislative director. "When the governor was a candidate, he visited my office, and we discussed this important employee and public safety need. Then he followed up that commitment by signing legislation (S.B. 24) in 2019 that requires at least two individuals to operate trains in Illinois.
"Now the governor has furthered that commitment by issuing a letter of support for FRA's current Notice of Proposed Rulemaking (NPRM) for crew size safety requirements. Gov. Pritzker and the Illinois General Assembly have made it clear that they support public safety by requiring a two-person crew on trains, and we thank them for that."
In his submission to the FRA, Gov. Pritzker stated that "adequate railroad operating personnel is critical to ensuring railroad operational safety and security and in supporting first responder activities in the event of a hazardous material incident, grade crossing incident, or mechanical failure."
The support from Gov. Pritzker is appreciated by the labor community, yet does not come as a surprise. His track record of respect for this issue is clear —  in 2019, he signed S.B. 24 into law, mandating two-person crews for freight trains operating within the borders of Illinois, even when then-FRA Administrator Ron Batory was attempting to quash states' efforts to regulate train crew size.