The new year began with a reminder of just how crucial our electoral efforts are to the future of our jobs, our families and our union.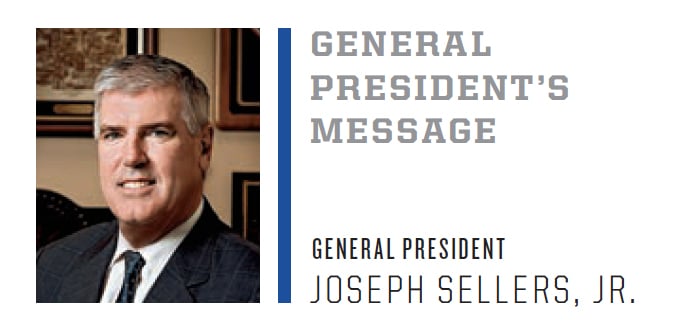 In January 2023, members of the Biden administration joined Democratic and Republican lawmakers to highlight infrastructure work breaking ground across the United States. From Connecticut, to Kentucky, to San Francisco, elected officials touted projects funded by legislation like the Bipartisan Infrastructure Law, the CHIPS and Science Act and the Inflation Reduction Act that will put SMART members to work rebuilding our nation.
In Connecticut, for example, SM Local 40 and the SMART Northeast Regional Council helped secure a project labor agreement for work improving Bradley International Airport — including approximately $20 million earmarked for indoor air quality work. These jobs are critical for sheet metal workers across the country, both those in locals challenged by the influx of new work and members who can travel to the many megaprojects coming online. The legislation spurring these projects is a direct result of our votes and our advocacy with elected officials. SMART members past, present and future will benefit from the electoral victories we have achieved.
The new year also saw the commencement of the 118th U.S. Congress, which included some elected anti-worker politicians, as House Republicans took a slim majority in the House of Representatives. Dysfunction, chaos and pay-to-play concessions followed in the attempts to elect a Speaker of the House. The GOP banning the newly organized Congressional Workers Union in early January is a clear indicator of what we can expect over the next two years: hyper-partisan gridlock, petty infighting and a disregard for workers' rights. This is a direct contrast to what President Biden stated in 2021: "It's the workers' rights to form a union, not the employer." The pro-labor political victories we have enjoyed since 2020 will be harder to match in the coming Congress, with razor-thin margins likely to decide votes on key bills that will help working families. But we worked with similarly slim margins in the last Congress to pass the American Rescue Plan, which provided retirement security, as well as the legislation I listed previously — all producing an investment in good, union, middle-class jobs, and bringing U.S. manufacturing back to America. Make no mistake: We will continue to work with pro-worker politicians, regardless of party, to pass laws that benefit our members.
Make no mistake: We will continue to work with pro-worker politicians, regardless of party, to pass laws that benefit our members.
In Canada, SMART had substantive input into portions of the federal government's Fall Economic Statement. The government continued increased investment in the Union Training Innovation Program and linked tax subsidies and credits for green energy technologies in the private sector to good paying jobs, with commitments to apprenticeship, subject to prevailing wage. Canada's Building Trades Unions will continue to be consulted, and we are leveraging 195 training centres as an opportunity for increased funding and sustainable jobs.
As always, the year ahead will bring challenges. We know that our battle against anti-worker corporate policies like Precision Scheduled Railroading and crew consist is only just beginning. We are in it for the long haul, and we will continue to pressure and work with rail industry stakeholders to bring relief to the workers who kept America moving when it was needed most. As long as we stand together as one union, bonded by our unbreakable solidarity, we will win those fights.
I look forward to all that we will achieve in 2023. Stay safe!
In solidarity,

SMART General President Joseph Sellers, Jr.