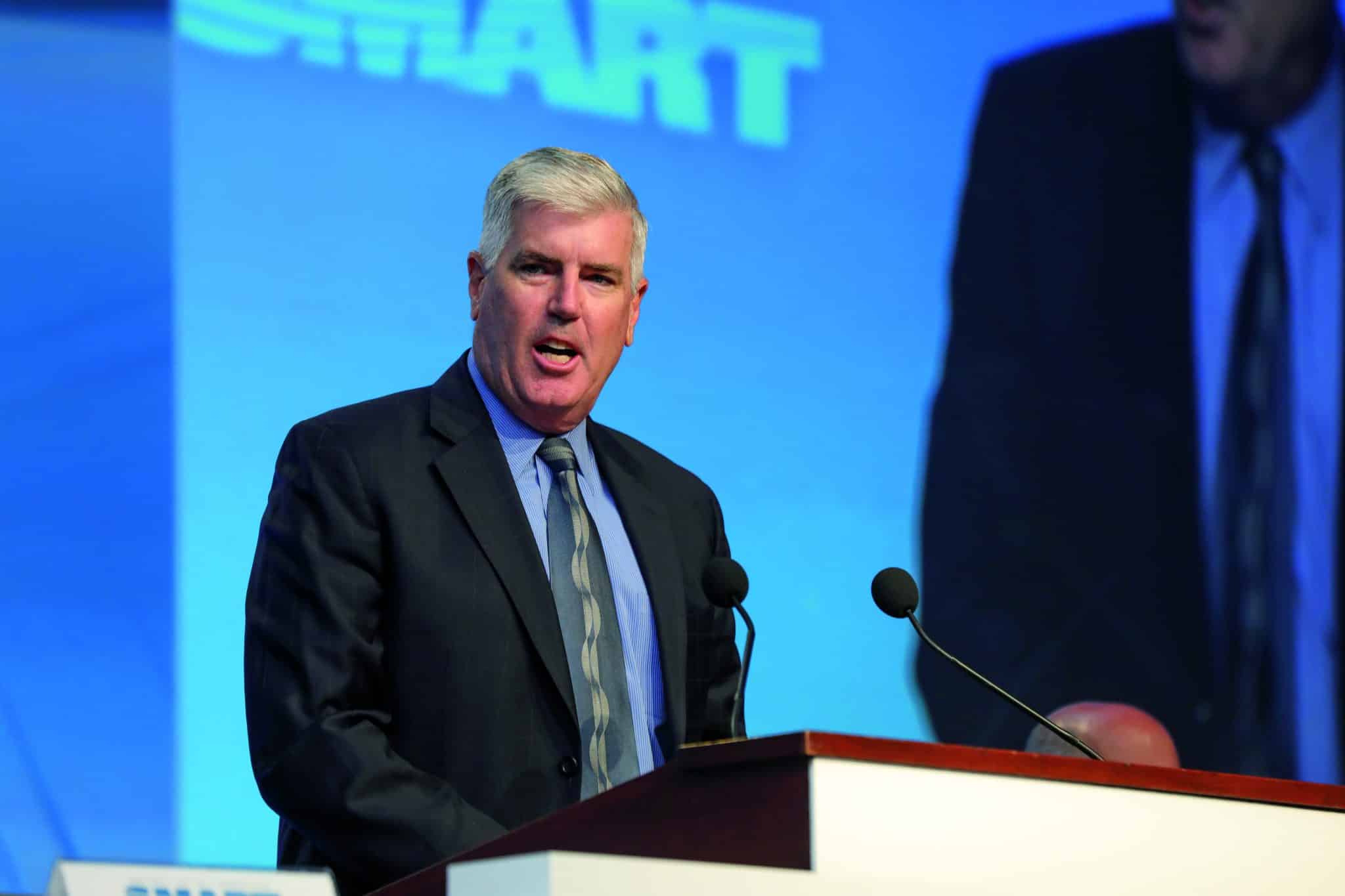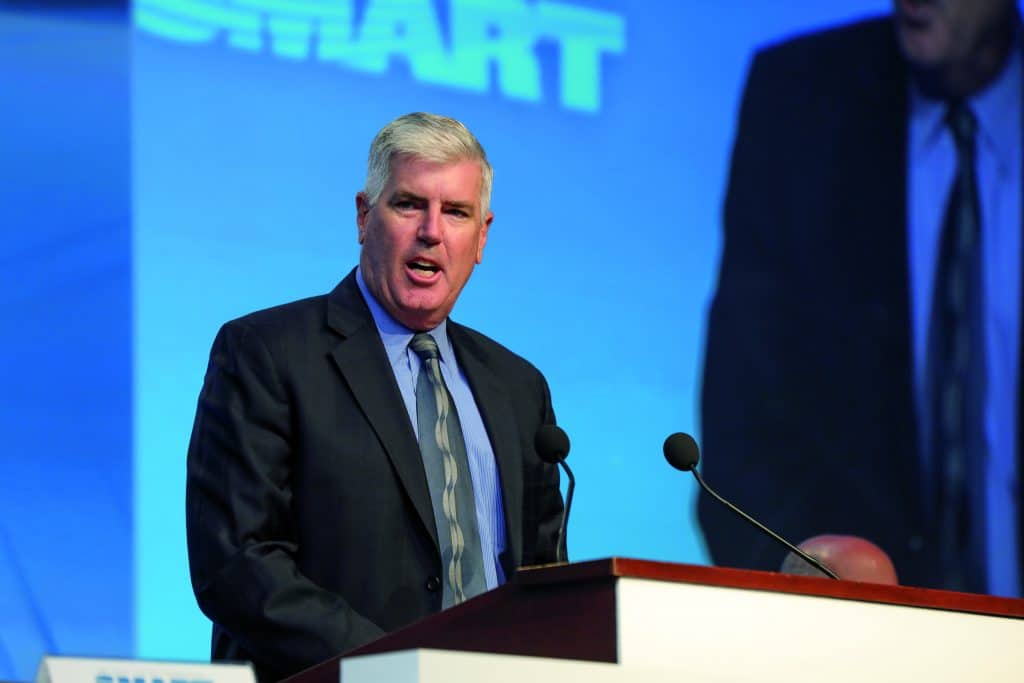 SMART General President Joseph Sellers opened the first-ever SMART Leadership Conference on Monday, August 8th, with local leaders from sheet metal and transportation gathering in San Francisco for three full days of hard work on behalf of SMART members across North America. The theme, "Growth Through Unity," encompassed the focus of the gathering: In joint sessions, sheet metal and Transportation Division sessions, and breakouts, SMART leadership focused on how to secure the future of our union — together.
Leaders emphasize solidarity on day 1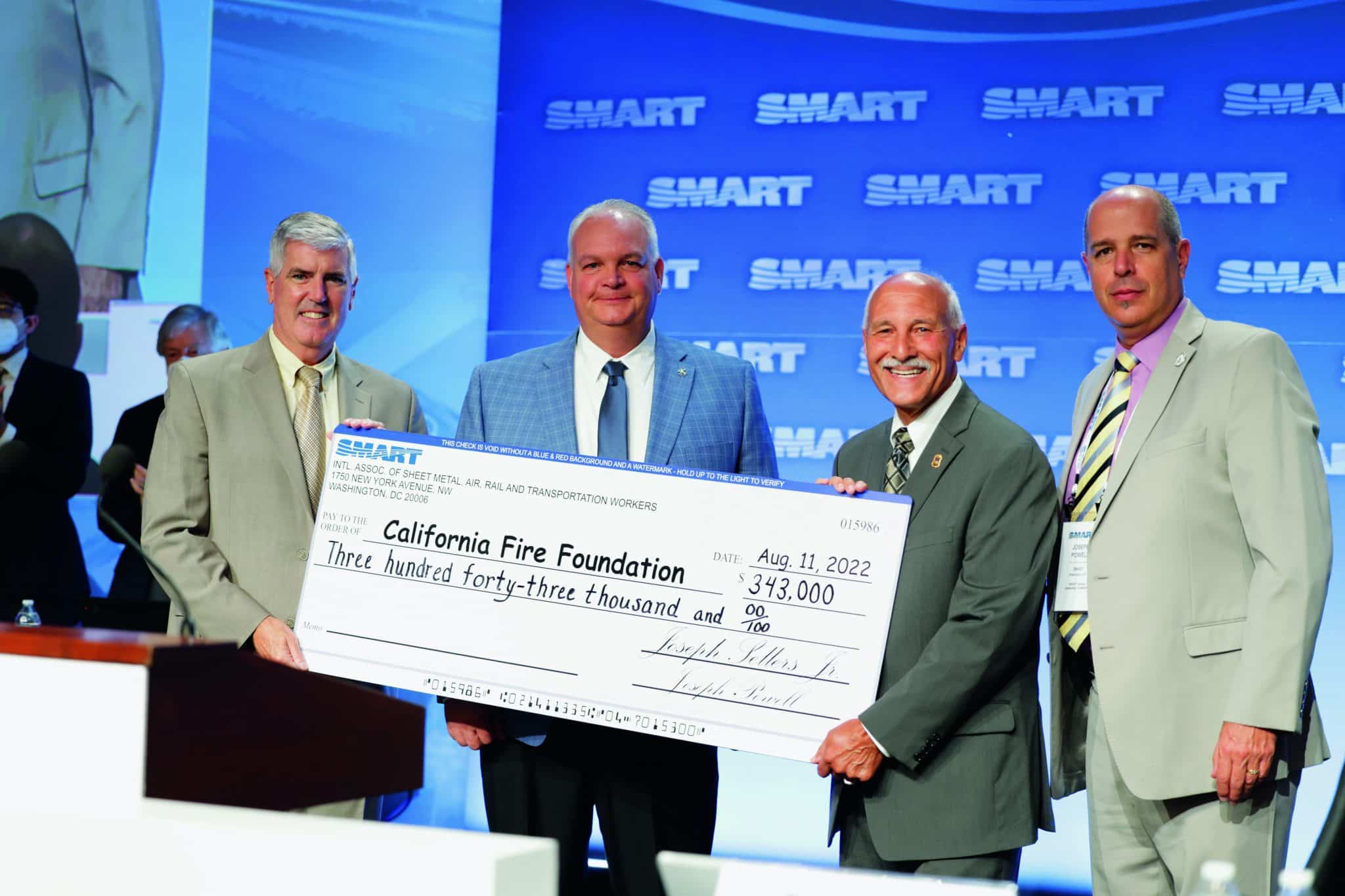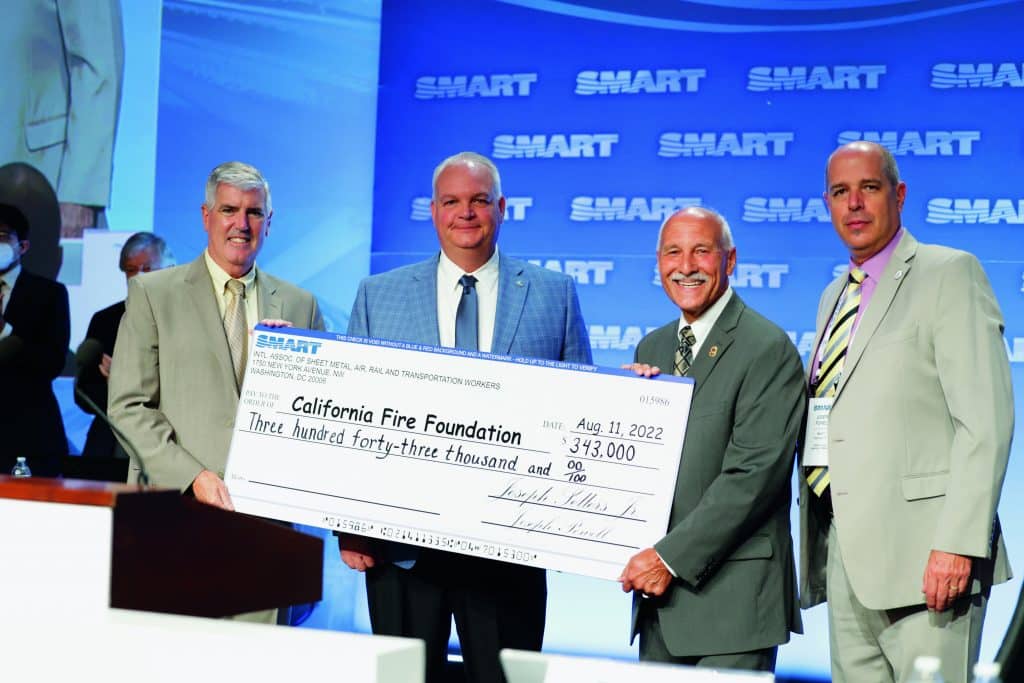 California Fire Foundation President Rick Martinez used his remarks to speak on the mission of the foundation — SMART's chosen charity for the leadership conference — which provides emotional and financial support for the brave men and women (and their families) who put their lives on the line to fight disastrous fires. During the conference, SMART raised nearly $350,000 for the foundation.
In his opening remarks, General President Sellers summarized the last several years, noting that political developments across North America have created unprecedented opportunities for our union: huge investments in the transportation and sheet metal industries under the Bipartisan Infrastructure Law, pension protection in the American Rescue Plan and project labor agreements on federal projects above $35 million in the United States, plus the achievement of the Labour Mobility Tax Credit and added apprenticeship funding in Canada. He also noted the proposed rule for two-person freight rail crews and the importance of working across sheet metal and transportation to secure that victory for rail workers.
"We must be proactive and seize our opportunities to strengthen and grow our union," Sellers said. "We must build our capacity and capitalize on union-friendly administrations in both the United States and Canada."
That being said, Sellers pointed out, all those gains will be in danger if anti-labor politicians take back Congress. Elections in battleground states don't only matter for members in those states — they will impact the future of SMART.
"Either we determine the future of our union, or our adversaries will do it for us," he declared. "So let's organize, mobilize, recruit and fight like hell to increase our density and our market share across industries."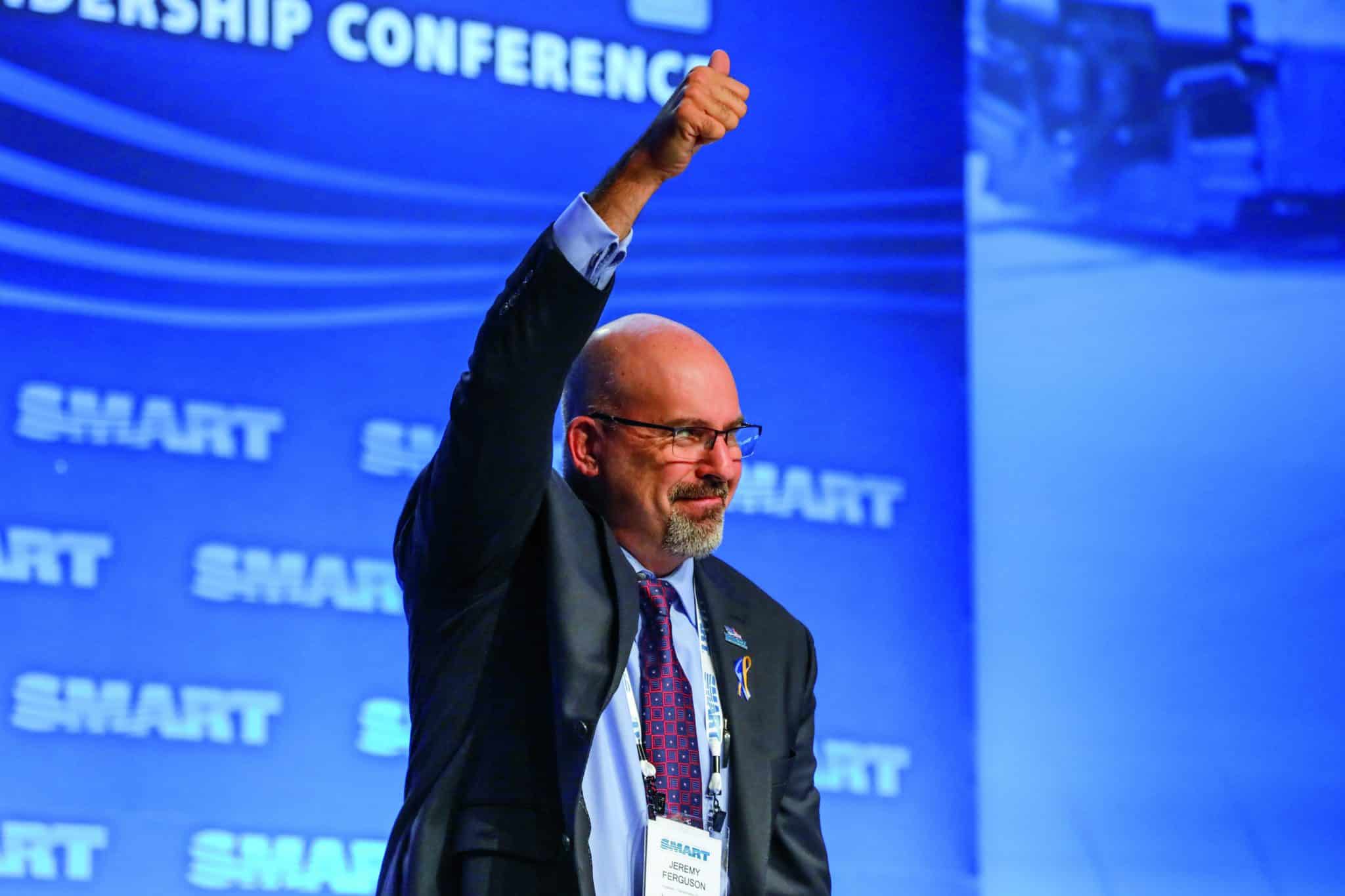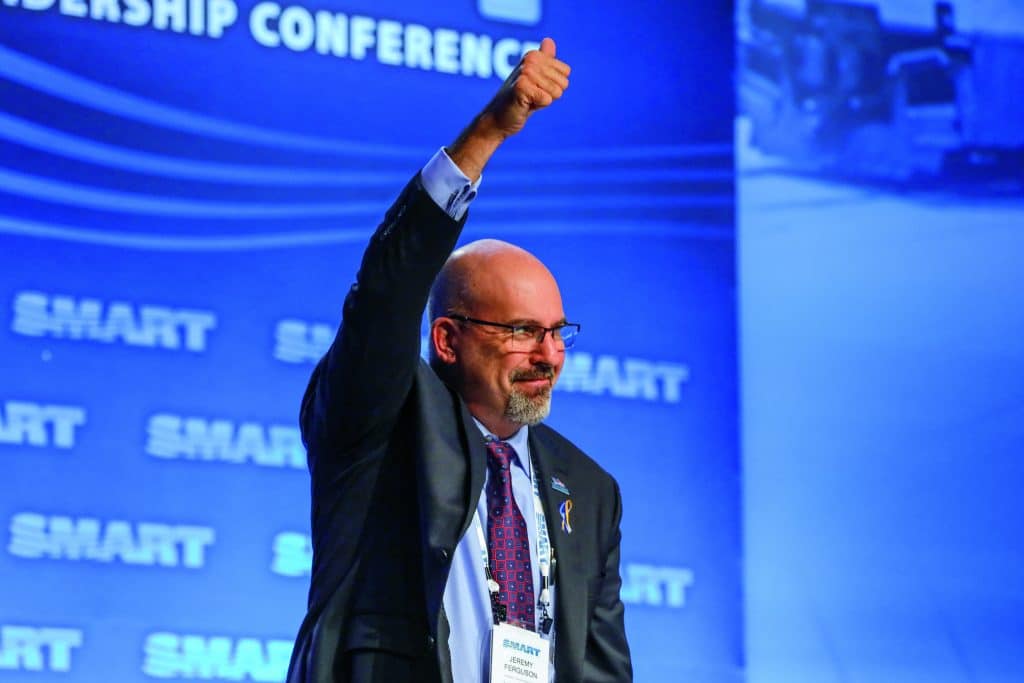 Jeremy Ferguson, president of the SMART Transportation Division, spoke on the furious fight to safeguard and expand working conditions for TD members against a corporate onslaught, particularly from Class 1 freight railroads.
"When things get tough, I know that the one thing we're not afraid to do in the face of adversity is to show up and step up," said Ferguson. "We're not fearful of the challenges that we see ahead, after what we've been through."
Through all the difficulties of the last several years, he continued, a bright spot has emerged: friendly figures in government and federal agencies. Thanks to relationships with Federal Railroad Administration (FRA) Administrator Amit Bose, Secretary of Transportation Pete Buttigieg and others, SMART members have a voice in the halls of power. And most importantly, Ferguson declared, the solidarity of SMART provides a road map to a better future for all members.
"The changes we made in 2020 that we were all a part of," he said, "have opened the doors to lasting progress for our organization and hope, even as we fight through all that the carriers and their Wall Street oligarchs throw at us to grind us down, such as draconian attendance policies."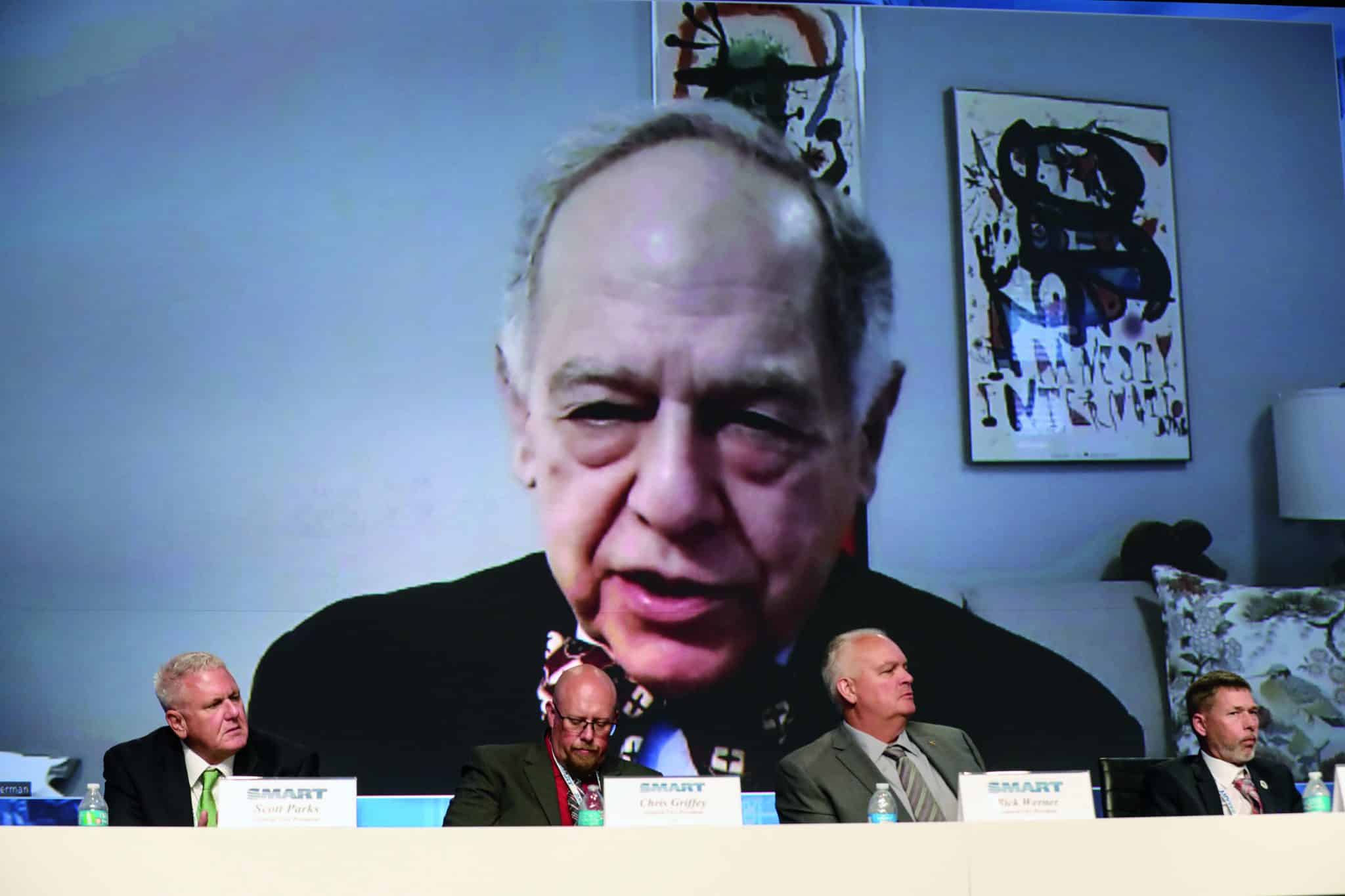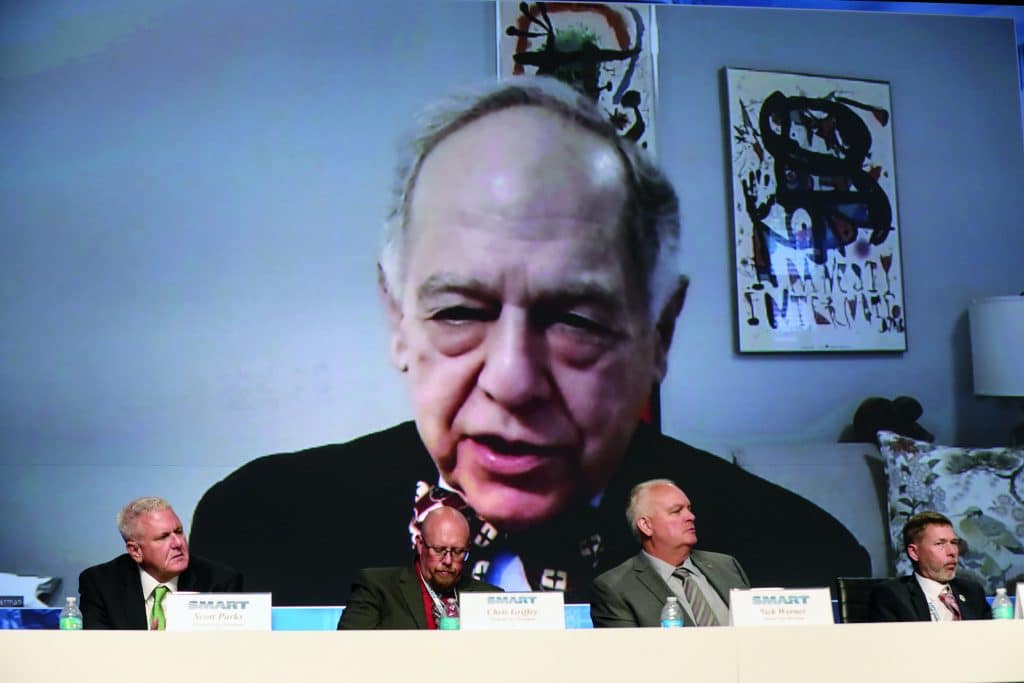 To cap off Monday's joint session, SMART welcomed San Francisco Mayor London Breed and United States Surface Transportation Board (STB) Chair Marty Oberman — both allies of workers and SMART. In his speech, Oberman discussed the STB's efforts to investigate the decline of freight rail service in the U.S., specifically pointing to the reckless workforce slashing that has helped spur current freight rail disruptions: "It's quite clear that the main force driving how the railroads are being managed these days are the pressures of stockholders."
The work continues on day 2
After General President Sellers called the second day to order, AFL-CIO President Liz Shuler took the stand, calling on SMART locals to bring more workers into the fold and mobilize members to achieve more victories: "Growth Through Unity is exactly what we need in this moment."
Organizing is more important than ever, she elaborated, as we emerge into a future with ever-advancing technology, a needed focus on clean energy and other changes to our traditional sectors. As industries change and governments around the world implement new policies to mitigate the effects of climate change, unions like SMART need to ensure workers have a seat at the table. That can only happen, Shuler explained, if we have allies in elected office. The American Rescue Plan, the Bipartisan Infrastructure Law, the CHIPS and Science Act, proposed two-person crew rules and the Inflation Reduction Act (IRA) are all vital actions that will put SMART members to work on an enormous number of projects in the future. Those opportunities likely evaporate if we return to an anti-worker Congress.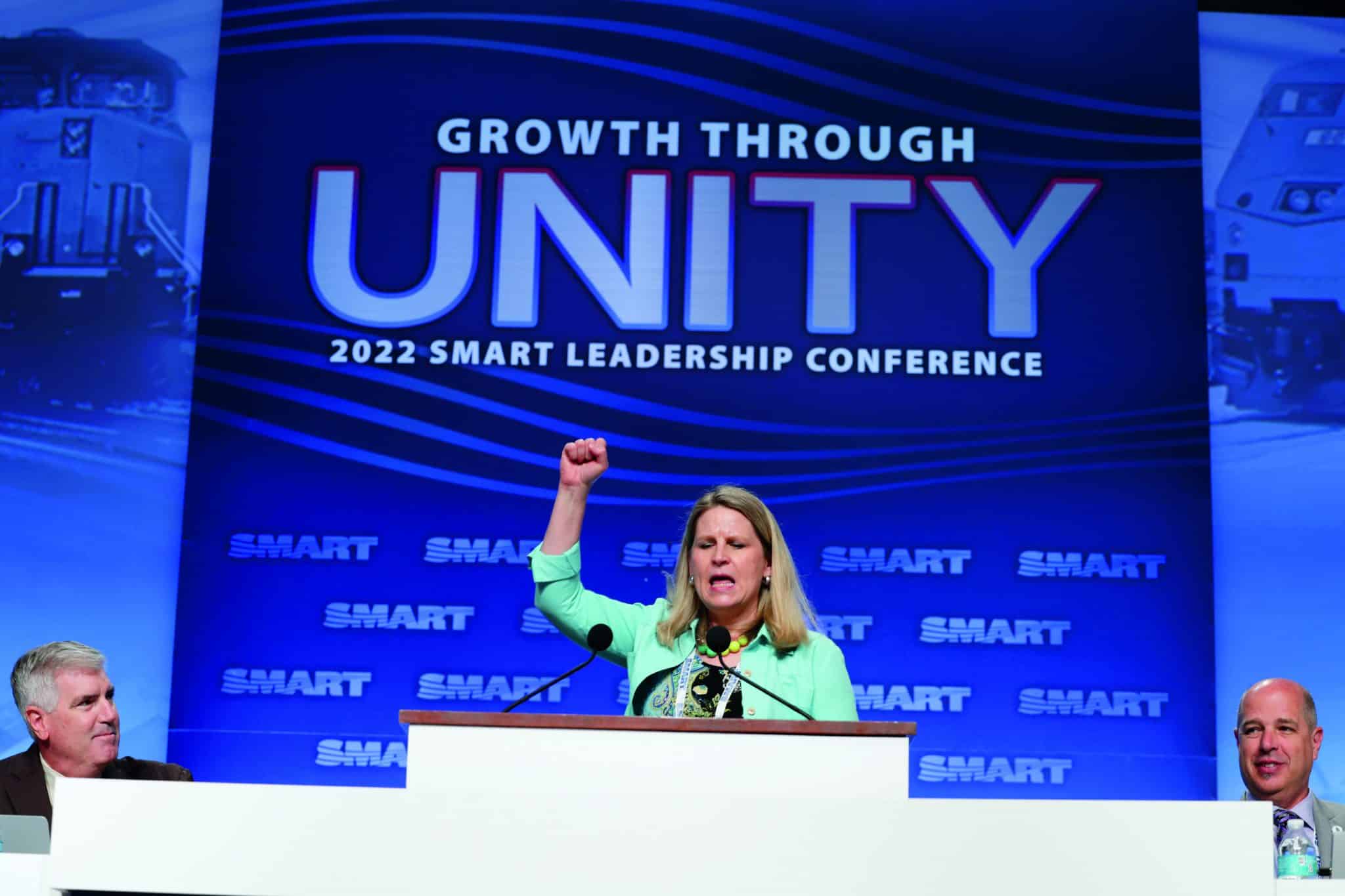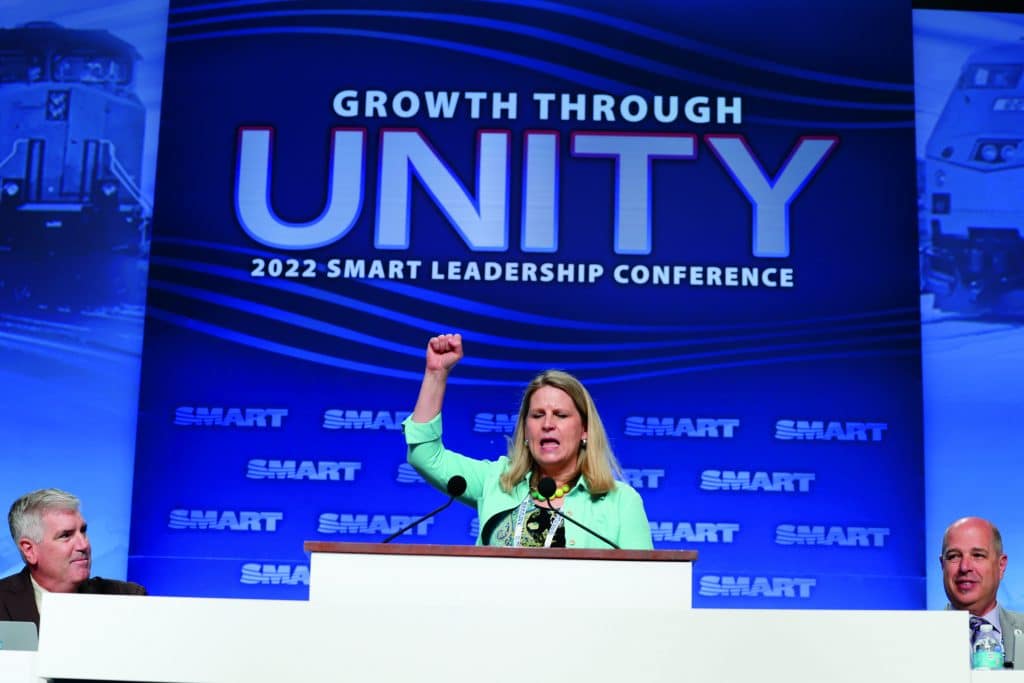 "To make our vision of the future a reality, we need to elect people who will have our back, who share our values," Shuler said. She then gathered with members of the BE4ALL Committee, putting words into action to help SMART better represent all workers.
Shuler was followed by AFL-CIO Transportation Trades Department (TTD) President Greg Regan, who has worked closely with SMART TD leadership to help transportation workers. Like Shuler, Regan praised the unprecedented solidarity uniting railroad unions across TTD and vowed to fight tirelessly for the rights and protections workers deserve.
"There is a level of strength and solidarity in the freight rail labor movement right now that is unmatched," said Regan. "We are going to win this fight; we are going to deliver on the contract rail workers have earned."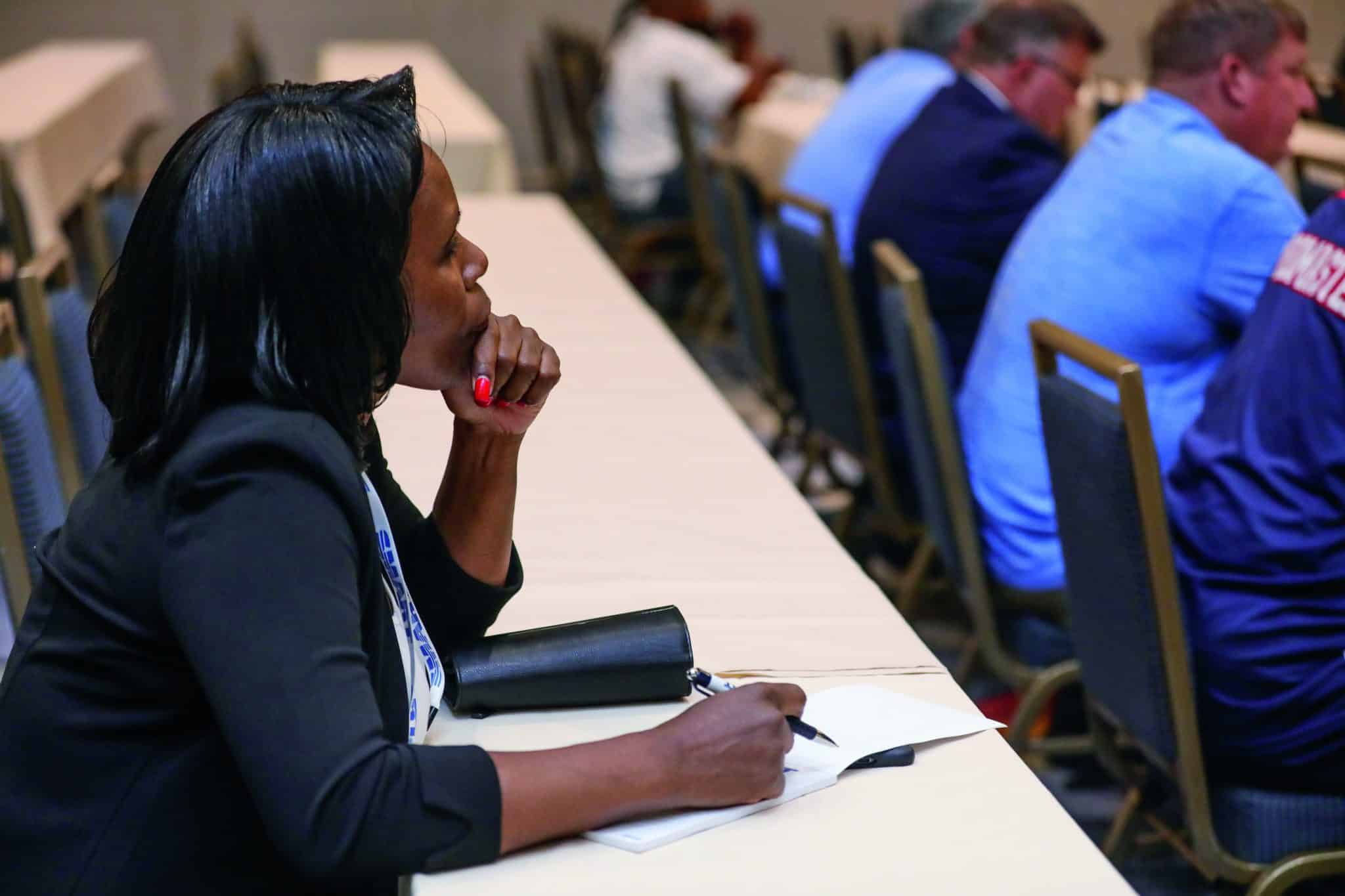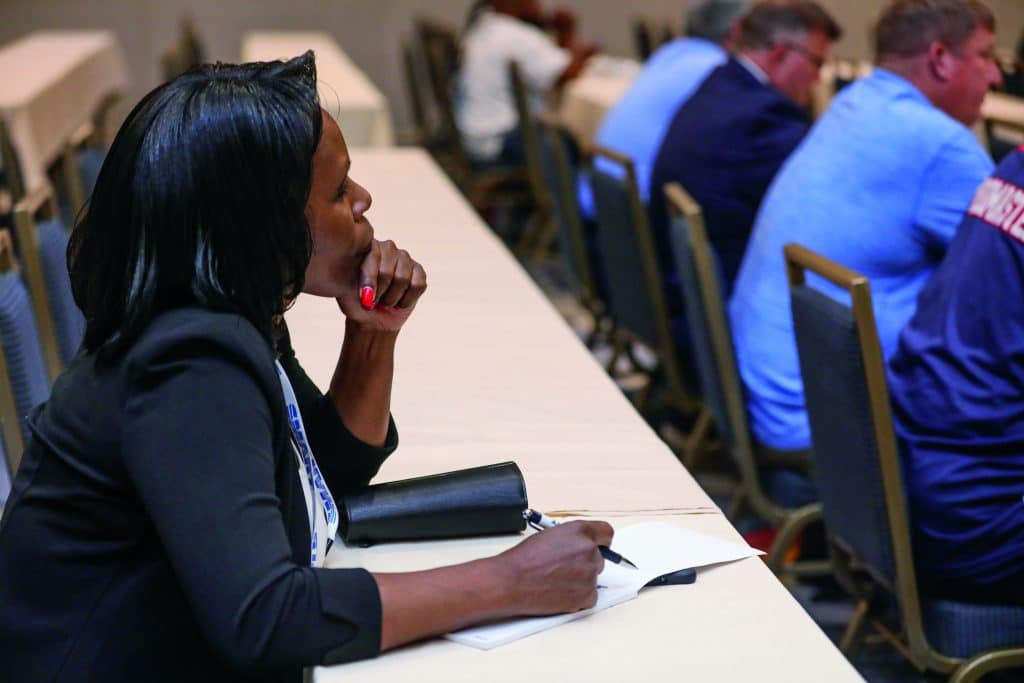 Throughout the morning, the joint session highlighted SMART's relationship with elected and federal officials. That peaked with a rousing speech from FRA Administrator Amit Bose, whose tenure has led to unprecedented access and a seat at the table for SMART. In his remarks, Bose touched on a variety of topics: the proposed federal rule requiring two-person crews on freight trains, funding to expand and modernize freight and passenger rail systems, and much more.
"As we forge ahead with new passenger and freight rail projects, the FRA understands the important role SMART members will play," Bose said. "My staff and I will strive to continue to be available to you and listen to your concerns."
Building our strength on day 3
The conference's final day's focused on developing community solidarity and legislative power. After General Secretary-Treasurer Joseph Powell called the conference to order, U.S. Speaker of the House Nancy Pelosi joined the conference by video, outlining recent legislative accomplishments of House Democrats and the Biden administration before ending with a promise: "We will not relent until the Richard Trumka PRO Act is signed into law."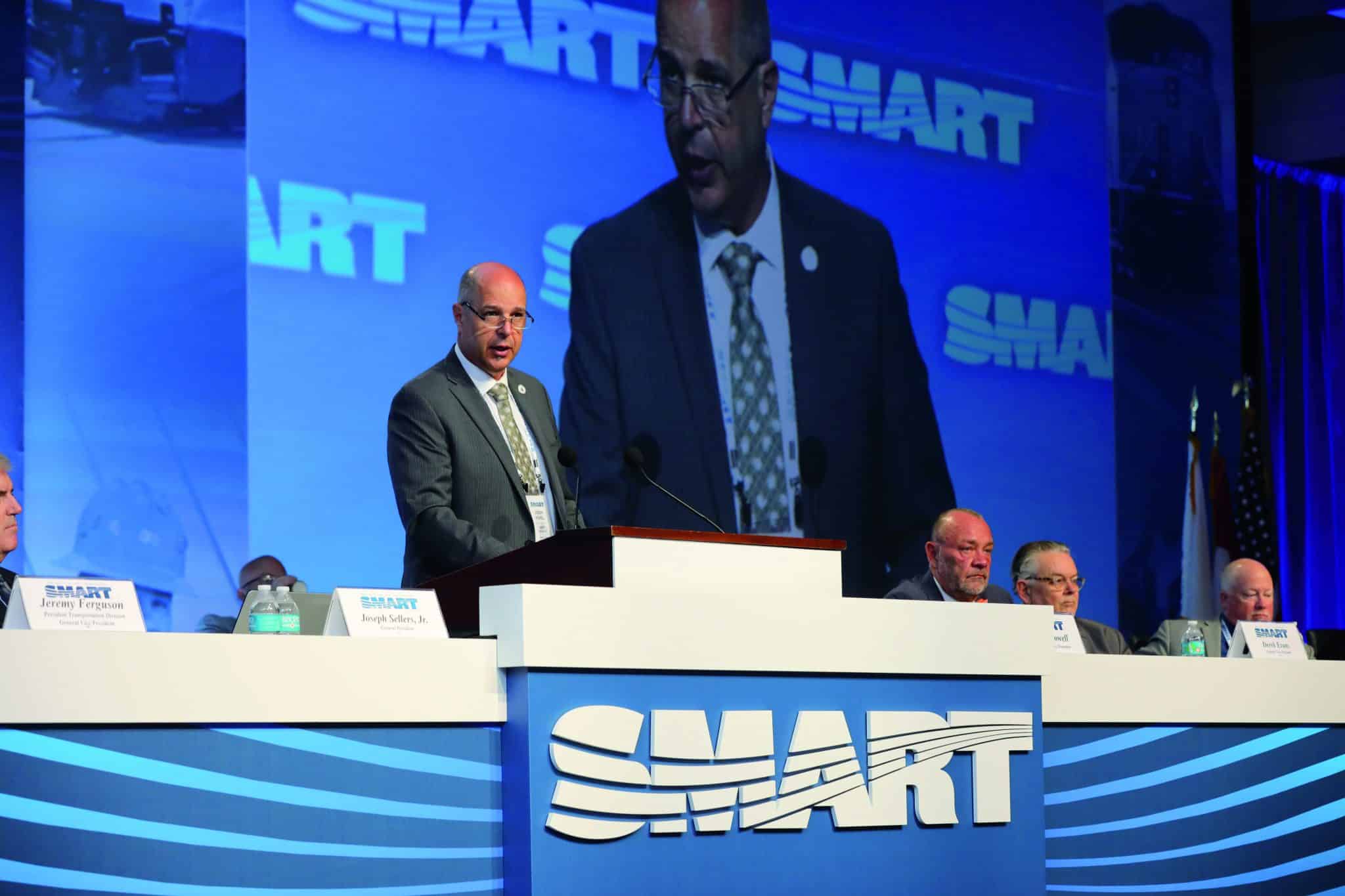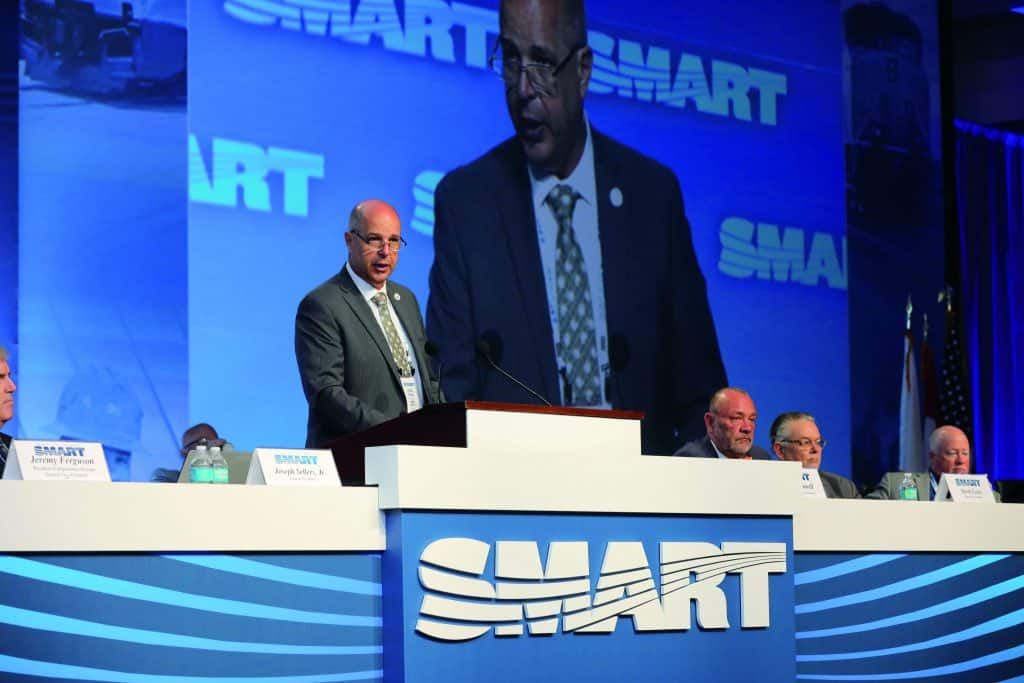 Following Pelosi's speech, SMART Director of Government Affairs Steve Dodd and Transportation Division National Legislative Director Greg Hynes provided an update on SMART's political advocacy. After referencing SMART victories on legislation like the Bipartisan Infrastructure Law — which made specific investments in HVAC work, indoor air quality, transportation and more — Dodd and Hynes explained that such achievements are largely due to the level of access SMART has with the president, Congress and federal officials. As an example, Dodd pointed to historic pension relief included in the American Rescue Plan, which provided millions to SM Local 33 in Ohio (and to other unions as well). Hynes, meanwhile, focused on the difference the new president, Congress and federal appointees have made for TD members.
"We're going for the [two-person crew] regulation and we're going for the law, and we're not backing down," Hynes said to thunderous applause.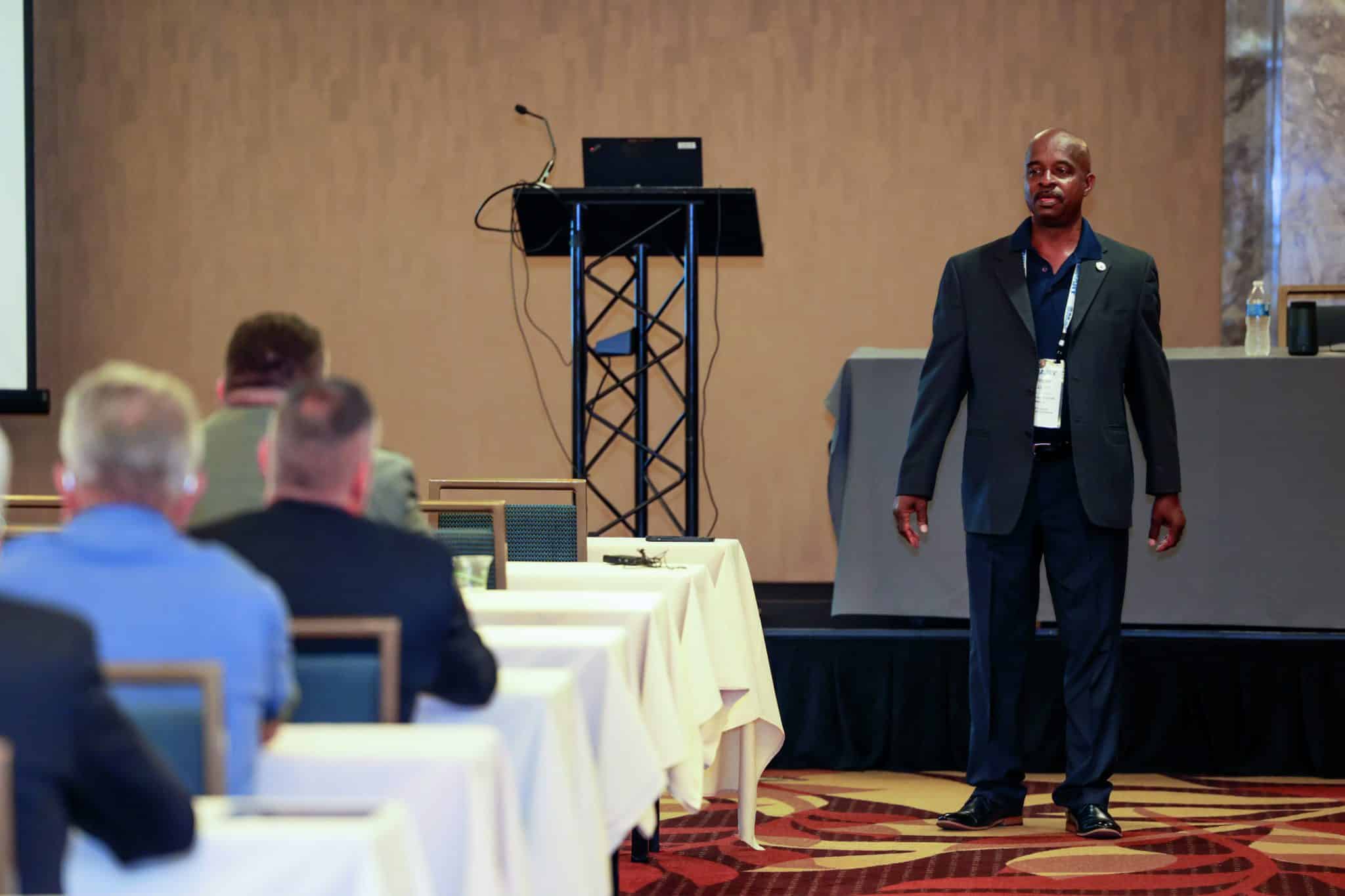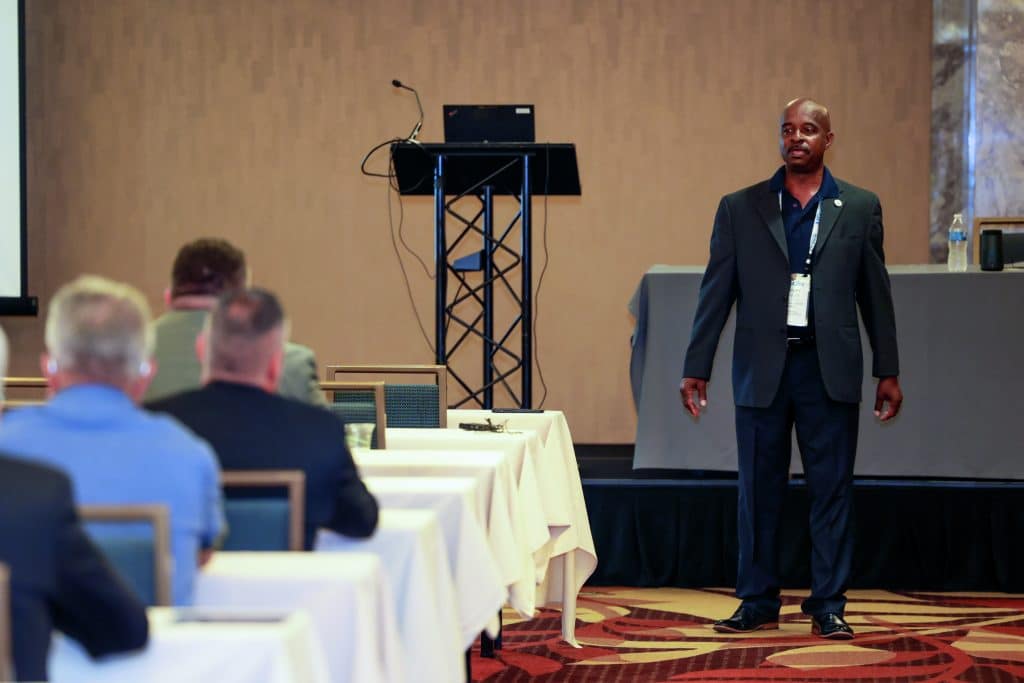 Secretary of Transportation Pete Buttigieg also delivered remarks by video. After summarizing how the American Rescue Plan and the Bipartisan Infrastructure Law are improving and modernizing U.S. transportation systems, Buttigieg acknowledged that "the most important part of a transportation system isn't the physical infrastructure, it's the people operating it every day." He added: "We really are living through a new dawn in American transportation, and you all are at the center of it."
Many speakers throughout the conference, including California Building and Construction Trades Council President Andrew Meredith, remarked on the importance of diversity and inclusion as we seek to grow our union, organize new sectors and lift workers into the middle class. Labor Secretary Marty Walsh emphasized many of those points in a video address, stating: "We need strong, diverse unions now more than ever. I know SMART is devoted to that."
Like others, Walsh noted proworker Department of Labor initiatives, like strengthening Davis-Bacon protections and fighting against worker misclassification. He also observed that while three quarters of young workers are interested in forming a union, only 10% know how — a gap that must be closed for the betterment of all working people.
The conference culminated with a focus on the SMART Army — our union's cross-industry, every-member effort to make North America aware that SMART workers are part of the fabric of our communities. General President Sellers presented the 2022 Joseph J. Nigro SMART Army Service Award to two members who have selflessly devoted themselves to their union and their communities: Local 18 (Wis.) retiree Kevin Turner and TD Local 610 (Baltimore) and SM Local 100 (Washington, D.C.-area) member Johnny Walker.
"The SMART Army brings us together in the community, it makes us a part of the community," Turner said.
"The community knows who we are. We're there," Walker added. "The important thing about the SMART Army is you're a part of something that's a lot bigger than you."