Making two-person crews the rule of the land in the state of Kansas took an atypical route to the finish line but got there just the same.
It has been the goal of SMART Transportation Division Kansas State Legislative Director Ty Dragoo for years and it was finally achieved. When asked about how he made this happen, Brother Dragoo cited persistence and patience as the keys, along with some out-of-the-box thinking.
Kansas Gov. Laura Kelly, a Democrat who began her second term in Topeka in January, has been a friend to rail labor throughout four terms in the state Senate as well as in her first term as governor. Throughout her public service, she's accomplished quite a bit for rail members and their families in Kansas, and during her first term as governor, she and SMART-TD thought that 2PC had been made the law of the state.
On July 27, 2020, Kelly signed a safety rule establishing a minimum railroad crew size — making Kansas the ninth state in the country to have accomplished this goal. Just one formality stood in the way of that being a reality.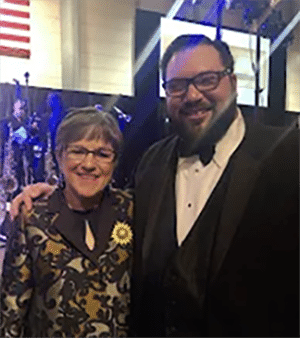 At the time she signed the rule sent to her desk from the Kansas Department of Transportation, the state's attorney general was a man named Derek Schmidt, a Republican who was in the beginning stages of campaigning to challenge Kelly for governor in 2022. In an effort to flex his political muscle and block his future opponent from the accomplishment, Schmidt opted not to sign the safety rule, allowing it to die on his desk. As they say, "Schmidt happens."
What did not die that day was the drive of Brother Dragoo and his team of LRs to secure the conductor craft in Kansas.
As the political fight card for Kansas's statewide races coalesced for the 2022 election cycle, it was no surprise to see Schmidt squaring off against Kelly to take the reins. This was obviously not in the best interest of our membership, so Dragoo and SMART had a clear-cut role to play. SMART-TD and all Kansas's labor movement worked hard to secure Kelly's narrow 11,000-vote re-election in 2022. As a bonus, Schmidt's failed gubernatorial ambitions meant that he forfeited his seat as the state's attorney general.
Having learned the hard way that having a rail labor-friendly governor in office was not enough on its own to get a 2PC rule into state law, Dragoo and his team of LRs also got involved in the state's race for the AG's office.
In that race, rail labor had the luxury of having both candidates for the job open to our message. In an unconventional manner, Dragoo and SMART-TD endorsed both Democrat Chris Mann and Republican Kris Kobach. Both candidates had advocated for rail safety, and that is what matters to our organization. Political party affiliation is not what qualifies someone to earn our endorsement, a commitment to rail safety is. As it happened, SMART-TD was the only trade union in the state of Kansas that endorsed Kobach. It was a distinction that did not go unnoticed, and, appropriately on May Day, Kobach didn't forget about his labor support.
Dragoo and the Kansas State Legislative Board had secured the needed support in both offices to solidify the 2PC rule, so when Gov. Kelly again sent the DOT's proposed safety rule to the AG's office, it was signed and sealed into Kanas state law.
"We always need to remember that elections have consequences all the way up and down the ticket," Brother Dragoo said about the five-year-long multi-party, multi-office, multi-administration battle to secure the role of freight conductors in his state. "SMART-TD and labor in general cannot allow ourselves to confine our thinking to the standard way of doing business in our state capitals. This holds especially true in red states that are traditionally less friendly to our causes."
When asked about the ramifications of the rule becoming the law of the land in Kansas, Dragoo went on to say: "This is the proudest day of my career. It took every one of our LRs in the state to get this done, and I'm eternally grateful to my team as well as Gov. Kelly, AG Kobach and their staff for safeguarding our members and the public through the work they have done on this regulation."
SMART-TD is very proud of the work being done in Kansas. Not only have they cemented the two-person crew in the state this year, but in the 2023 legislative session in Topeka, they also presented a noteworthy 13 bills in their efforts to bolster safety on the state's railways.
Time will tell if these bills have the legislative support to be signed into law in the future, but if the past two years have taught us anything, we know that Brother Dragoo doesn't take no for an answer very well, and these bills will be given every opportunity to be considered one way or another.
The 2PC regulation will take effect upon the publication of the Kansas Administrative Regulations (KAR) that follows the conclusion of their general assembly for the year. Brother Dragoo anticipates that this will happen in a matter of weeks.