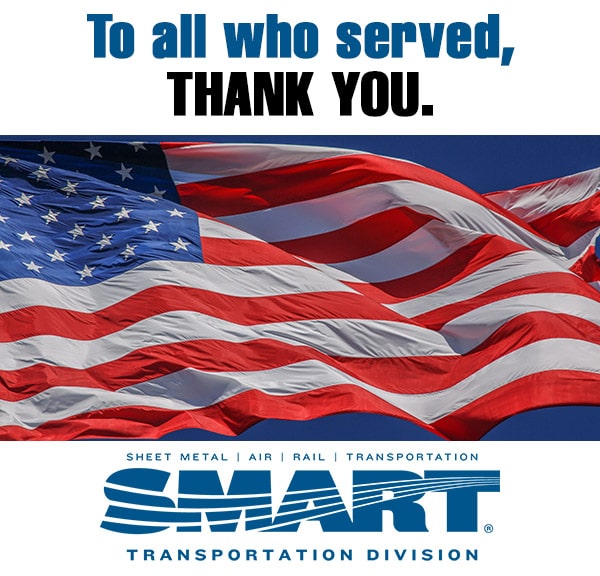 Veterans Day marks the end of World War I — that fierce global conflict that cost millions of lives – and while the memory of that conflict fades further into history, the need for the heroism and sacrifice on the part of our military personnel endures more than a century later.
Our military members uplift and shield us, and our veterans are a source of patriotism and pride for what they have done and what they contribute to our organization. They deserve our thanks and recognition as SMART-TD members and as American heroes.
I myself am an U.S. Army veteran who served for three years during the Gulf War era. One of the key goals of my administration is to give those members who are military veterans the recognition that they deserve for answering the high call of serving our country and to defend the freedoms that we enjoy.
To that end, we continue to urge those who served to let us know the details of their military careers on our website. We are working to highlight our continuing work to recognize and amplify the importance of veterans to our union in our organizing efforts. We also are moving quickly with special plans to pay tribute and highlight members' military service and continue to update our Veteran Services page with resources that could help our American heroes.
Each and every veteran deserves to feel a sense of appreciation today on this Veterans Day.
On behalf of SMART-Transportation Division, to all U.S. military veterans, we thank you once again for your service.
Fraternally,
Jeremy Ferguson
President — Transportation Division
U.S. Army, 1988-1991
---
Services and discounts
As an annual tradition, many businesses provide free services or discounts to veterans. Here are some of those available today.
https://www.blogs.va.gov/VAntage/80496/organizations-offer-national-level-veterans-day-virtual-events/
https://www.va.gov/outreach-and-events/events/
https://www.blogs.va.gov/VAntage/80347/veterans-day-2020-discounts/