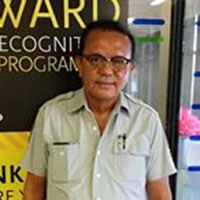 General Chairperson John Ellis (Los Angeles County MTA) reports that Brother Wilfredo Corsino, a member out of Local 1607 (Los Angeles, Calif.), passed away on June 11 from COVID-19 complications.


Brother Corsino was 65 years old.
"Brother Corsino has been a part of our Union UTU/SMART since 1996," Ellis said. "He was a 23-year veteran and a consistent supporter of the Union cause."
Corsino began his career with LACMTA and worked out of Divisions 7, 10, and 13.
"On a personal level, many operators remember Brother Corsino's infectious laugh and his love for Metro," Ellis said. "Many of his co-workers stated that he was a great ping-pong and pool player."
Brother Corsino is the eighth active member of the SMART Transportation Division reported to the union as having passed away from the novel coronavirus.
The union offers its sincere condolences to Brother Corsino's family and friends and his union brothers and sisters at Local 1607.