Skilled, union labor plays a vital role in communities across North America, from ensuring indoor air quality to fabricating complex HVAC systems. In the spring of 2023, Local 218 (Springfield, Ill.) journeyperson Meghan Reynolds showed that union craftsmanship isn't only for function, but for beauty as well — creating a durable, ornate metal tree sculpture for her uncle.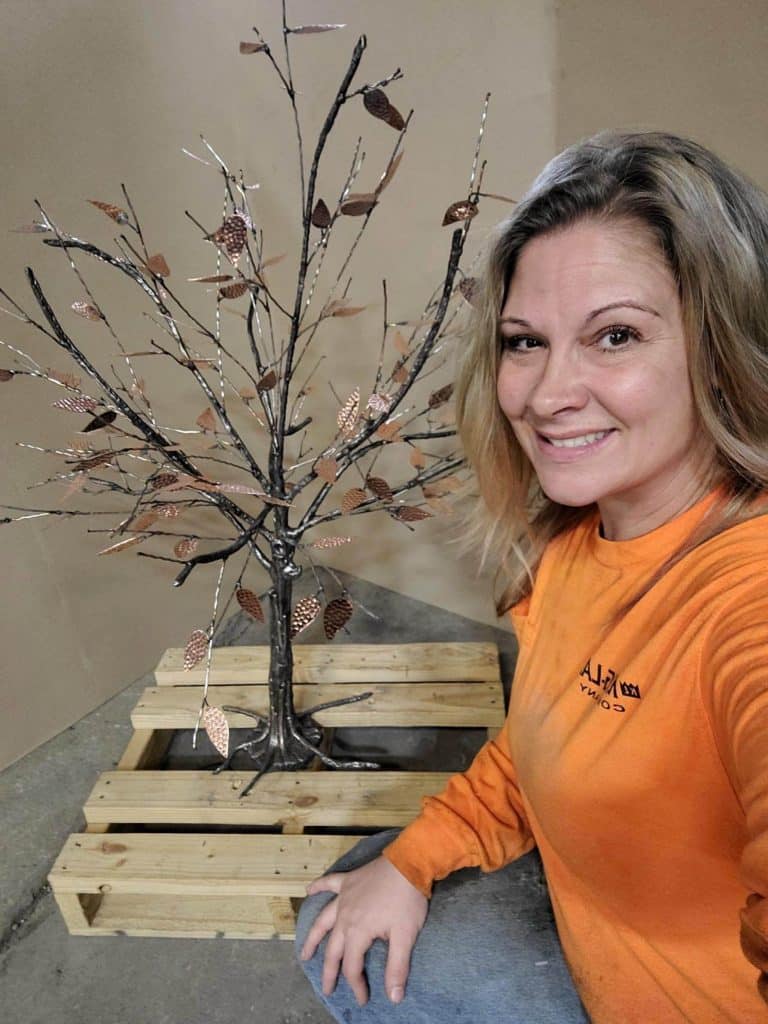 "He wanted a piece of art for his yard," she explained, "something that would withstand weather and change."
In some ways, the sculpture was years in the making. Reynolds originally got into the union — and the sheet metal trade — in the early 2000s. After moving from Illinois, to Indiana, then back to Illinois, her friendship with a Local 218 business agent led her to begin working in residential HVAC service; when the company she was working for went under, she started at King-Lar Company in Decatur, Ill., switching her specialty as well. That was in 2004 — she's been a proud union sheet metal worker ever since.
"I love being a sheet metal worker because it's something different all the time," she said. "It's not the same humdrum thing every day, and I love building things. And I think the union is really great — it's really cool that King-Lar gave me a chance, and I've grown into a very skilled worker. So I like to pass that on to young people: Anybody who's new, who's willing to listen and learn, I'm willing to share with them and pass that knowledge on."
Reynolds' skill is on full display with her uncle's tree sculpture. She started the project with a carbon slug she found in the burn table, then gathered stainless steel strips, some scrap stainless mesh, embossed copper "and a whole lot of welding wire." She started tacking the steel strips to the slug, forming what would become the tree's limbs and branches. Then she got to welding.
"Each strip has three to four passes," she said. "The wire mesh makes up the smaller branches. The leaves are soldered to 14-guage stainless steel wire and tacked to the branches."
All told, the project took two months' worth of breaks, lunches and a few Saturdays. But the end result was well worth the time. It's a shining testament to the skill and expertise that defines union labor: a sturdy, winding metal tree with glistening leaves that will last for years to come.
And, Reynolds said, this tree won't be the last.
"I'm going to do another one," she declared.