On April 4–6, 2022, North America's Building Trades Unions (NABTU) held its first in-person legislative conference since 2019, with members from 14 trade unions — representing more than 3 million skilled union workers — gathering to hear from labor leaders, politicians and fellow brothers and sisters across the labor movement. President Joe Biden capped off the conference with a rousing speech, echoing a key point made throughout the week: This is our movement, and this is our moment.
Day one: Celebrating victories, looking ahead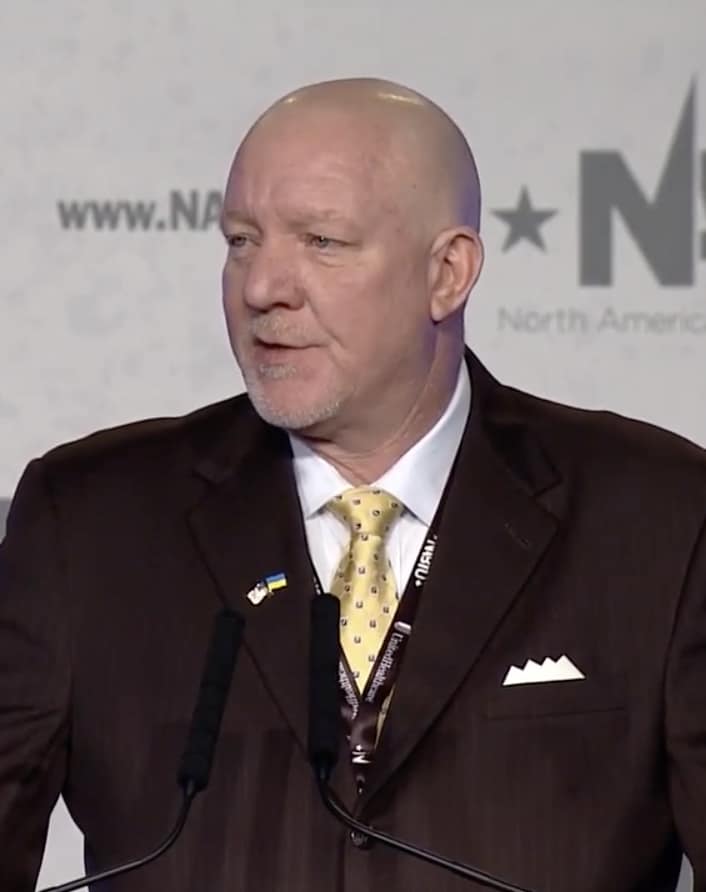 NABTU President Sean McGarvey kicked off the conference with a stirring keynote address that acknowledged the incredible work of building trade union members and emphasized the need to grow in the bright future that lies ahead. Noting that the votes of building trades workers and their families helped deliver the 2020 election to President Biden, McGarvey listed the ways in which the Biden administration has returned the favor: multiemployer pension protection in the American Rescue Plan and a $170 billion investment in building trades jobs, to name two.
He also pointed out future steps that need to be taken. The union building trades employ 40,000 more women and nearly 300,000 more people of color than the nonunion shop, and the number of union tradeswomen has doubled over the last decade. Nonetheless, McGarvey declared, more must — and will — be done to expand our membership and bring in more women, people of color, veterans and the formerly incarcerated to reflect the communities in which we work.
Day one also saw a strong display of bipartisan support for union building tradespeople. Alaska Sen. Lisa Murkowski, a Republican, recounted her experience working with Democrats to complete bipartisan infrastructure legislation — which invests $1.2 trillion into American infrastructure, a bounty of work for the unionized trades — and emphasized the opportunity that lies ahead with basic infrastructure projects, such as roads and broadband internet, in largely rural states like Alaska. "This is about growing the strength of our country through jobs and opportunity," she said. "This is an investment in the men and women that are going to make [infrastructure] happen, and that is you."
Later, Democratic Speaker of the House Nancy Pelosi praised the union trades for their long history of building our country. "Our democracy and middle class have a union label on it," she told the crowd, adding that "NABTU apprenticeships are the model for success." Pelosi concluded her speech with a galvanizing call: "Solidarity forever. We don't agonize, we organize."
"No one is better at training people than we are. Let's build a membership that is bold, dynamic and inclusive to meet the moment."

– AFL-CIO President Liz Shuler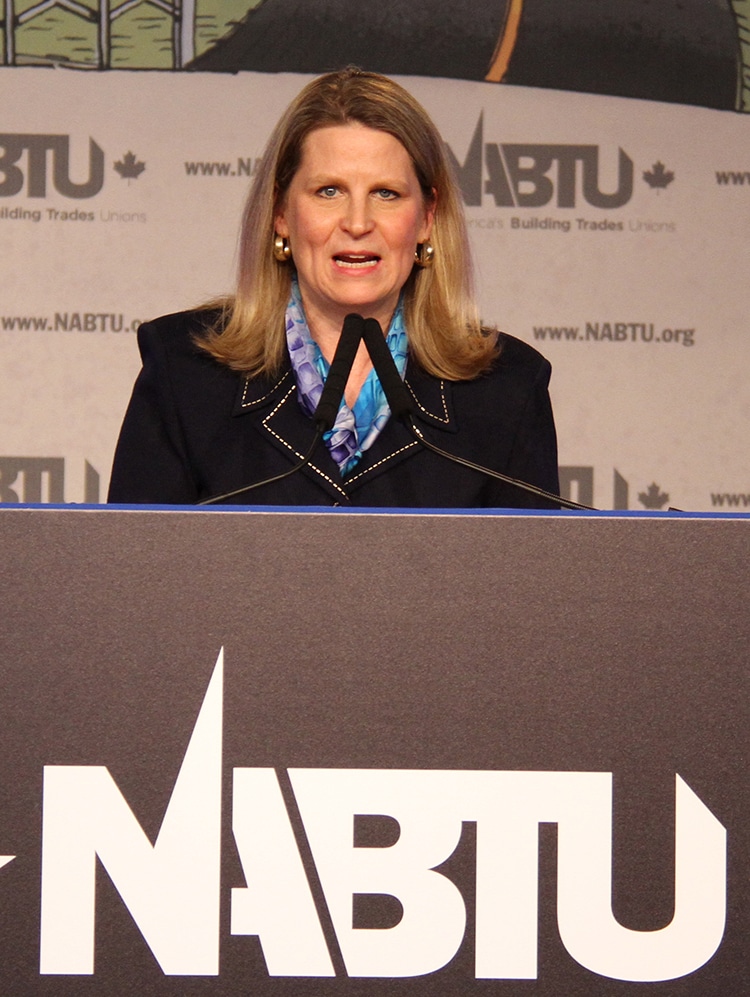 The last speaker of the morning was AFL-CIO President Liz Shuler, who began her speech by cataloging the victories that unions have every right to celebrate. "Promises made have become promises kept," she announced, referring to the American Rescue Plan and the infrastructure law.
With those victories in mind — and with the enormous opportunity for growth presented by the infrastructure bill — Shuler turned her attention to the road ahead: "What's next is up to us," she proclaimed. "No one is better at training people than we are. Let's build a membership that is bold, dynamic and inclusive to meet the moment." The future, Shuler added, is full of possibility. "We have a chance to not only build a sustainable future, but a sustainable infrastructure with good union jobs at the center."
After the speakers, conference-goers attended a variety of workshops, ranging in subject matter from PLAs, implementing the new infrastructure bill and more. SMART Assistant to the General President Donna Silverman took part in a panel titled "What is NABTU doing to recruit and retain women: Tradeswomen Committee Workshop," where sisters from across the unionized building trades shared experiences, best practices and advice on creating a labor movement that is welcoming to all. In telling their stories — of success, of growth and, shamefully, of discrimination — these trailblazing union sisters illustrated just how much stronger the labor movement is when it includes every worker, regardless of who they are or where they come from.
Day two: Supporters commit to our cause
The second day of speeches kicked off in earnest with Secretary of Labor Marty Walsh, a proud unionist and former president of the Boston Building Trades. Through his own story of growing up in a union family, Secretary Walsh emphasized the importance of labor and government working together to better conditions for all Americans, pointing out that, for the first time in modern history, "You have a United States labor secretary who carries a union book in his pocket." Among the victories for SMART's membership: The last year was the greatest year for job growth in American history, including construction jobs; Project Labor Agreements are now required on federal projects that cost more than $35 million, increasing opportunity for quality, high-paying work for SMART and other union members; and the strengthening of Davis-Bacon regulations to protect prevailing wages, among other things.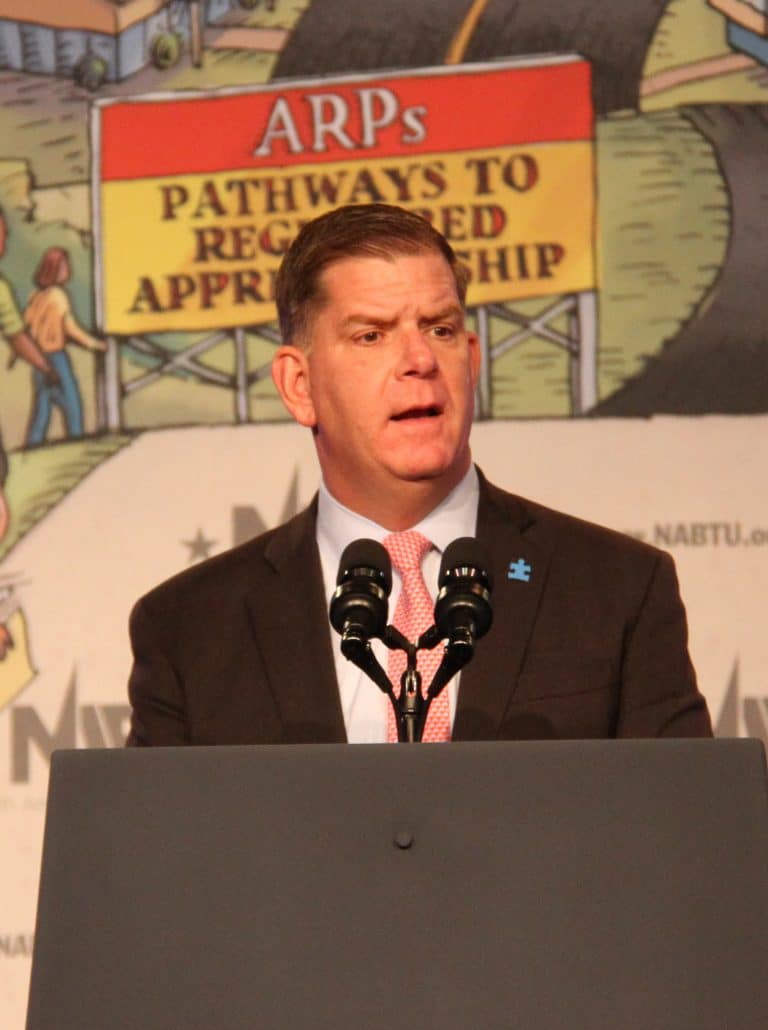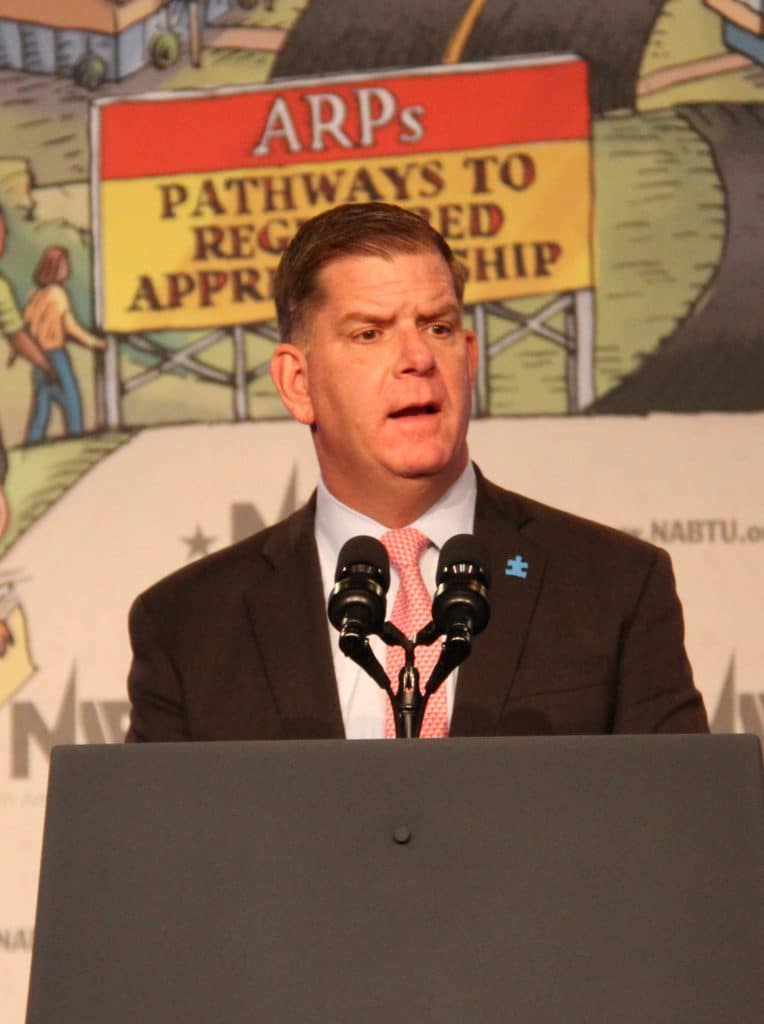 "The race to the bottom of the American economy is over. Instead of pulling the middle class down, we're pulling workers up."

– U.S. Secretary of Labor Marty Walsh
"The race to the bottom of the American economy is over," he declared. "Instead of pulling the middle class down, we're pulling workers up."
Following Walsh's speech, political leaders from both sides of the aisle addressed members, including Republican Congressmen Don Bacon and Brian Fitzpatrick, as well as Stacey Abrams, Rep. Hakeem Jeffries (D-N.Y.), Transportation Secretary Pete Buttigieg, Congressman Tim Ryan (D-Ohio) and more. Among them was Senate Majority Leader Chuck Schumer, who explained that "your unions made this country what it is today. You built America — none of us should ever forget that." Like other speakers, Sen. Schumer praised the victories SMART members have achieved working with President Biden, particularly the upcoming job opportunities through infrastructure, retrofitting and the like: "$1.2 trillion in union labor to restore this country. You're going to have a whole lot of work, folks."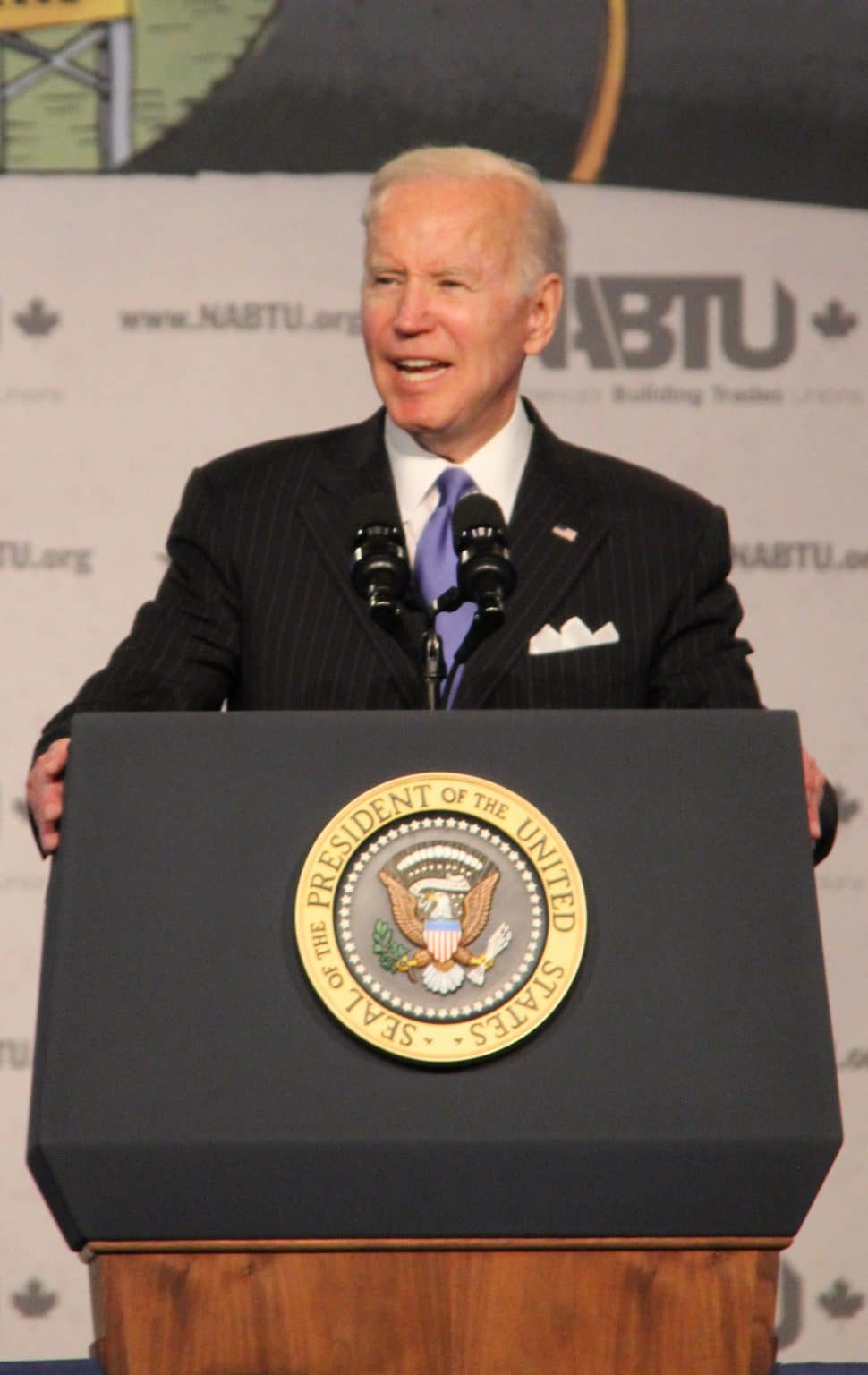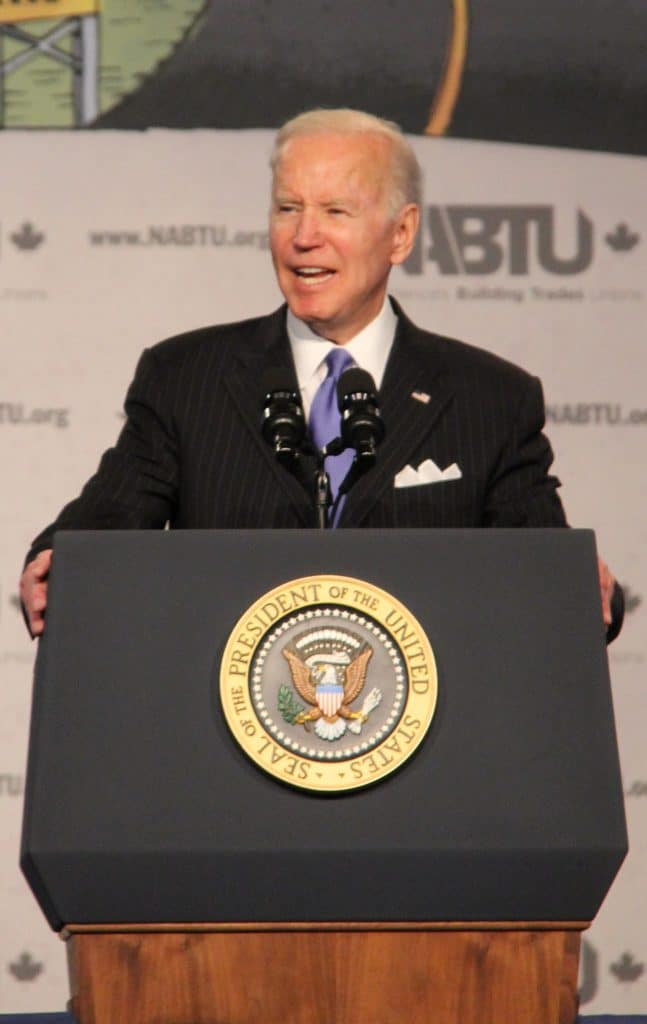 The conference concluded with a speech from President Joe Biden, who took the podium and immediately told the crowd: "It's good to be home!" President Biden touched on various subjects throughout his remarks, including his promise to support the people of Ukraine against Russia's invasion and his gratitude to organized labor: "I've never forgot what you've done not just for me, but what you've done for this country. You've literally built this country." Then, he expanded upon his own commitment to the building trades, beginning with accomplishments of his time in office, as of April 2022:
320,000 construction jobs created in the last year;
Jobless claims at a 54-year low;
Four million more jobs created and unemployment 2% lower than it would have been without the American Rescue Plan
Protections for multiemployer pension plans for union members;
The passage, after decades of talk, of the Bipartisan Infrastructure Law.
But, the president continued, the work isn't done. Along with calling on Congress to cap childcare costs and insulin prices, Biden announced the largest investment in public transit — $20 billion — in American history, something that promises to benefit SMART workers across both sheet metal and the Transportation Division. Noting that, under the previous president's tax plan, a married couple of a firefighter and a teacher pay a higher tax rate than a CEO, President Biden urged Congress to tax the wealthiest Americans, asking: "When's the last time the trickle-down economy has trickled to anyone you know?"
President Biden ended his speech by acknowledging that, despite the enormous victories won for SMART members and everyday Americans across the country, the work is only beginning — and with a pro-labor administration in the White House, that work to come will be performed by union labor. "America has always counted on union workers," the president said, "and you've never let the country down."