The Legislature in Nebraska's capital of Lincoln is not known to be a hotbed of activity for rail labor lobbying success stories, but SMART Transportation Division's newest State Legislative Director (SLD) Andy Foust is actively making moves to change that. In his first week on the job, Brother Foust introduced two strong pieces of legislation that have gained bipartisan support.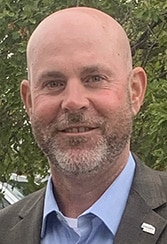 The Legislature has initial hearings scheduled in March for SMART-TD's two-person crew bill as well as a blocked crossings bill. Brother Foust's 2PC bill, LB 31, was put forward by state Sen. Mike Jacobson, (District 42) sponsoring. The bill also has picked up traction in Nebraska's unicameral Legislature by adding an impressive list of seven bipartisan co-sponsors, including Sens. Jane Raybould (District 28); Danielle Conrad (District 46); Tom Brewer (District 43); Lynne Walz (District 15); Myron Dorn (District 30); George Dungan (District 26) and Sen. Robert Dover (District 19).
LB 31 was referred to Nebraska's Transportation and Telecommunications Committee and is slated to have its first hearing before the committee March 6.
At its core, LB 31 is a bill regulating two-person train crews on all freight trains that travel within the borders of Nebraska. However, it also includes language that aims to levy fines against rail carriers for violations of the two-person crew. The fines start off as low as $250 for the first infraction (which is already around the same rate as paying a basic day to a second employee) and quickly goes up to be as high as $10,000 on a third offense and stays at that rate for additional offenses going forward.
Foust and Sen. Jacobson have included the series of fines to ensure that there is no financial incentive for carriers to bypass the law, if approved by legislators. With $10,000 on the line for every train they improperly crew, carriers will not be able to chalk violations up as the cost of doing business and continue their pursuit of using single-employee engine crews augmented by roving (expeditor) conductors in company vehicles. As the UP and Norfolk Southern have both publicly spoken of plan to start experimenting with this new vision of rail crews in the near future, Brother Foust's bill is well timed to stomp it out and defend the craft of on-board freight conducting.
The blocked crossings bill, LB 234, sponsored by Sen. Walz also has been referred to the Transportation and Telecommunications Committee and is scheduled for a first reading, also on March 6. In LB 234, Foust and Walz have established a requirement for the railroad companies to report to the Nebraska State Highway Patrol and state Public Service Commission annually. Their report will need to include the number of public complaints each carrier received about blocked crossings. The report will also go into the specifics surrounding each complaint. They will have to report data on each complaint they receive to include information such as the dates, locations of the blocked crossing, the duration of time that each crossing was blocked, and the action taken by the railroad company to resolve the complaint.
Making records of the complaints may be tedious enough for the railroads to handle, but the last requirement is going to prove to be the part the companies like the least. This bill is looking to force the carriers to put into public record what efforts they make to listen to the people of Nebraska, be accommodating corporate neighbors and to respond to residents' needs and concerns.
It is our hope that with this bill's passage that carriers such as UP, BNSF, KCS and others there then engage in some much-needed self-reflection. It will be very telling about their corporate outlook on the role of being a considerate community partner when they attempt to massage language to talk about how the Precision Scheduled Railroading business model of ever-longer trains is compatible with access to emergency services and the free flow of vehicle traffic in the state's rural and urban areas alike.
SMART-TD applauds the collective efforts of SLD Foust and the Nebraska state senators for doing the people's work. You are all taking the path less traveled to defend our members and citizens of your state and are doing a wonderful job at pulling on the threads of PSR itself. With momentum around the country in state legislatures, we have every intention of helping you succeed in unraveling it!
Please help SLD Foust, and all of SMART-TD's legislative team to achieve this overarching goal. It is the challenge that defines our time in the rail industry.
For information on how to contact your state legislators to support these and other bills being considered in Nebraska and beyond, please follow this link to the SMART-TD's Legislative Action Center.