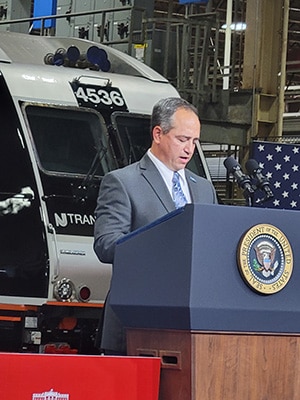 As President Joe Biden appeared Oct. 25 at the New Jersey Transit Meadowlands Maintenance Complex in Kearny, N.J., it was SMART Transportation Division New Jersey State Legislative Board Vice Chairperson Joseph Williams (GCA-770), a New Jersey Transit engineer, who set the stage for the president's speech.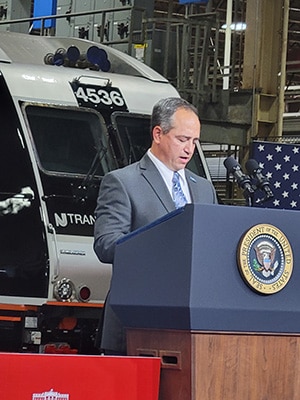 Williams, the legislative representative of Local 800, a member of our union since February 2017 and a fourth-generation railroader, is a native of New Jersey with three children. His 25-year rail career began as a diesel mechanic in the 1990s, and he became an engineer in 1999. He's also risen to become vice chairperson of his GCA.
In his introduction of Biden, Williams thanked N.J. Gov. Phil Murphy and N.J. Transit's Kevin Corbett for their work in helping NJT improve service as well as U.S. Rep. Tom Malinowski for his work on Congressional infrastructure efforts in the U.S. House.
"I personally believe that the current infrastructure bill is important to New Jersey Transit rail operations, the residents of New Jersey and our neighboring states," Williams said. "The funding would rebuild and modernize our aging transportation network. The rehabilitation of our system will help to preserve and create new railroad jobs."
Improvements to stations funded by the infrastructure effort also would remove impediments to access for N.J. Transit users, while the Gateway Project expansion would smooth out regional network challenges, Williams said.
"Our bridge and tunnel system into and out of New York is antiquated and unreliable," Williams said. "Our general riding public that depends on this system to get to and from work deserves better."
In his remarks, Biden, touring New Jersey as the bipartisan infrastructure bill and his Build Back Better agenda work through Congress, paid particular attention to the middle-class jobs created and the need for improvement in the nation's roads, rails and bridges.
"We invested in ourselves and in our people, our families," President Biden said. "Somewhere along the way, we took our eyes off the ball. Our infrastructure used to be the best in the world."
Now, he said, 12 other nations are considered to have better infrastructure thanks to years of implementation of failed "trickle-down" strategies and at least a decade without a transformative bill to address deterioration has not helped.
One example familiar to the president's audience at the speech is the New Jersey Portal Bridge, which is being targeted for replacement. Once considered "state of the art," Biden said it's an impediment, even as it continues to be what he described as "the busiest rail span in the Western Hemisphere." It's also prone to having the tracks misaligned with a sledgehammer needing to be used to set things to rights, he said.
The Portal project is just one item in an agenda that Biden promised would reinvigorate the nation's railroad system and create 8,000 union jobs.
"I'm a train guy," Biden said. "Because it's also the single most significant way we can deal with air pollution and the single most significant way we can deal with global warming.
"With my infrastructure bill, we are going to make sure that projects like this are only the beginning … We are going to make the largest investment in public transportation in the history of America, replacing transit vehicles that are past their useful life and make the most-significant investment in rail since the creation of Amtrak 50 years ago.
"We need to get this done," Biden said.