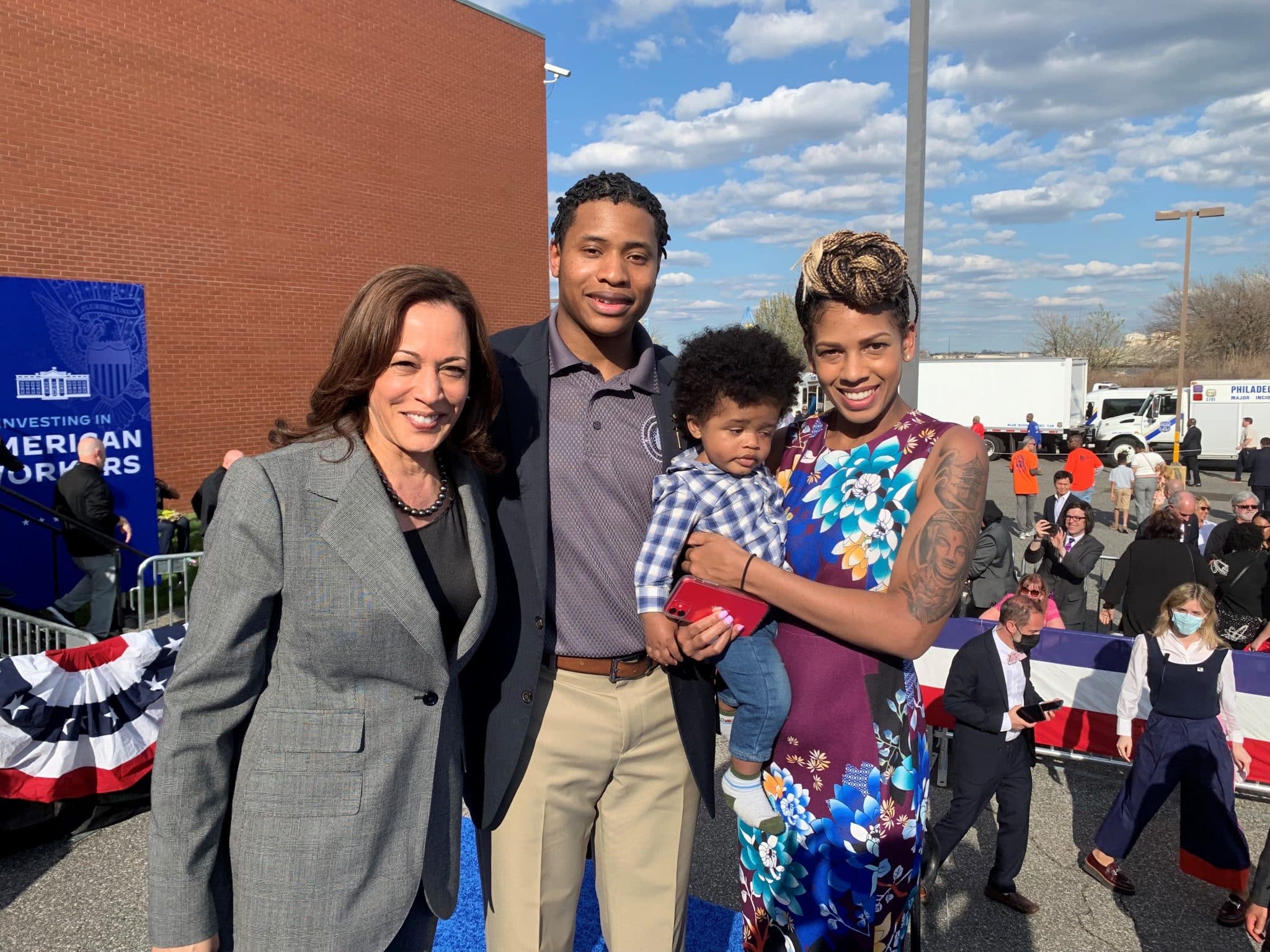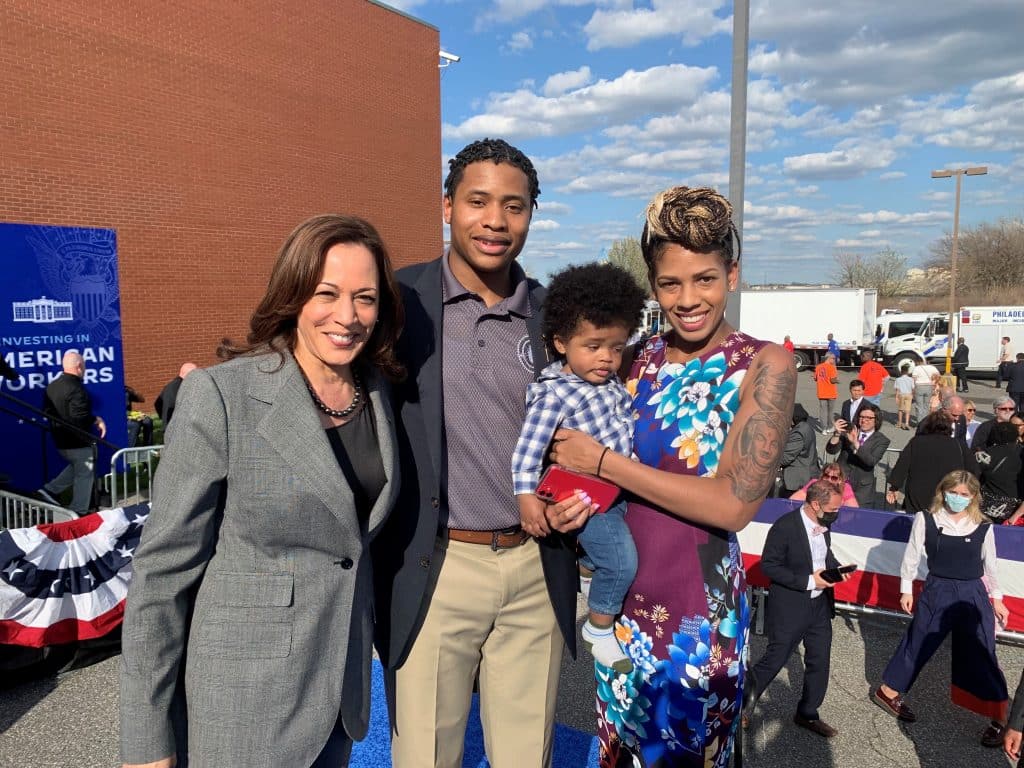 Will Griffin (second from left) with his family and Vice President Kamala Harris
On Tuesday, April 12, SMART General President Joseph Sellers, Vice President Kamala Harris, Secretary of Labor Marty Walsh, AFL-CIO President Liz Shuler, Pennsylvania Gov. Tom Wolf and others rallied at the SMART SM Local 19 (Philadelphia, Pa.) union hall to publicize an important Department of Labor (DOL) initiative.
On April 8, the DOL Occupational Safety and Health Administration (OSHA) created a National Emphasis Program (NEP) on workplace heat hazards, launching a targeted effort to protect workers from the threat of heat-related illness which, as a result of climate change, has increased in 18 of the last 19 summers. Workers suffer more than 3,500 injuries and/or illnesses related to heat each year, with low-wage workers and workers of color disproportionately impacted. With the implementation of the NEP — which is effective starting April 8 and will remain in effect for three years unless canceled or extended — the DOL aims to protect workers in more than 70 industries, including those that employ SMART workers. Learn more at OSHA.gov/heat.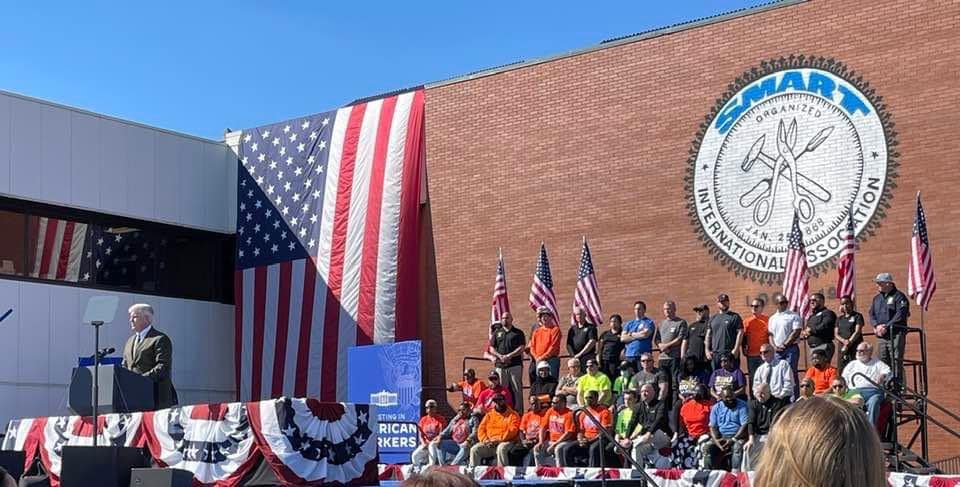 Facts on the NEP from OSHA:
The NEP is a nationwide enforcement mechanism for OSHA to proactively inspect workplaces for heat-related hazards in general industry, maritime, construction or agriculture operation alleging hazardous exposures to heat (outdoors and/or indoors).
This means that OSHA can now launch heat-related inspections on high-risk worksites before workers suffer preventable injuries, illnesses or fatalities.
The NEP encourages employers to protect workers from heat hazards by providing employee access to water, rest, shade, adequate training, and implementing acclimatization procedures for new or returning employees.
The NEP contains both enforcement and outreach/ compliance assistance components.
The NEP establishes heat priority days when the heat index is expected to be 80°F or higher. On heat priority days:
OSHA will initiate compliance assistance in the targeted high-risk industries.
OSHA will also continue to inspect any alleged heat-related fatality/catastrophe, complaint or referral regardless of whether the worksite falls within a targeted industry of this NEP.
OSHA will conduct pre-planned inspections in targeted high-risk industries on any day that the National Weather Service has announced a heat warning or advisory for the local area.
OSHA also recognizes that many businesses want to do the right thing by developing heat illness prevention plans to keep their employees safe.
On heat priority days, OSHA field staff will engage in proactive outreach and technical/compliance assistance to help keep workers safe on the job.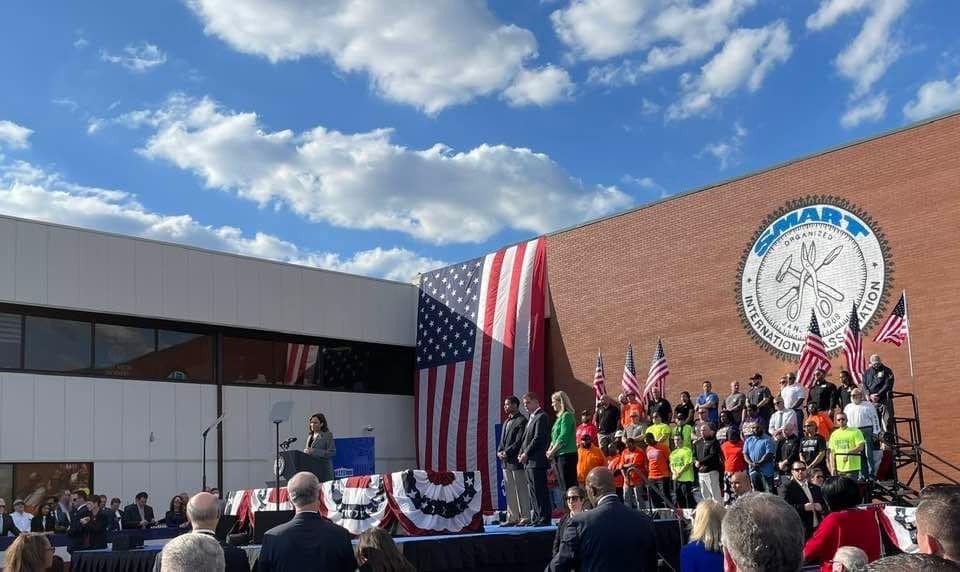 In addition to the NEP, Vice President Harris, Secretary Walsh and President Shuler reaffirmed the Biden administration's support for organized labor and working people across the country. Following an introduction by Local 19 third-year apprentice Will Griffin, in which he spoke about his journey in the trade and the benefits he's experienced since joining SMART, Vice President Harris discussed planned improvements to schools and other local infrastructure using Bipartisan Infrastructure Law funding — improvements to be completed by members of organized labor, including SMART. "It will put thousands of union workers … and, yes, sheet metal workers, to work across the country," Harris said.
"[The Bipartisan Infrastructure Law] will put thousands of union workers … and, yes, sheet metal workers, to work across the country," Harris said.
"President Joe Biden and I are determined to lead the most pro-union administration in America's history," she added. "Because you see, we are clear and we know, each and every day in ways big and small, unions change lives. Unions negotiate better wages and safer working conditions for millions of workers around our country.