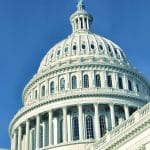 WASHINGTON — In the face of bipartisan get-tough-with-labor legislation introduced in the House and Senate, two of the remaining unions without national rail contracts agreed to a tentative settlement Dec. 1, and a third reached agreement with the carriers Dec. 1 to extend a cooling-off period into February.
With these agreements, the threat of a national railroad strike has been averted for now.
Previously, the Transportation Communications Union, the Brotherhood of Railroad Signalmen and the various shopcrafts, including the Sheet Metal Workers International Association, reached tentative six-year agreements with the National Carriers Conference Committee (NCCC). The NCCC represents BNSF, CSX, Kansas City Southern, Norfolk Southern, Soo Line, Union Pacific and numerous smaller railroads in national handling.
UTU members earlier ratified a five-year national rail contract.
The Brotherhood of Locomotive Engineers and Trainmen and the American Train Dispatchers Association agreed Dec. 1 to a tentative six-year agreement as recommended last month by Presidential Emergency Board No. 243. References to the UTU's ratified national rail contract are extensive in the PEB recommendations.
While the BLET is in national handling for health care, it previously reached ratified wage agreements with BNSF, CSX and Norfolk Southern for lower wage increases than the UTU and other organizations, and continues separate talks on wages with Union Pacific.
Also, the Brotherhood of Maintenance of Way Employes reached agreement with the NCCC to extend into February a cooling-off period that was to expire Dec. 5.
The BLET and train dispatchers' tentative agreements, and the cooling-off period extension agreed to by the BMWE Dec. 1, came in the face of separate House and Senate resolutions.
The House resolution, H.J. 91 and introduced by House Transportation & Infrastructure Chairman John Mica (R-Fla.), would have imposed as a final agreement on the BLET, the train dispatchers and the BMWE the PEB recommendations.
Separately, Senate Majority Leader Harry Reid (D-Nev.) was set to introduce for immediate Senate vote an identical resolution (S.J. 31). After the BLET, train dispatchers' and BMWE agreements were announced late Dec. 1, Sen. Reid said:
"I applaud all the stakeholders who worked to avert a work stoppage that would have hurt our nation's economy just as the holiday season gets underway. It is Congress' constitutional duty to ensure the unfettered flow of interstate commerce, and to protect the nation's economic well-being. I am pleased with this outcome and congratulate all sides, including the White House and Transportation Secretary Ray LaHood, for their effort to find common ground that protects our economy and keeps it on-track."