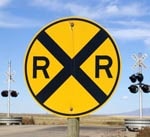 The number of pedestrians killed in U.S. train collisions increased 25 percent in the first eight months of this year, setting a pace unseen in more than a decade, according to new federal data.
There were 352 pedestrian railroad deaths, classified as trespasser fatalities, through Aug. 31, compared to 281 during the same period in 2012. The Federal Railroad Administration data has a three-month lag.
Read the complete story at the St. Louis Post-Dispatch.