SANTA MONICA, Calif. – UTU members employed by Santa Monica Regional Bus Lines (UTU Local 1785) have ratified a new three-year contract by a three-to-one margin.
The contract, which expires June 30, 2014, includes pay raises, maintains and improves work rules, retains full-coverage health care insurance, and provides that discipline for using cell phones on duty must be verified on camera or witnessed by two or more independent sources. (The Federal Motor Carrier Safety Administration cell-phone ban affects only drivers in interstate commerce.)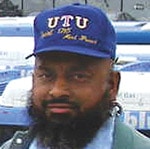 UTU International Vice President Vic Baffoni, who assisted in negotiations, praised the efforts of General Chairperson Adhi Reddy and Local 1785 officers Moses Avila and Martin Guerrero.