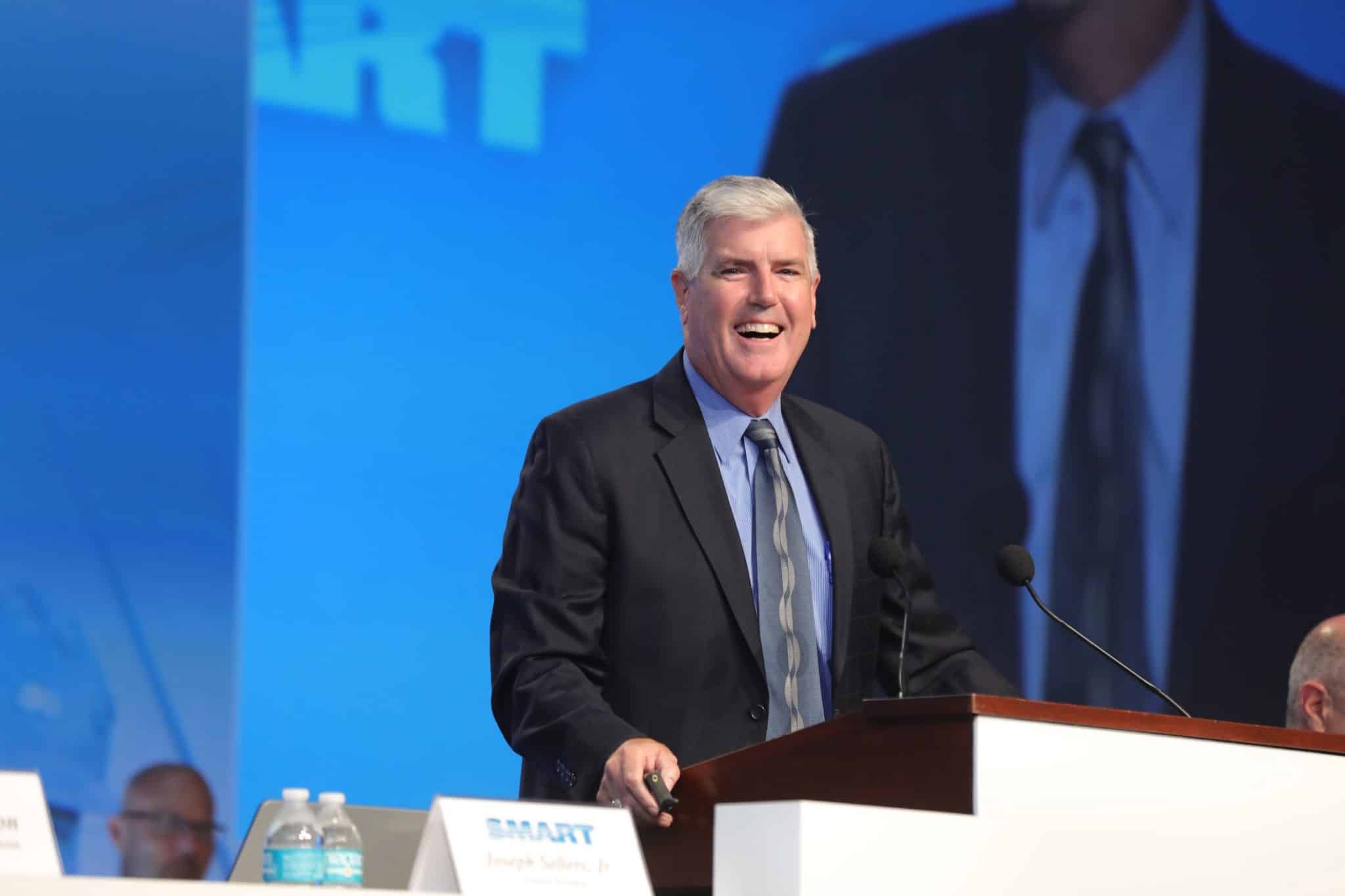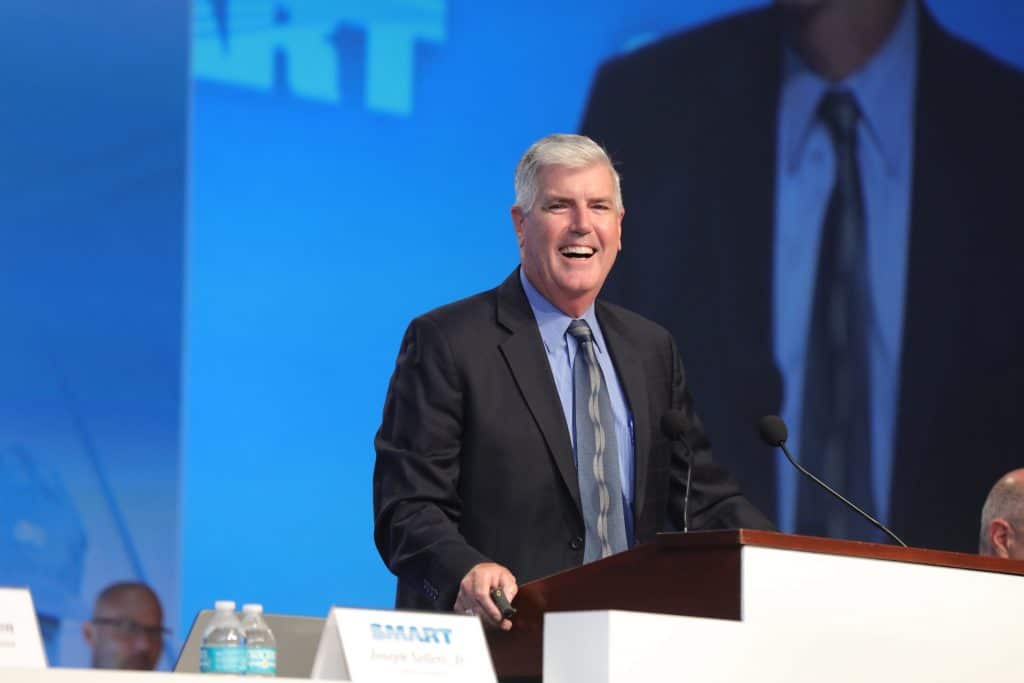 In the SMART Leadership Conference general sheet metal session, General President Sellers delivered an extensive state of the industry for local union leaders, underscoring the fact that this is a once-in-a-generation opportunity to strengthen the union sheet metal industry – if SMART takes advantage.
From legislation to manufacturing developments, Sellers observed, an enormous number of projects are incoming; projects that require sheet metal workers. There is a renewed emphasis on indoor air quality and ventilation verification, from government buildings and schools and beyond. The newly passed Chips and Science Act will bring semiconductor manufacturing – a sector SMART members are uniquely qualified for – back to the United States. There are huge mega projects in the burgeoning electric vehicle and battery manufacturing/storage field.
"We need to make sure that across the U.S. and Canada, we are capturing that work," Sellers said. "Because if we don't, if we don't organize more than we ever could imagine, than that's going to hurt."
SMART can only acquire that work, he explained, if our union – at the International and local level – greatly expands its ability to grow union membership and market share. That can only be done through innovative organizing, recruiting and retention, with a specific focus on diversity, equity and inclusion: making sure our union is welcoming to all. Sellers pointed out that expanding our membership will require new initiatives, from the BE4ALL effort to a move away from exclusive word-of-mouth recruitment.
"If we keep the same [recruitment] patterns, we're going to lose. … If we keep doing things the same way, frankly, I think generations will suffer," he said. Adding that every local needs to ensure women, people of color and LGBTQ+ workers are welcome, he declared: "It doesn't matter what you want to be called – she/her, he/him, great. We've got to represent everyone."
That emphasis on innovation extends to organizing. General President Sellers explained that the SMART organizing department has worked to constantly develop new techniques, learning from fellow unions – including non-building trades unions like UNITE HERE – as it seeks to build capacity and endurance. And the time to organize like never before, he repeated, is now. We need to strike while the iron is hot; while we have allies in Congress and in the presidency.
In conclusion, General President Sellers referred to a familiar maxim: that many leaders run for union office to leave the local better than how they found it. This is the time to commit to that cause whole-heartedly.
"Everything I have in my life is from the union sheet metal industry, and it deserves our best effort," he said. "Through our unity, through our solidarity, through our sweat equity and our hard work, we will grow this union. And maybe, just maybe, we will be able to say we left it better than when we found it."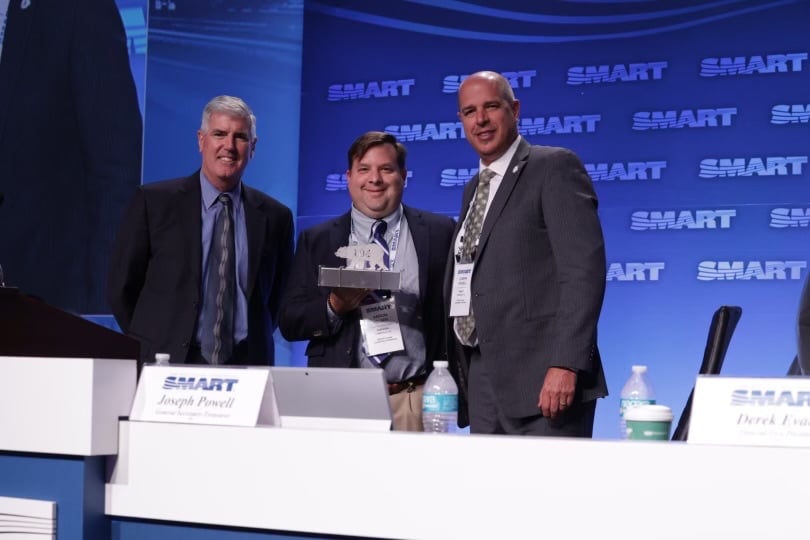 Following the general president's remarks, sheet metal members heard from Aaron Hilger, CEO of SMACNA, who echoed many of Sellers' comments from the contractors' perspective, as well as Helmets to Hardhats Northwest Regional Manager Nick Weathers.
"BE4All is probably the most important thing that we are doing together [with SMART right now," Hilger explained. "We are never going to build the best workforce unless we make our workplaces welcoming."
Finally, after the joint session, industry-specific sessions and lunch, attendees separated to attend further breakouts, with topics including Job Actions, BE4All, a GP & GST town hall, Shaping Our Future, Implementing Technology, Mental Health, Arbitration and many more. (Breakout sessions are held each day of the conference.)
Throughout the day, whether in the joint session or in breakouts, every attendee devoted themselves to the work that will build our union's strength for generations: to Growth Through Unity. That work will continue for the rest of the conference.