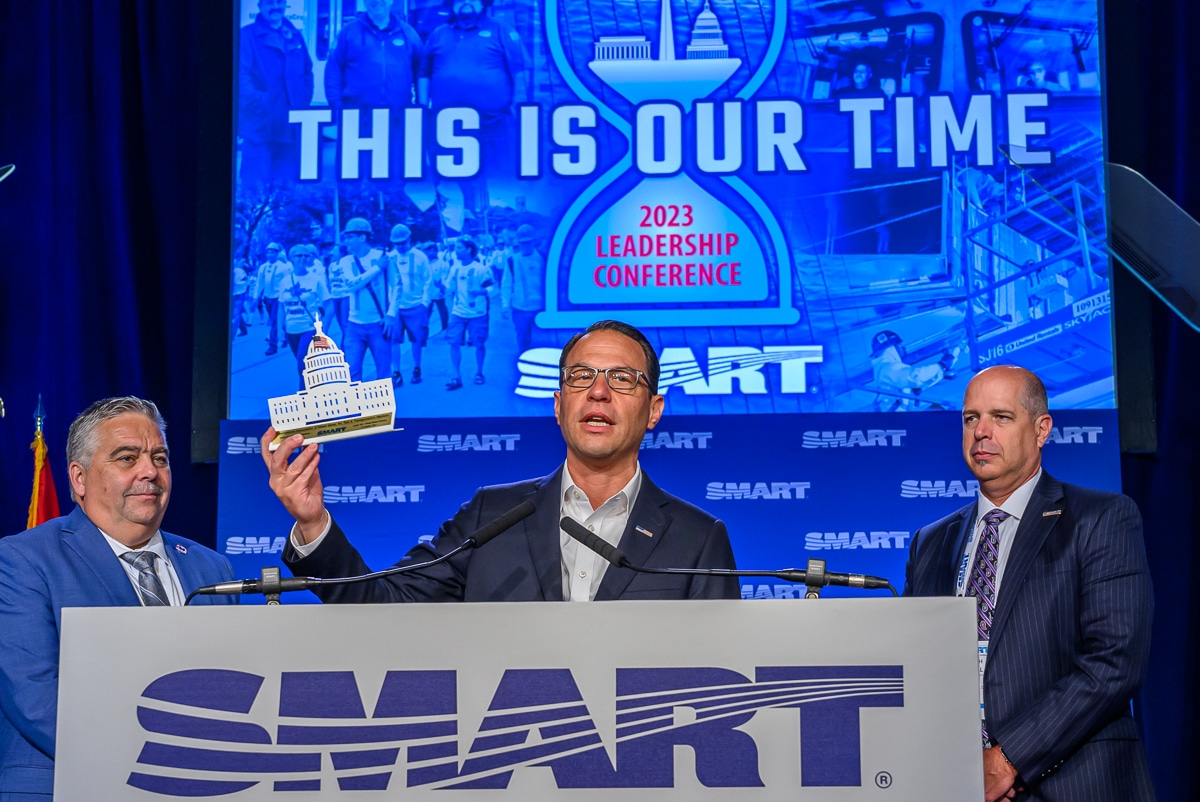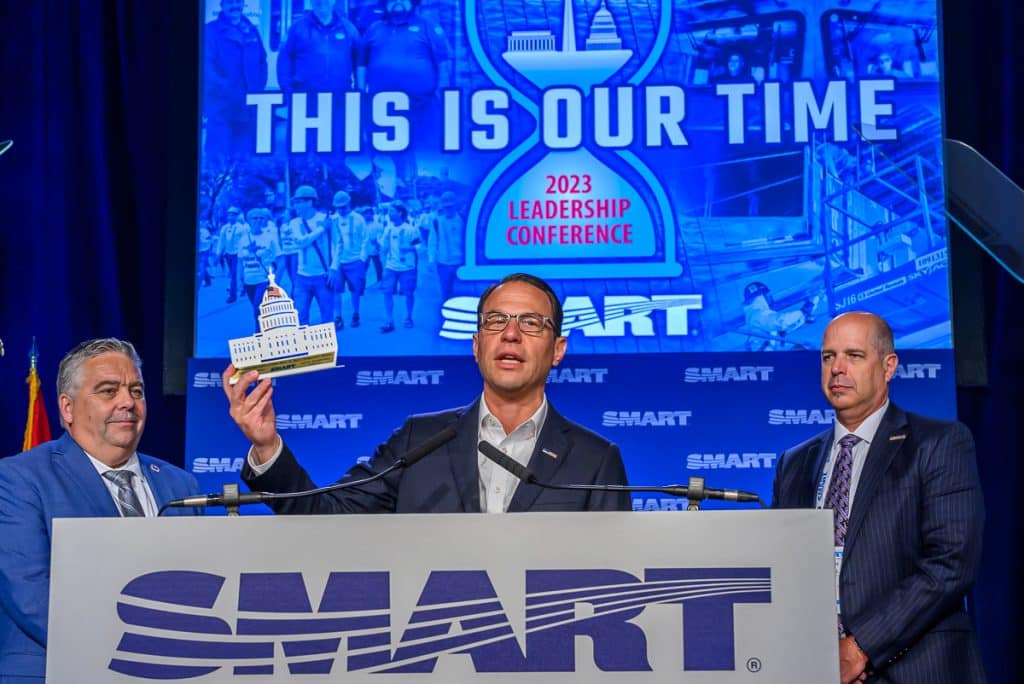 General Secretary-Treasurer Joseph Powell opened the day two SMART 2023 Leadership Conference sheet metal session, appropriately, by calling on union leaders: "Let's get back to work." He then brought Sheet Metal Occupational Health Institute Trust (SMOHIT) Administrator Aldo Zambetti on stage to present his report.
"I'm excited to share the resources we are working with and the resources we have for our members," Zambetti said. "Our mantra is: How can we help?"
Zambetti detailed the ongoing work of the SMART Member Assistance Program (MAP). The SMART MAP team spends the year travelling across the country, helping provide local unions with the skills and resources needed to give SMART members mental health support. He also described the ongoing preparation SMOHIT is conducting to provide similar support for sisters and brothers in Canada. More than anything, he stressed, SMOHIT is constantly working to make sure all local unions are aware of the resources at hand. No local ever refuses the resources SMOHIT provides, Zambetti said – but they aren't always aware those tools exist. He encouraged all local leaders to reach out to SMOHIT and make resources available to members, including the SMOHIT helpline, toolbox talks and other information.
"This is for you, this is for your family, this is for your members, this is for anyone you care to share it with," Zambetti concluded.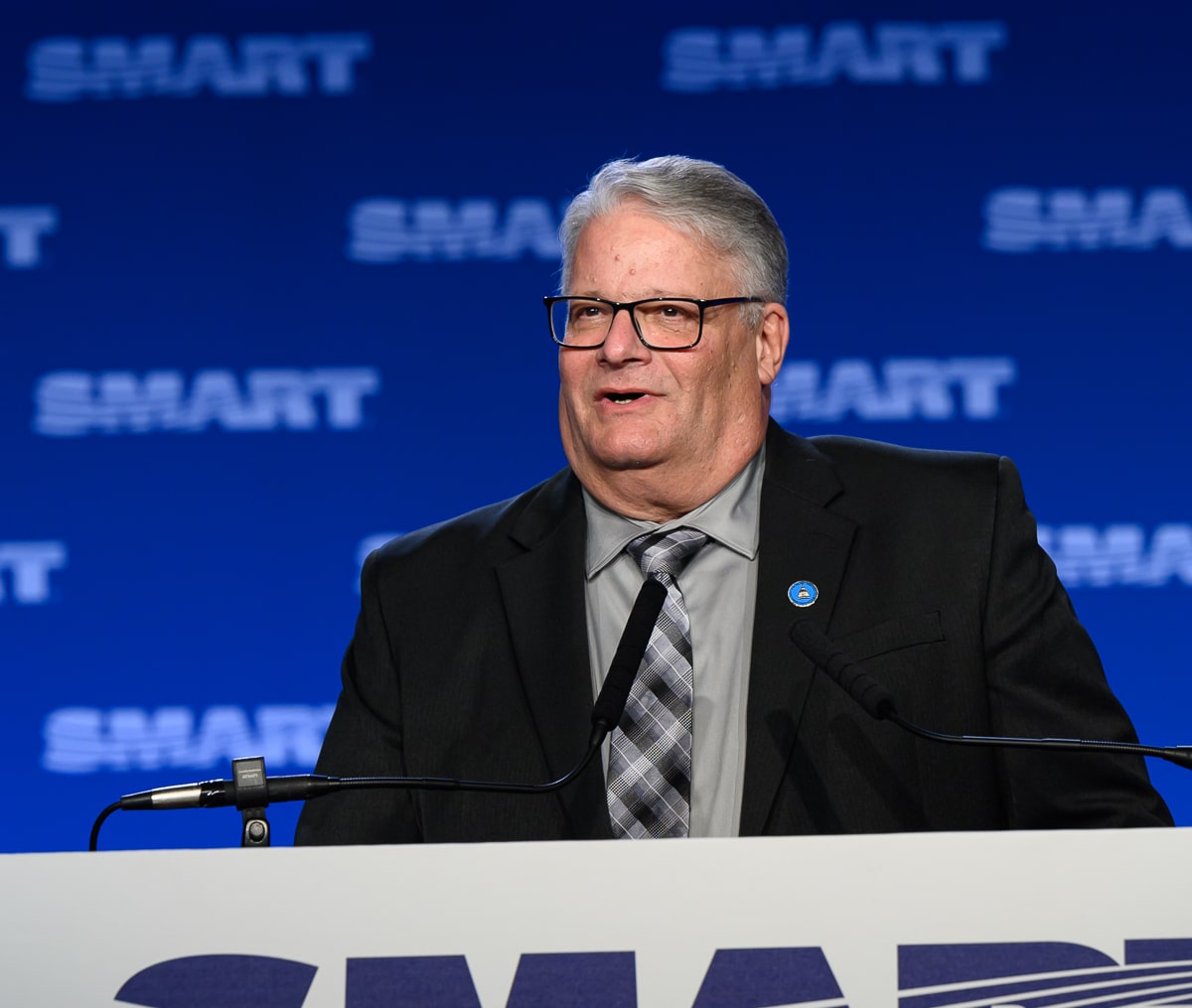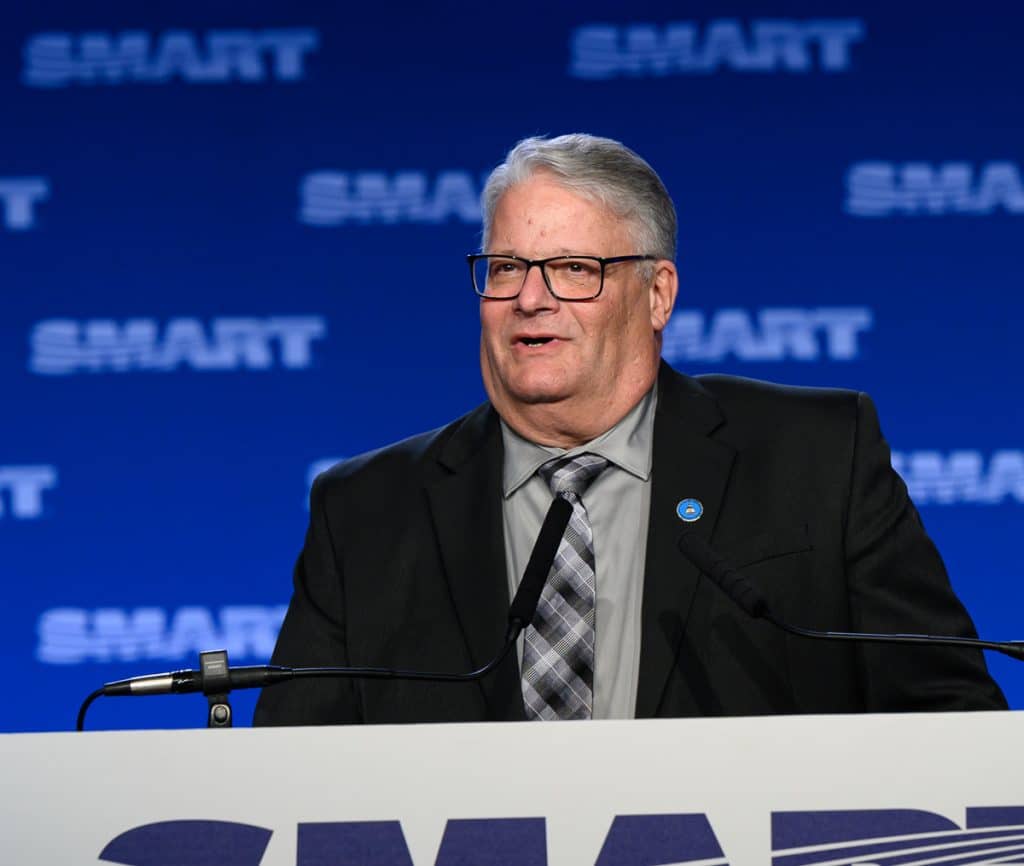 GST Powell then called Mike Harris to report on the International Training Institute (ITI). Earlier in the year, Harris said, the ITI underwent a strategic planning process to further the ITI's mission: supporting career development and apprenticeship, ensuring the unionized sheet metal industry is on the forefront of technology and more. He noted three core goals for the ITI moving forward: completing development, gaining Department of Labor approval, and supporting the successful rollout of a Competency-Based Apprenticeship Model; providing support, resources and engagement to help Joint Apprenticeship Training Centers (JATCs) continue delivering world-class training; and focusing on megaprojects (and the regions and local areas impacted by them). Harris also overviewed a variety of grants and curricula that are available for local unions – those interested should contact the ITI.
Harris then shifted focus to recruitment and retention: an all-important priority as SMART seeks to grow our union to meet this moment. That includes reviewing standards of entry for apprentices, working with local apprenticeship readiness and pre-apprenticeship programs and more.
"We need to remove barriers to entry," Harris said. "It's 2023 – this is our time. Make sure people are welcome, don't keep people away."
Part of the work of growing, he added, is ensuring that those we recruit stay in our union and our trade. The ITI has implemented Bias and Belonging and Train-the-Trainer programs, both of which are designed to ensure that JATCs are prioritizing welcoming and belonging for all apprentices.
"We are a resource – use us as such," Harris said. "We all need to work together."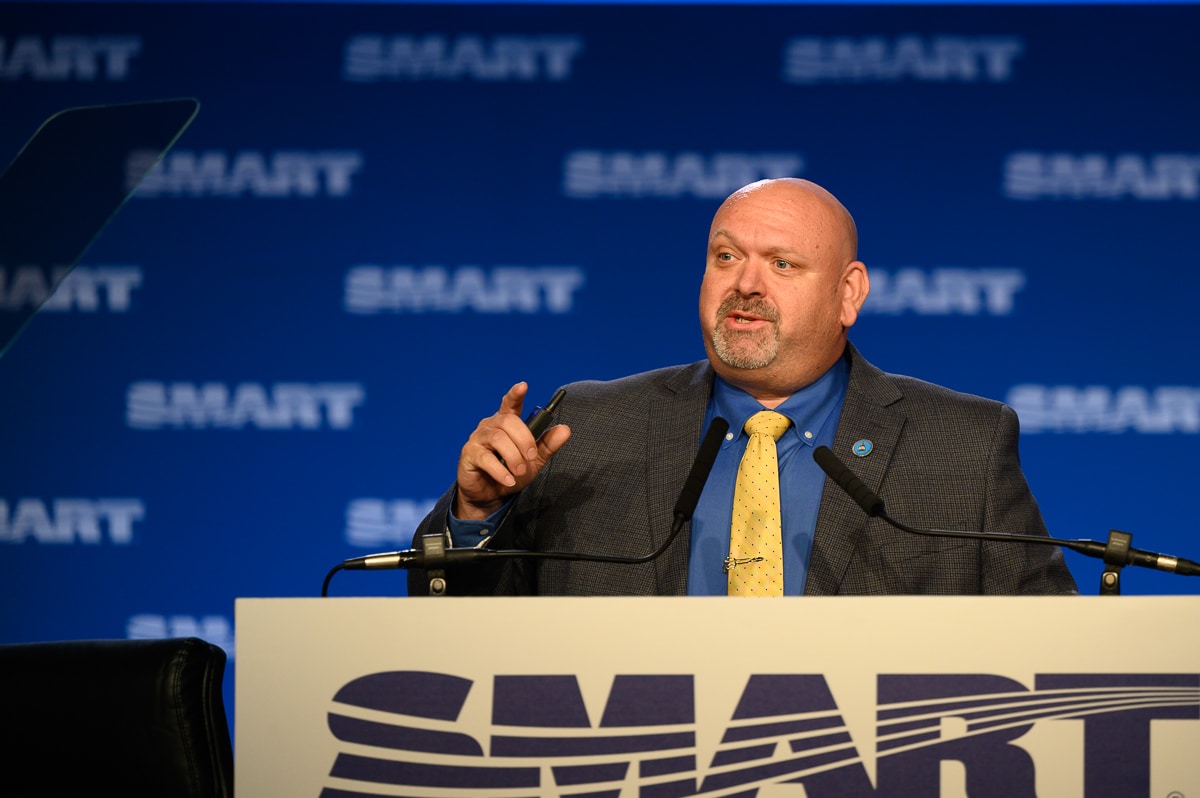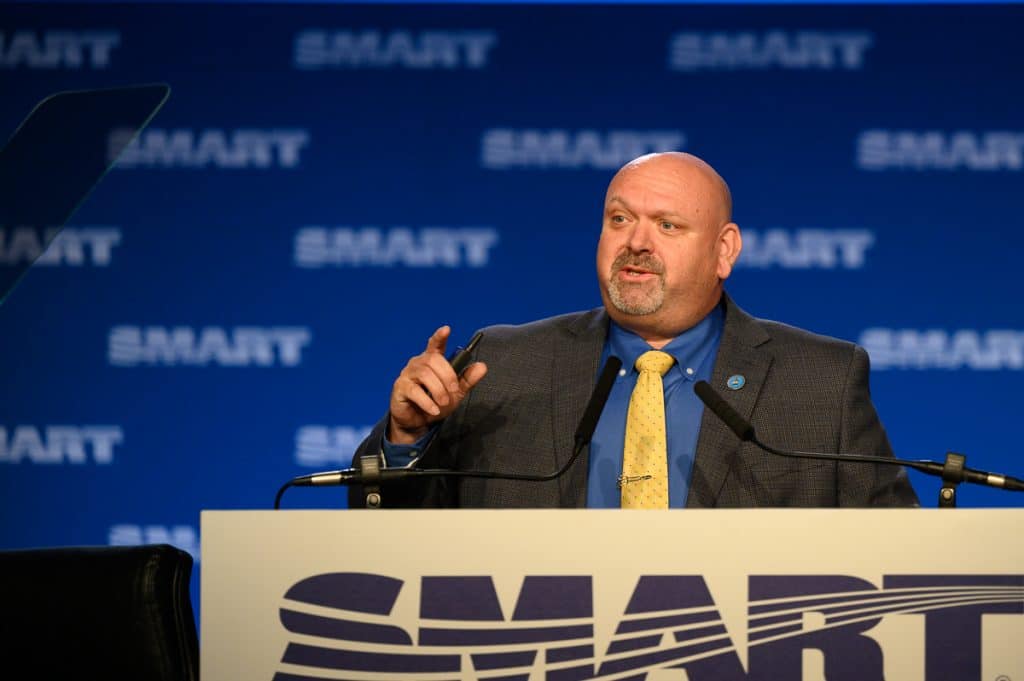 An important facet of recruitment and retention is making sure that material barriers – like access to childcare – don't hinder people from joining our trade. To that end, General President Coleman introduced Eric Cutler, chief marketing officer of TOOTris – an innovative childcare service that helps connect parents and providers in real time. Cutler described the importance of childcare for workforce development, retention and productivity: "When people have childcare access, you see an improvement in workers' ability to stay on the job," he explained, also pointing to the positive affects that childcare access has on workforce diversity.
TOOTris, Cutler said, can help provide SMART members – who often work outside of the office 9-5 workday – with options for childcare, as well as with various affordability and flexible payment options. Such childcare alternatives, he added, can help SMART recruit and retain members in every community.
Attendees were then joined by SMACNA President Anthony Kocurek, a longtime advocate for the unionized sheet metal industry who worked closely with SM Local 49 in Albuquerque, New Mexico to boost the industry and secure fire life safety legislation. Kocurek began by paying tribute to General President Emeritus Joseph Sellers, who Kocurek said "paved the way for a brighter, better future for our industry."
Kocurek went on to note the progress that has been made in the relationship between SMART and SMACNA, as both organizations commit to the future of unionized sheet metal.
"As partners, we may not see eye-to-eye on everything," he said. "But we see eye-to-eye on 90% of things, and that is more than enough to move our industry forward."
The future is one of extraordinary opportunity and demand, Kocurek pointed out. Ever-changing environments, schedules and the growing presence of megaprojects across America present remarkable challenges. That makes it vital for SMART and SMACNA to work together, he said, to secure our future. That work has been done in the past, from introducing ventilation verification during the pandemic, to putting members to work on EV and chip plant megaprojects.
"We stand at a marked place in history," Kocurek declared. "We need to open up our ranks, we need to be able to pull people into our industry and welcome them with open arms. … This is critical for us to grow our needed workforce."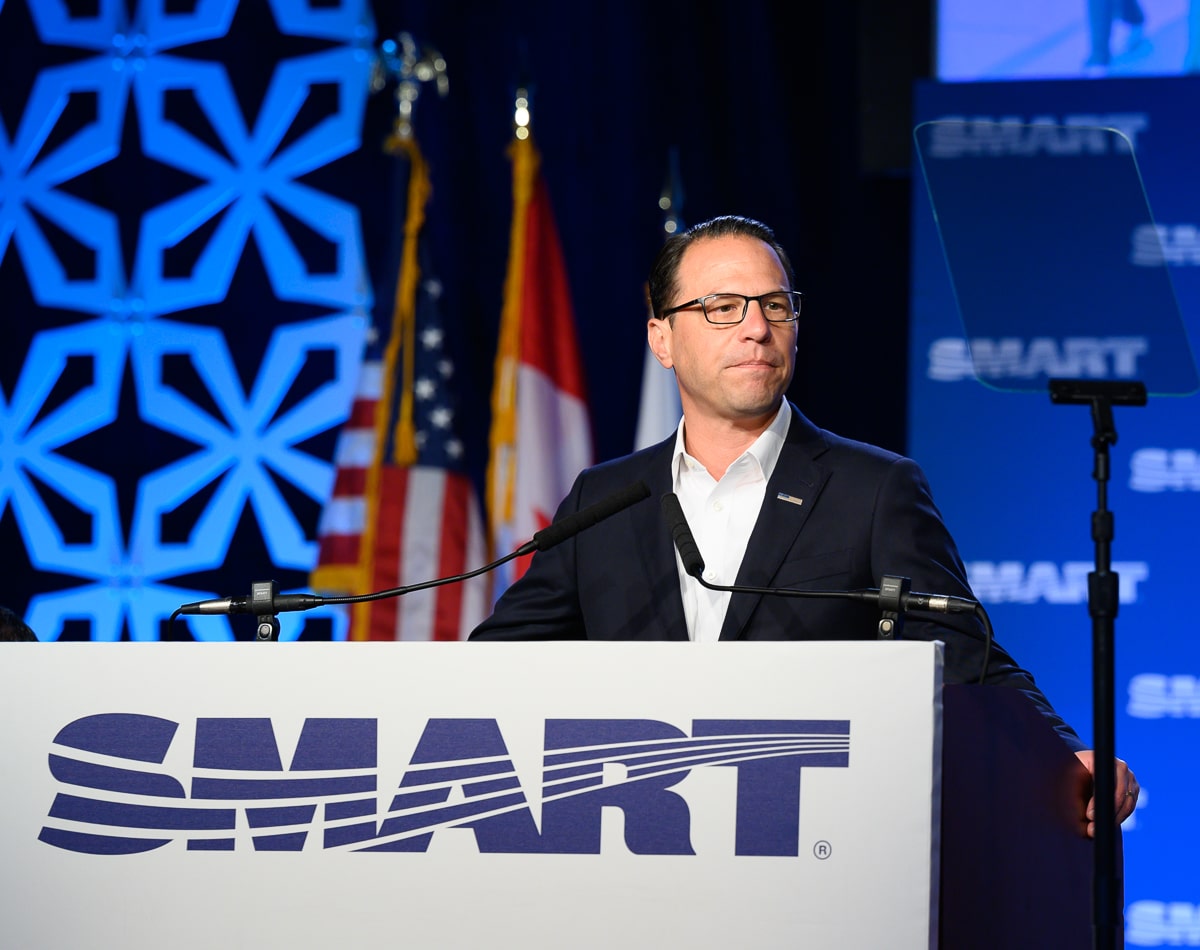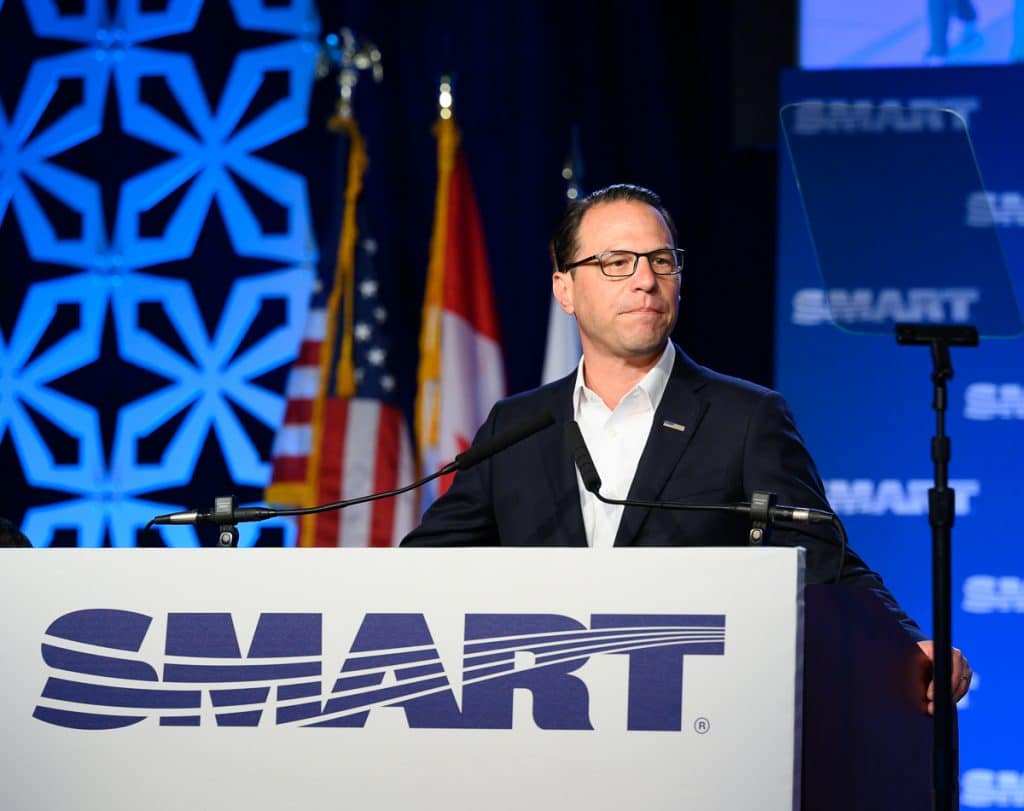 Kocurek was followed by Pennsylvania Governor Josh Shapiro – a leader who SMART members across Pennsylvania know as a friend and ally.
"I have been proud to stand with you every step of the way throughout my career in the commonwealth of Pennsylvania," he declared. "You are the ones who power the economy. … That is why, in Pennsylvania, we stand up for the union way of life."
Shapiro described his record standing up for workers as attorney general, which included winning back pay for exploited workers and filing criminal charges against bad-faith employers – prosecuting the largest Davis-Bacon prevailing wage case in the history of the United States. He vowed to continue to stand shoulder-to-shoulder with workers, in Pennsylvania and across the country, especially in the face of anti-labor attacks in other states. Where some other governors might sneer at labor, Shapiro heaped praise on the union building trades workers who rebuilt a crucial stretch of collapsed highway in Philadelphia: "All the experts told us it would take months and months. We reopened I-95 because of the hands of organized labor in just 12 days."
Infrastructure development, the governor said, will be crucial for working families and communities in Pennsylvania and nationwide.
"The men and women that you represent are vital not only today, but to the future of our commonwealth and our country," he noted. "Right now, we have a real opportunity to move our country forward by investing and building up our infrastructure. 'This is our time' really epitomizes the unique and special moment we find ourselves in."
Shapiro pointed out that the flow of federal funding from legislation like the Bipartisan Infrastructure Law is making it possible for America to build again. But that can't happen, he warned, if states and local areas are unable to meet workforce demands.
"If we fail to address our workforce needs right now, we're going to fail to seize this unique moment right now," he said. "That's why yesterday, flanked by union leaders in Pittsburgh, I signed an executive order – the first of its kind in this country – to invest up to $400 million in infrastructure funding just for workforce training, to be able to create 10,000 new infrastructure jobs in the commonwealth of Pennsylvania."
The executive order, he said, will help fund training while prioritizing the use of union labor and jobs that are subject to project labor agreements and/or community benefit agreements. It will also assist workers with barriers to entry like childcare access, helping unions like SMART recruit and retain from every community.
"This is our time to take advantage of the opportunity to not only rebuild our infrastructure, but create real opportunity," he declared. "When we put union workers on the job, we will not only get the job done – when those workers go onto the next project, they'll be union members, and they'll be ready to do the job the right way."
Shapiro has taken various steps to prioritize workers since taking office, including an executive order to remove the four-year college degree variety from more than 60,000 state government jobs. All of this, he said, is part of his administration's focus for the commonwealth: a focus on workers, on union labor, on training and skilled work, regardless of origin, education.
"We value you, we respect you, we appreciate you, and I want you to know we will always have your back," Shapiro concluded.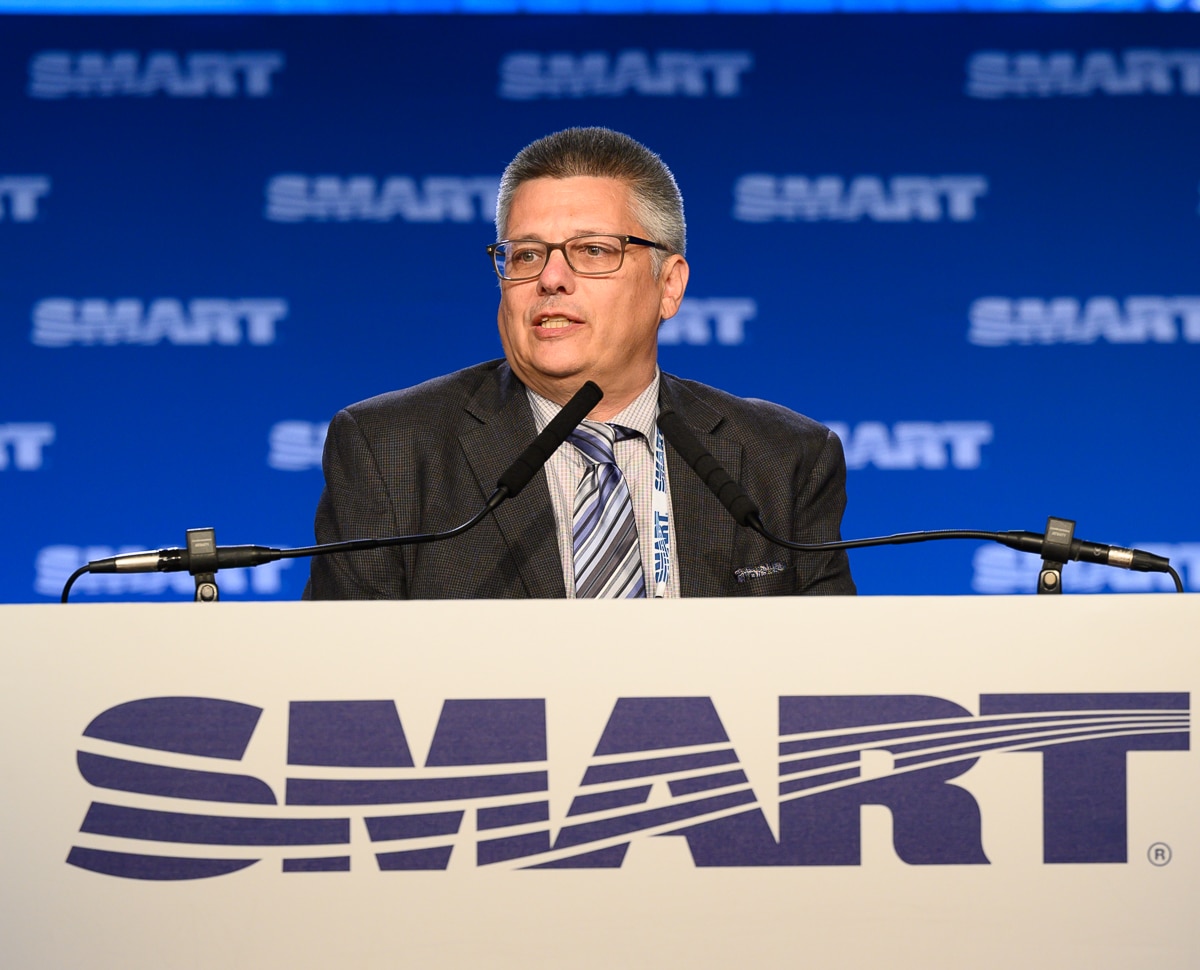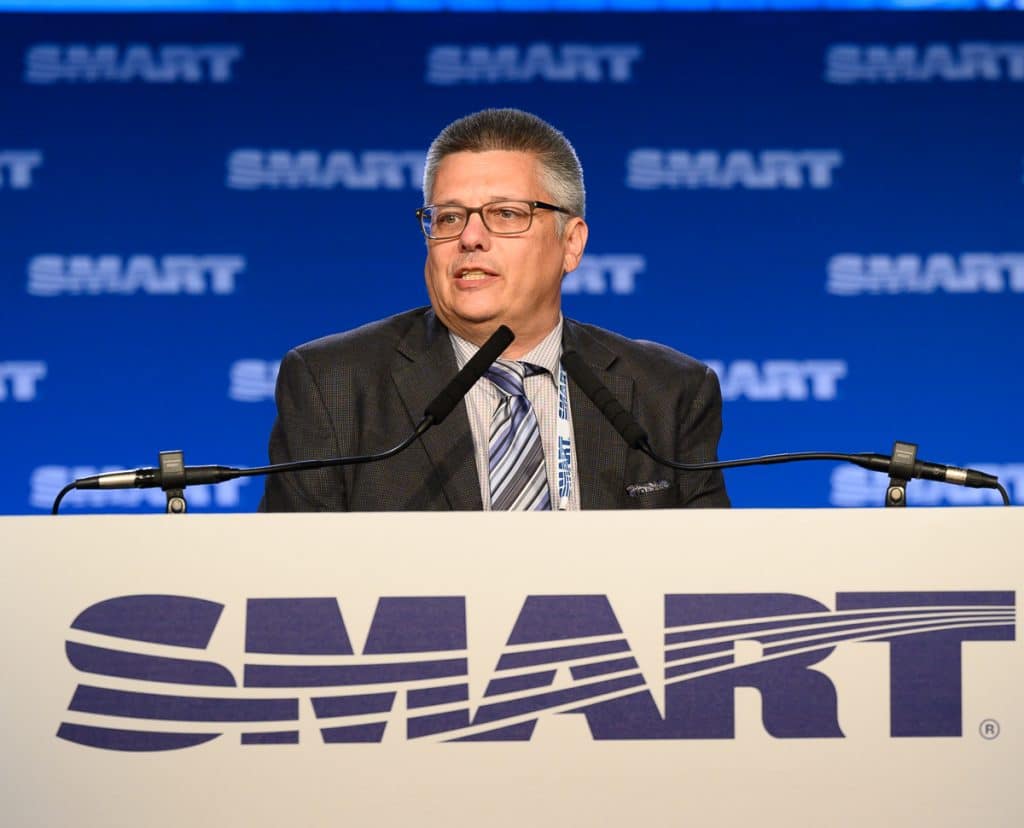 SMACNA Executive Director of Labor Relations Jason Watson followed Shapiro by recognizing the work of General President Emeritus Joseph Sellers, who he called a "tremendous partner who truly cares about the future of our industry."
Watson described the conference theme – "This Is Our Time" – as applicable not just to workforce opportunities and challenges, but to the labor-management relationship between SMART and SMACNA. The two organizations have been partnering on issues like lobbying for project labor agreements, megaproject staffing, ventilation verification issues, diversity and inclusion efforts, and more. Such initiatives are part of a holistic, industry-wide focus to ensure that the future of sheet metal is unionized.
"This is our time – it's our time to prove that we can staff these jobs, that we have the skilled trades workers to complete these jobs without losing any market share on the back end," Watson said.
Next came a presentation from Dushaw Hockett, a partner with SMART on the Belonging and Excellence for All (BE4ALL) initiative. His interactive session encouraged attendees to engage with one another and learn more about fellow union leaders. That, he noted, is a core part of the BE4ALL effort: Recognizing and reifying the ties that bind all of us together, both as union family and as human beings.
The BE4ALL committee has put those values into practice in various ways, Hockett continued: producing Toolbox Talks, developing a proactive rapid response protocol for incidents related to bias and belonging (to be released by the end of 2023), hosting Learning Journey sessions and more.
"This is not a DEI project, this is not a race project, this is not a gender project. Fundamentally, this is about creating workspaces that are welcome to every single worker and every single contractor that is a part of this industry," Hockett declared. "At its very core, this work is about helping us to be better human beings to each other at a time when we need this the most. It's about preparing our organization and our industry to take advantage of one of the most significant shifts in technology that we've seen in the past 100 years."
Finally, NEMI Administrator Lisa Davis presented her report, detailing the strategic plan for the fund and the resources available to local unions and training centers. As NEMI continues its mission to put members to work making buildings healthy, safe and energy efficient, Davis said, local union participation will be vital – particularly regarding legislative efforts across the country, as well as work with agencies on indoor air quality in schools.
"Please get ahold of us," she urged attendees.
With that, General Secretary-Treasurer Powell concluded the sheet metal session, with leaders moving on to attend breakout sessions during the afternoon.