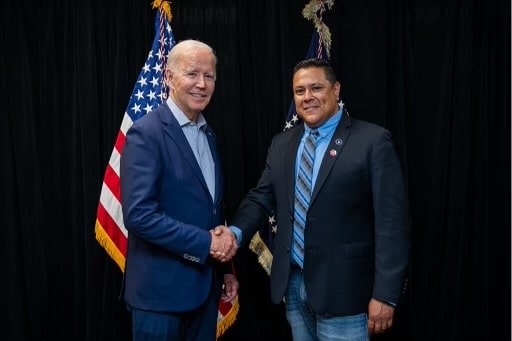 Local 49 Business Manager Isaiah Zemke (right) with President Biden.
SM Local 49 (Albuquerque, N.M.) Business Manager/Financial Secretary-Treasurer Isaiah Zemke took part in a "Communities in Action: Building a Better New Mexico" meeting at the White House on October 7, 2022. The discussion, part of the Biden administration's "Building a Better America" series, included an overview with leaders from Arizona, New Mexico, Nevada and Colorado, followed by state-specific sessions.
"They had leaders from each state join – from unions, nonprofits, tribal governments and elected politicians – for a group briefing, followed by individual state roundtables to share stories and discuss amplifying them across our communities and states," Zemke said, noting that he conducted a survey of Local 49 members prior to the meeting in order to convey members' thoughts to the administration. "I discussed indoor air quality and how we are partnering with school boards, the state of New Mexico and municipalities [to perform that work.]"
In the group meeting, Zemke and other attendees met with Julie Chavez Rodriguez, senior advisor to President Biden; Steve Rochetti, legislative coordinator; Al Zaidi, White House national climate advisor; Jewel Bronaugh, deputy secretary of the United States Department of Agriculture; Susan Rice, director of domestic policy; and U.S. Secretary of the Interior Deb Haaland. Along with conveying members' messages to the administration, Zemke participated in a discussion on how recent legislation will impact working families in the region.
"It sounds like the plan is to have all 50 states choose leaders to attend similar action plans," Zemke added.
In the New Mexico roundtable, Zemke brought up the amount of work that Indoor Air Quality policies and legislation like the CHIPS and Science Act, the Inflation Reduction Act and the Bipartisan Infrastructure Law will create for SM Local 49 members, including an Intel plant in Rio Rancho, N.M. He also pointed out the need for high schools to receive funding for CTE programs, ensuring that SMART and other building trades have the workforce pipeline that will be needed to complete the infrastructure work of the future.
Ultimately, the discussion once again proved SMART's new level of access with the current administration – and the importance of taking advantage in order to strengthen our union.