SMART leaders across sheet metal and the Transportation Division gathered in Washington, DC, from July 31–August 2 for the second annual SMART Leadership Conference. With a conference theme of "This is Our Time," attendees convened to make sure SMART seizes this moment of unprecedented opportunity across every craft and industry our union represents.
Day one sets the tone
SMART General President Michael Coleman kicked off the conference with his opening remarks, which made unmistakably clear that the conference theme is much more than a catchphrase. Read a detailed recap of day one.
"We still have plenty of work to do and battles to fight," he declared. "But if we fight together, we will win."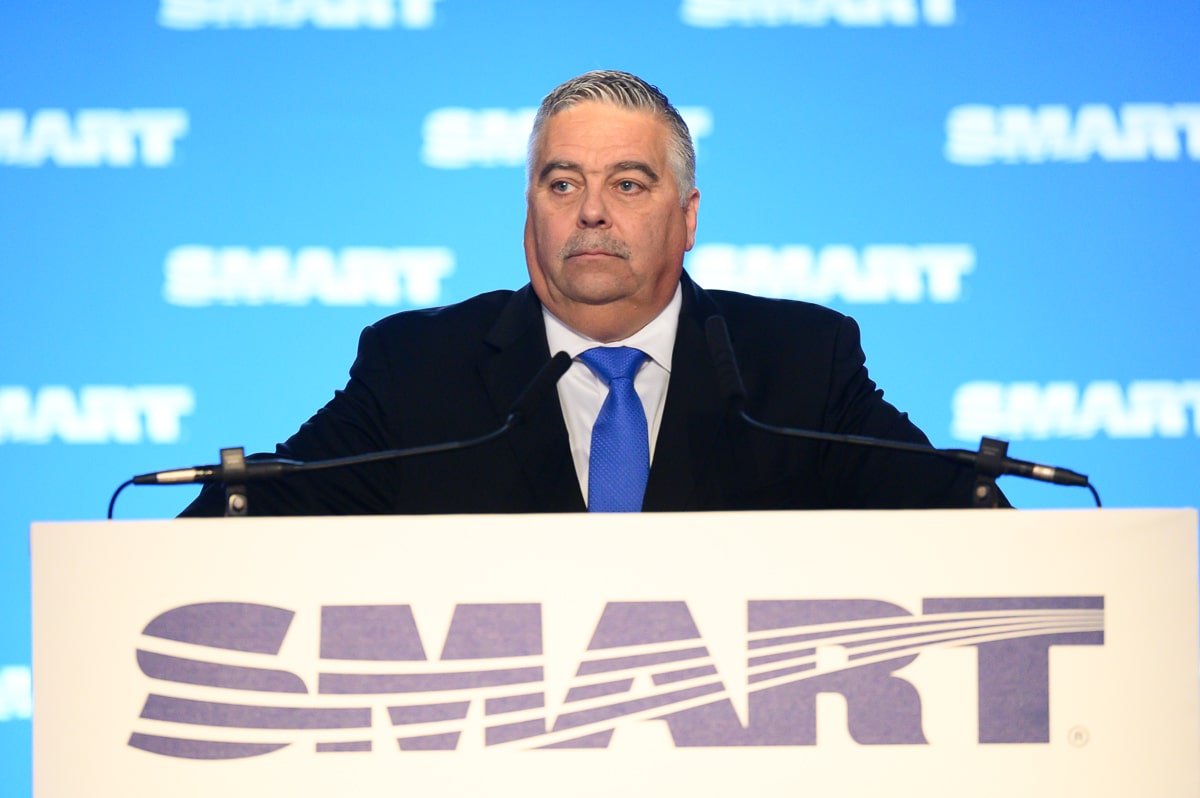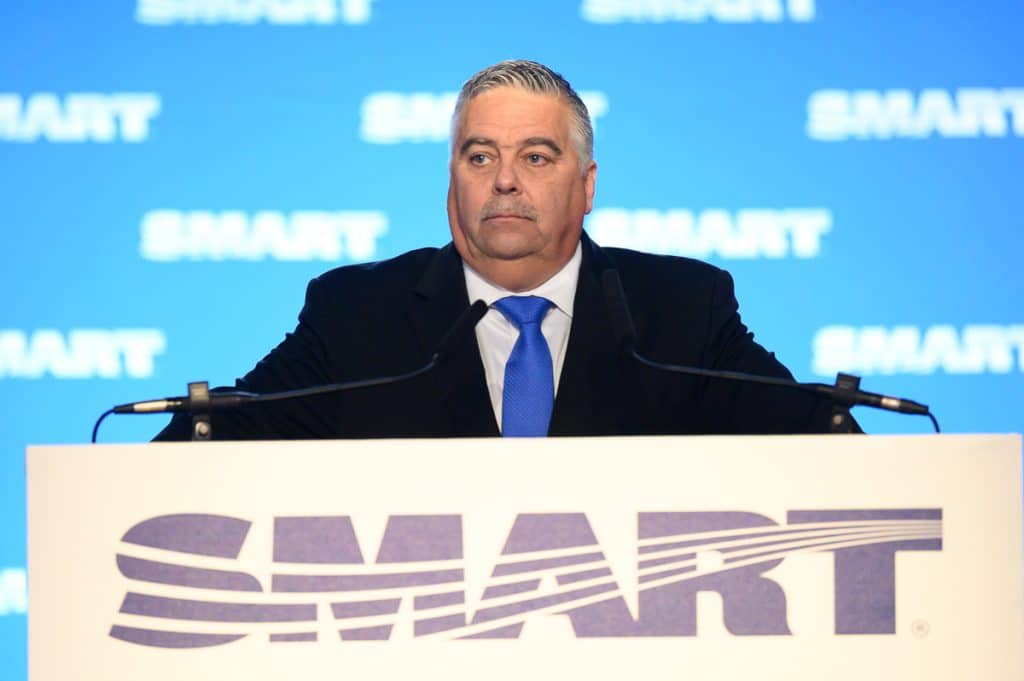 From megaprojects to the bipartisan Railway Safety Act, from media focus on bus and transit operator assaults to rank-and-file organizing campaigns in Alaska, from pro-labor elected officials in office to SMART's efforts to recruit and retain members from across races, genders, ethnicities and sexual orientation, Coleman repeated again and again: This is our time.
"We are in a defining moment in the history of this union," he said. "There are incredible opportunities on the horizon."
General Secretary-Treasurer Joseph Powell expounded upon several of the topics Coleman addressed, describing the state of our union and SMART's need to grow at a rate that outpaces the construction industry; the progress of the SMART strategic plan; and more. The Transportation Division, Powell said, grew by 4,581 members – even after having endured contentious contract negotiations, rail safety disasters, assaults on transit operators and more.
"That represents a significant 9.38% increase over the previous year," he added; a tremendous organizing win for our union.
Powell also described ongoing growth in Canada, where megaprojects and collaborations with pro-labor federal and provincial governments have spurred huge opportunities. The definition of prevailing wage in the 2023 federal budget is one of the strongest in Canadian history, and megaprojects are breaking ground from Alberta to Ontario.
TD President Jeremy Ferguson reviewed how the SMART Transportation Division has advanced the interests of workers in the year since the first SMART Leadership Conference in San Francisco. He reflected upon a recent CP-SOO contract victory that the late VP John Whitaker and General Chairperson Gerald Wallace of GCA-261, who passed away July 16, achieved: "The best tribute to both of these officers is that we got the new contract ratified with 95% in favor of."
The national contract fight freight members went through brought unprecedented national attention to what rail workers experience regarding attendance and working conditions, he added.
"The media picked up on our issues — it was not about the pay, it was about the quality of life. Carriers said they were never going to negotiate on attendance policies," Ferguson said. "Guess what? They did."
However, the troubling trend of assaults upon bus and transit workers has continued.
"That's one fight we can't back down on," Ferguson said. "We cannot stop on those issues. We should not have to put up with that in our country. In most states it's a misdemeanor. That needs to change."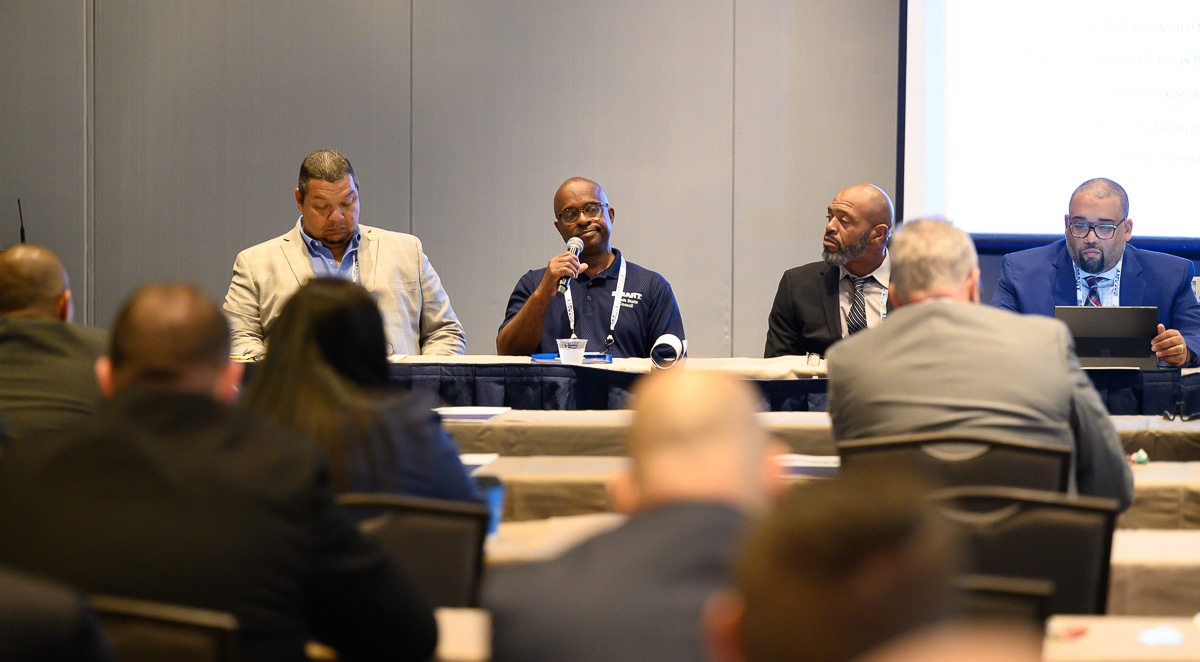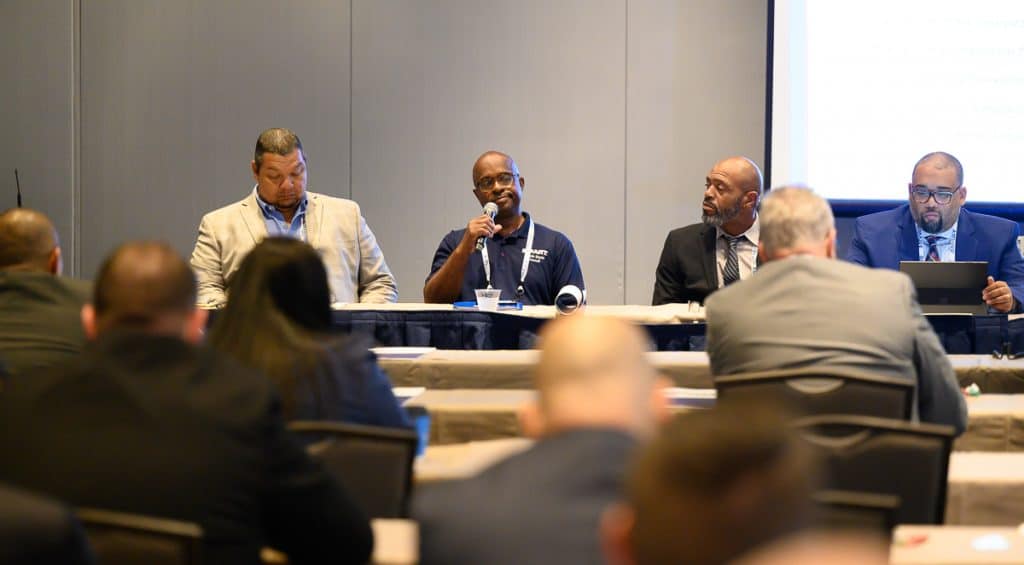 The opening session closed with appearances by Federal Railroad Administration Administrator Amit Bose and National Transportation Safety Board Chair Jennifer Homendy.
"Thank you for what you do every day," Bose said. "The sheer breadth of workers represented in this room … is evidence that it takes many workers with many skill sets to make our nation run.
"This is a watershed moment with the nation's attention turned on rail safety."
Homendy, whose agency is tasked with determining the causes of transportation accidents, praised our union's diversity and dedication to safety: "You have my commitment to fight beside you, because it is our time to fight for safety," she said.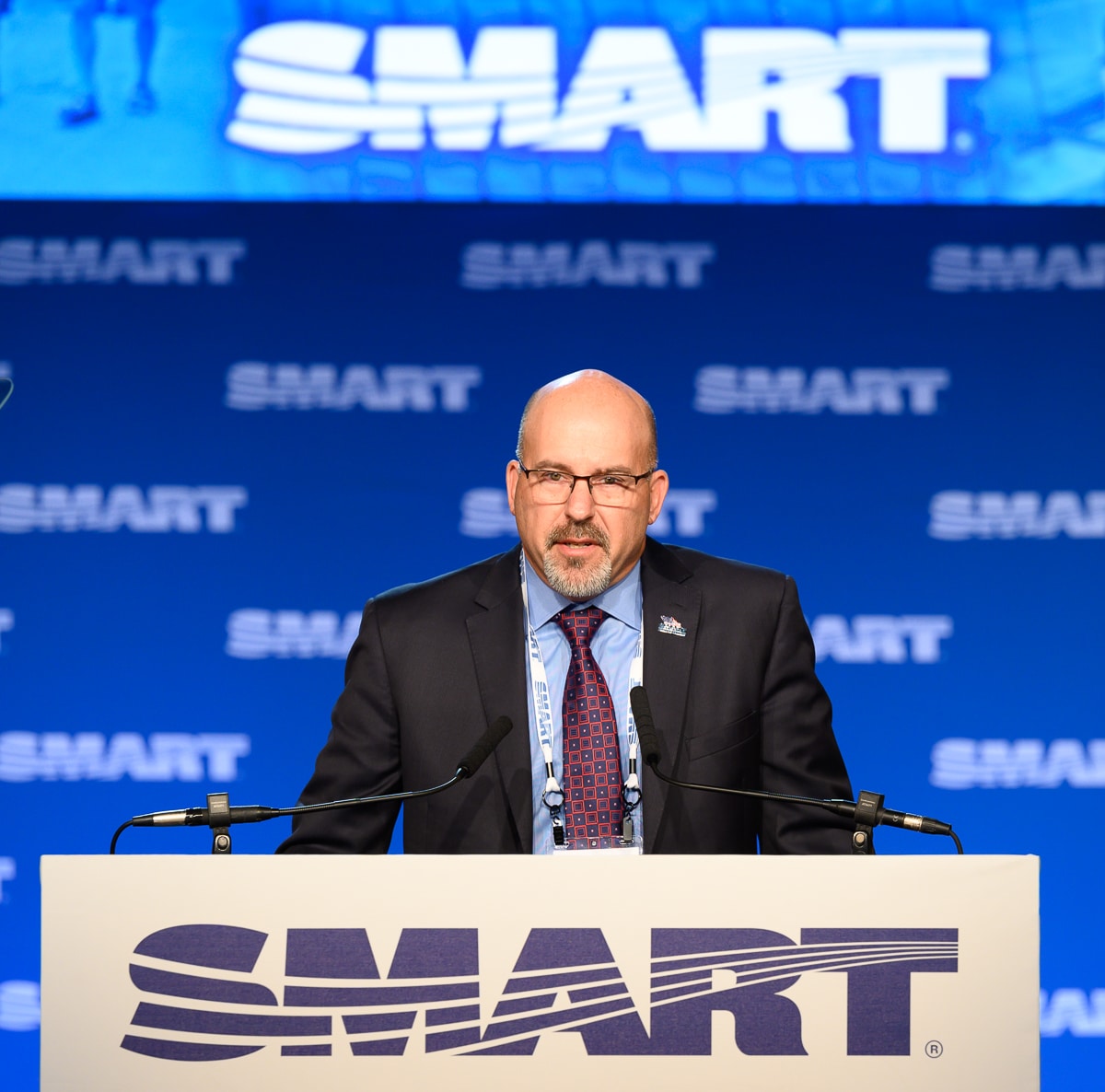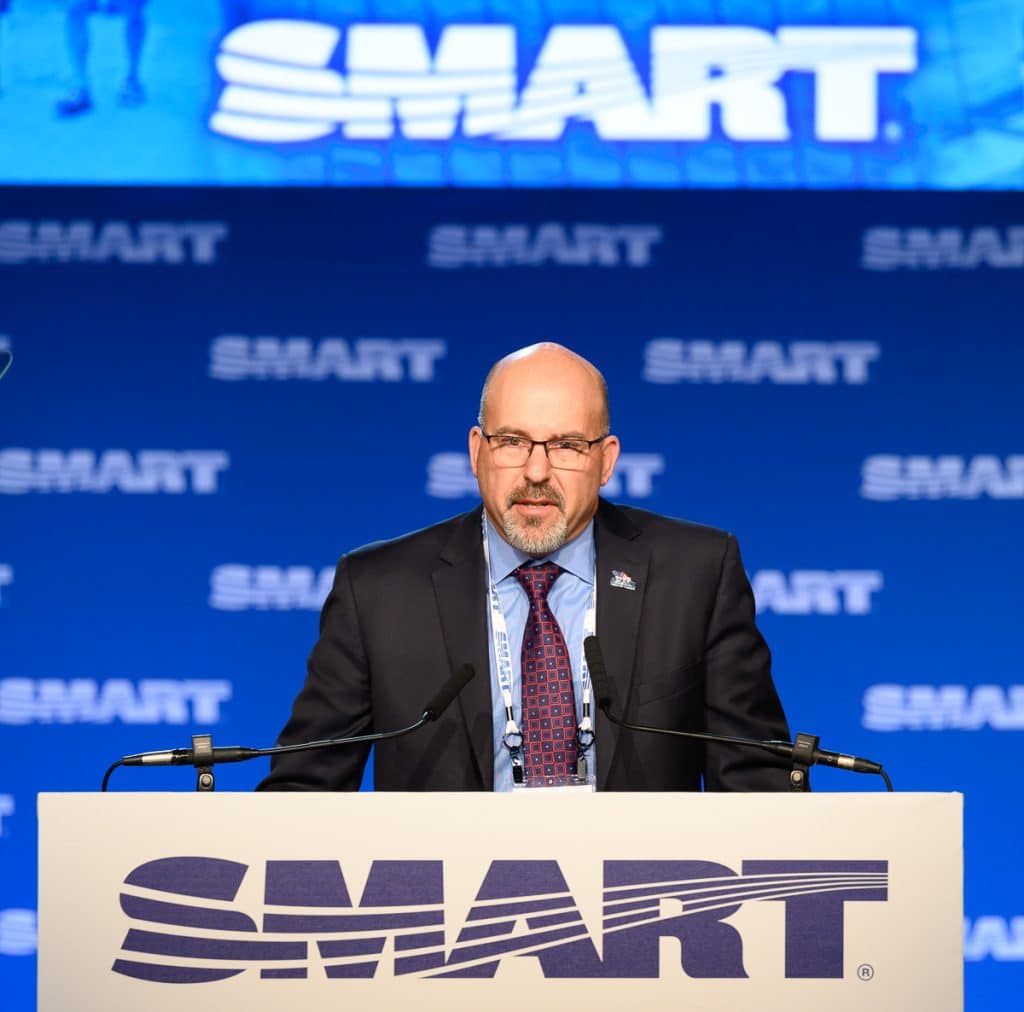 Sheet metal attendees then heard from North America's Building Trades Unions (NABTU) President Sean McGarvey and Maryland Congressman David Trone.
Federal funding from legislation like the Bipartisan Infrastructure Law, the CHIPS and Science Act and the Inflation Reduction Act is creating extraordinary workforce opportunities — and demands. Now it's on the building trades to meet this moment, McGarvey emphasized, organizing and recruiting from all communities to build North America's climate resiliency and a green energy future.
"Not since the end of World War II have working people had an opportunity like this," he explained. "Nobody's more important in the fight against climate change than SMART and sheet metal workers."
Congressman Trone noted that the American Rescue Plan, the Bipartisan Infrastructure Law, the CHIPS and Science Act and the Inflation Reduction Act will help spur a new American industrial revolution. Over the next four, six, eight years, he said, the jobs created by federal investment will put SMART members to work and change the lives of countless people. That makes it even more crucial to fund registered apprenticeships, implement project labor agreements and support unions like SMART.
Forward progress on day two
The second day's joint session provided attendees with comprehensive information on the state of our union, from partnerships available to locals, regional councils and general committees, to the state of legislative affairs, finances and more. Read a detailed recap of day two.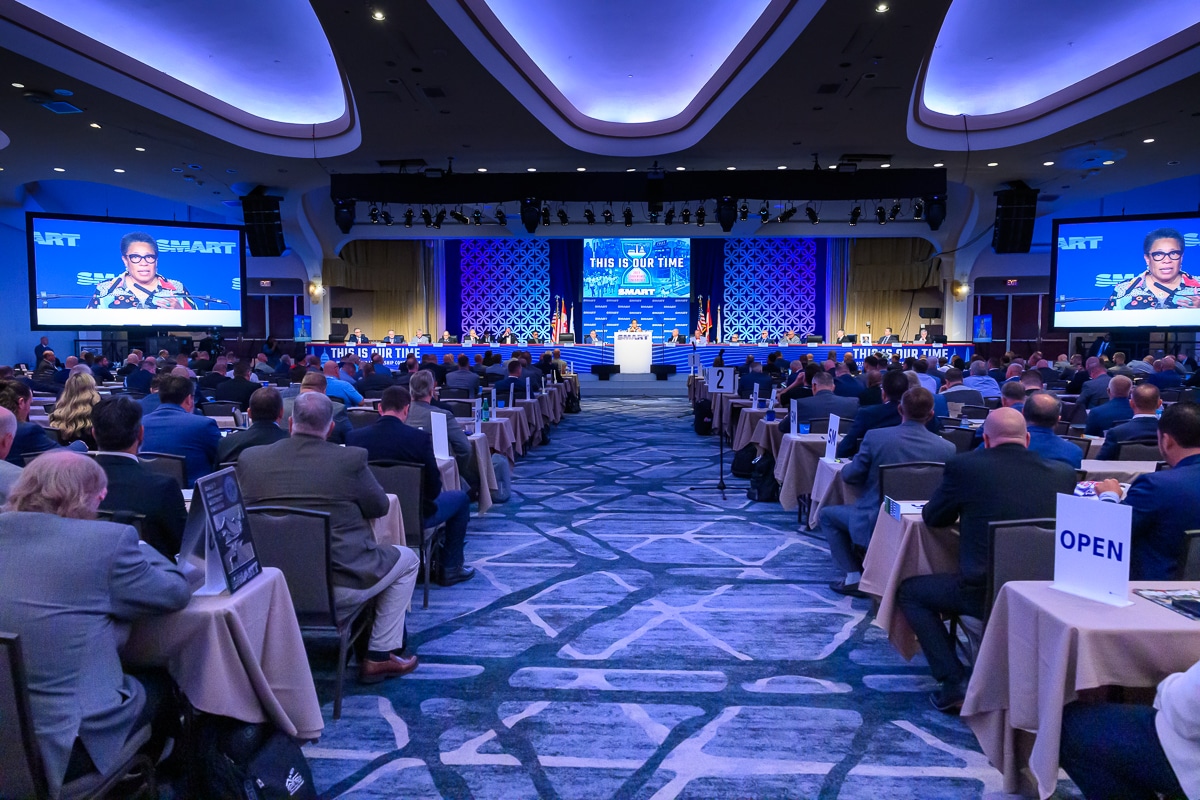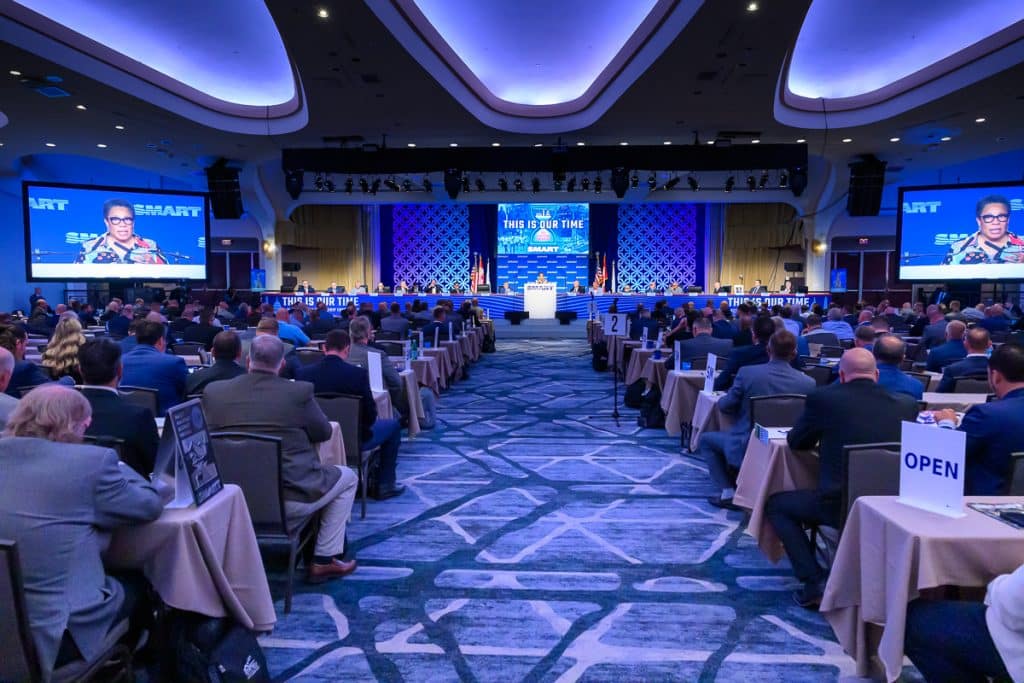 AFL-CIO President Liz Shuler, who has worked closely with SMART on issues ranging from green energy jobs to pension security, delivered remarks by video. Shuler reminded attendees that 71% of Americans approve of unions — the highest level since 1965.
"We are finally seeing huge gains in the battles we have been fighting for years. Now the question is, how do we build on these wins and create even more power for workers?" she asked.
The organizing and solidarity displayed by SMART-TD members who secured paid sick leave and two-person crew victories in Ohio, Minnesota and Kansas will serve as examples to follow in the future, as workers fight to have a say and profiteers try to use tech, automation and AI to eliminate people's jobs.
"Unions are going to rebuild this country — SMART members are going to rebuild this country!" she concluded. "We have a lot of work ahead of us, but I can't think of anyone I'd rather fight alongside than the activists and leaders in this room."
Attendees also heard from two key, pro-labor figures in the Biden administration. Department of Energy Secretary Jennifer Granholm, former governor of Michigan, gave her speech via video. Granholm, who has used her position in the Department of Energy to advocate for good, union, clean energy jobs, met recently with both General President Coleman and National Energy Management Institute (NEMI) Administrator Lisa Davis — affirming the Biden administration's commitment to working with SMART and organized labor.
"Unions run best-in-class training programs for construction workers," Granholm said. "Unionized employers have an easier time hiring because workers want union jobs, and that's why our incentives require companies to pay prevailing wage, require them to hire registered apprentices. That's why we attach strong labor standards to every single federal law."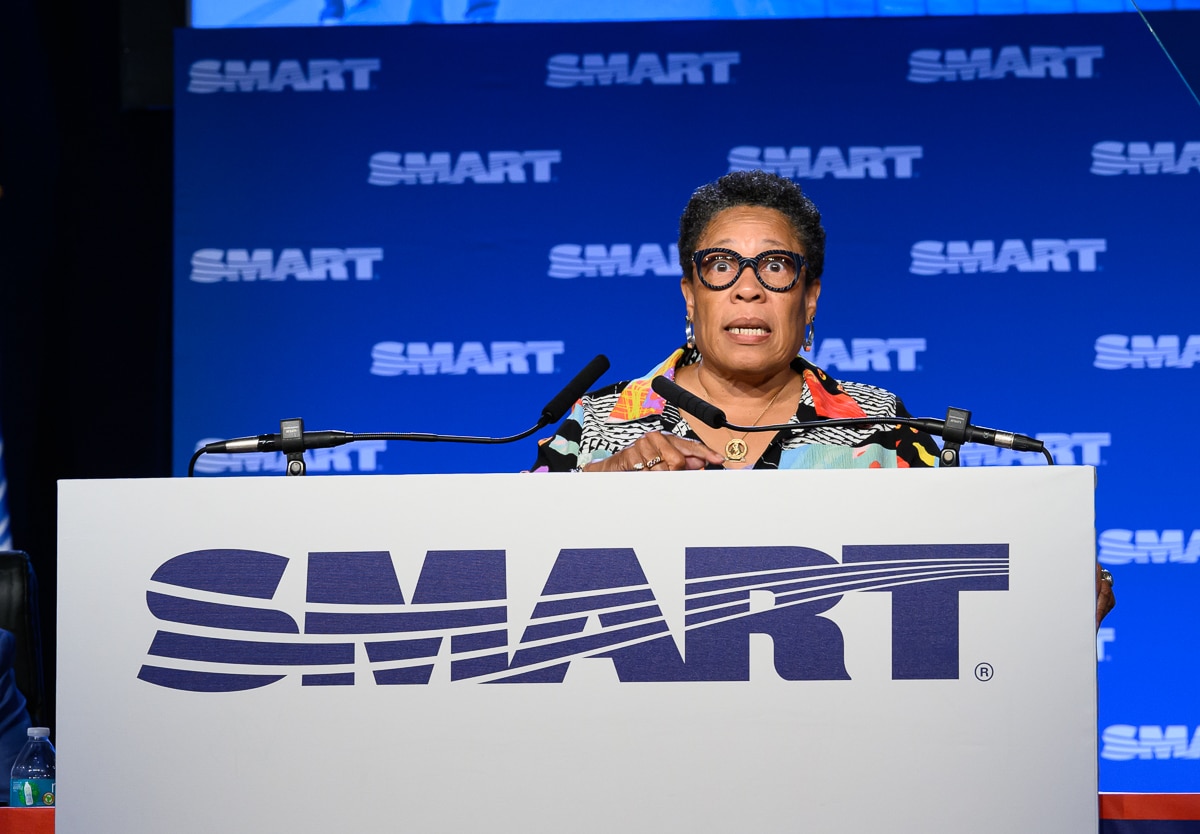 Later, U.S. Secretary of Housing and Urban Development Marcia L. Fudge took the podium to close out the day two joint session. The Biden-Harris administration's actions have launched a period of economic growth, creating 13 million jobs thus far in the United States, with an expected growth rate of 1 million additional jobs per year, she said. SMART members will be a huge part of these projects: operating energy-efficient buses and trains and performing energy-efficient retrofits to older houses, HVAC systems and other programs that her department oversees.
"These projects do not happen without skilled technicians or skilled tradesmen like you," she said. "Because I know that with you, there is not much that we cannot do. We cannot build this country without you, so work with us."
The primary guest speaker of day two's sheet metal session was Pennsylvania Governor Josh Shapiro — a leader who SMART members across Pennsylvania know as a friend and ally.
"Right now, we have a real opportunity to move our country forward by investing and building up our infrastructure," he noted. "'This is our time' really epitomizes the unique and special moment we find ourselves in."
Shapiro pointed out that federal funding from legislation like the Bipartisan Infrastructure Law is making it possible for America to build again. He vowed to help unions do just that, starting with an executive order he signed that will invest up to $400 million in infrastructure funding for workforce training, with the intention of creating 10,000 new jobs in the commonwealth. The executive order, Shapiro said, will help fund training while prioritizing the use of union labor and jobs that are subject to project labor agreements and/or community benefit agreements. It will also assist workers with barriers to entry like childcare access, helping SMART recruit and retain from every community.
Demonstrating our union's power on day three
The 2023 SMART Leadership Conference concluded with a varied lineup of pro-labor speakers and allies from Congress, the Biden administration and beyond, demonstrating the strength of our union's relationships as we work to seize this moment. Read a detailed account of day three.
The joint session's first visitor was Rep. Madeleine Dean of Pennsylvania, who has prioritized infrastructure funding and union jobs at the state and federal levels. Dean was instrumental in passing the Bipartisan Infrastructure Law, the CHIPS and Science Act and the Inflation Reduction Act. Those laws, she explained, will define America's future: updating our country's climate infrastructure, investing in manufacturing and more. Union labor, she said, will be essential for implementing all the investments in that federal legislation.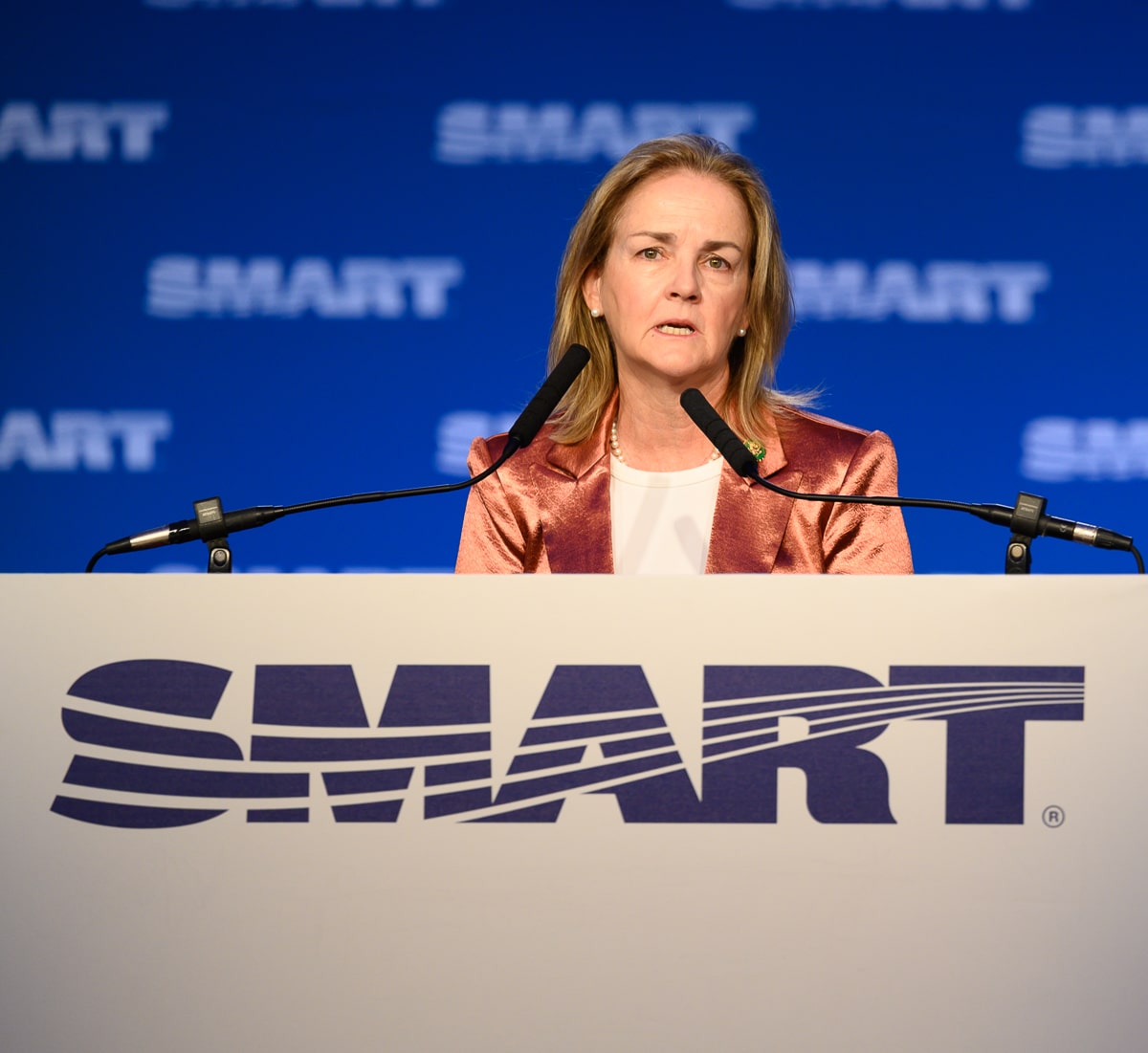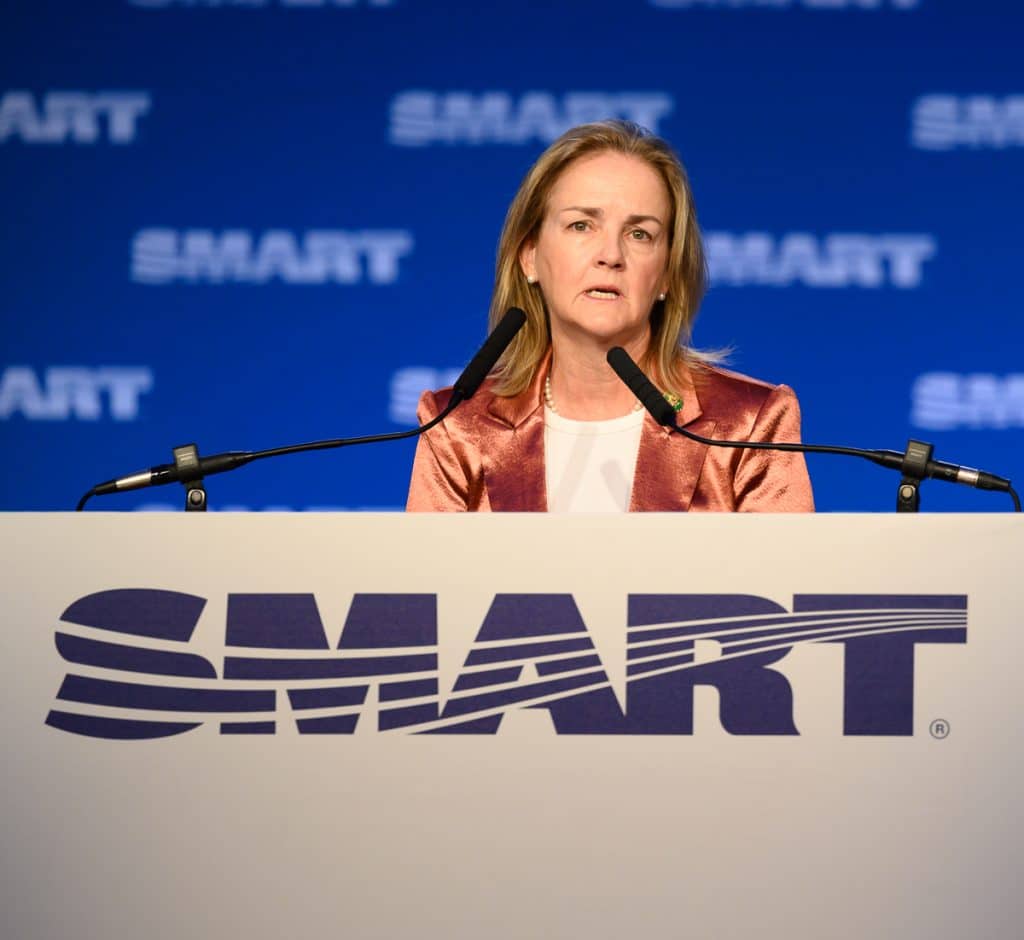 Next, General President Coleman and Transportation Division President Ferguson welcomed U.S. Department of Transportation Secretary Pete Buttigieg for the Leadership Conference's first-ever "fireside chat:" a candid conversation on how the Bipartisan Infrastructure Law invests in transportation and union jobs; long trains and rail safety; and much more.
"You can't help but notice these trains, two miles long … three miles long, four miles long," Buttigieg said. "Common sense tells you this is going to have an impact."
Incidents involving attacks on SMART bus members in North Carolina and California — and on other unionized transit workers and bus operators — have escalated in their ferocity and frequency. Ferguson asked Buttigieg to describe what steps DOT is taking to protect bus and transit operators nationwide.
"The definition of an essential worker is one who makes it possible for other essential workers to get to work," Buttigieg said. "None of these assaults are acceptable." He added that DOT is working with local transit agencies and helping develop a regulatory process that would empower workers in the development of safety protocols that protect operators.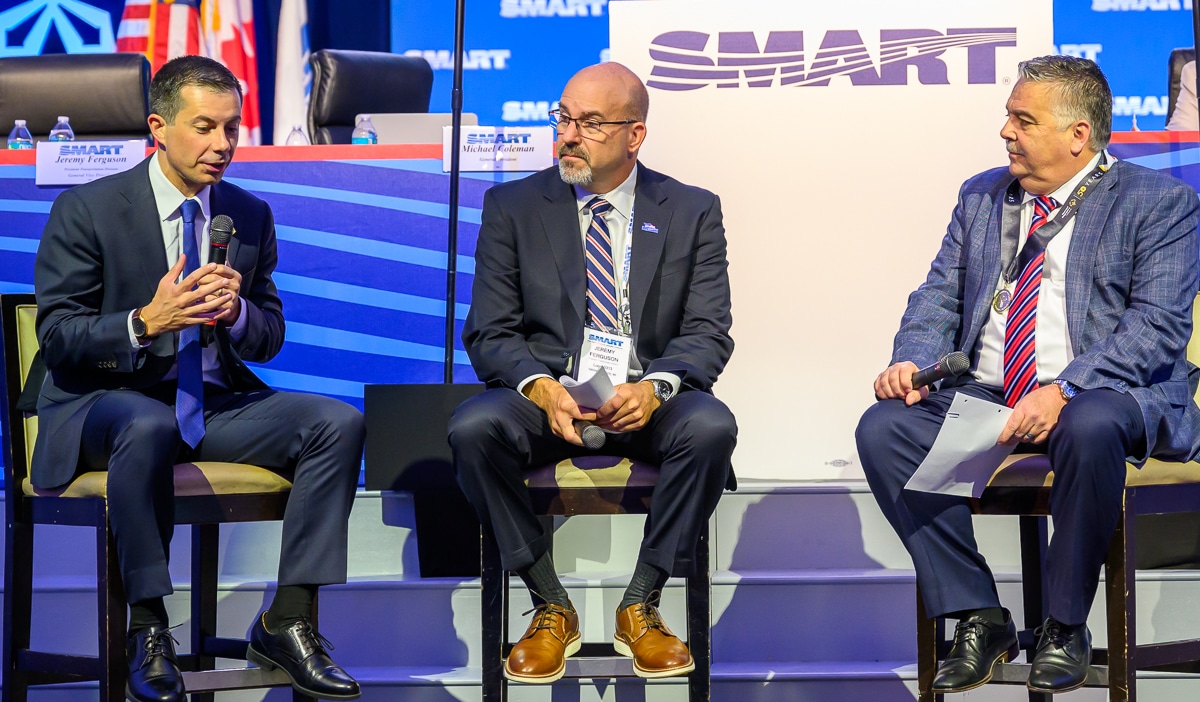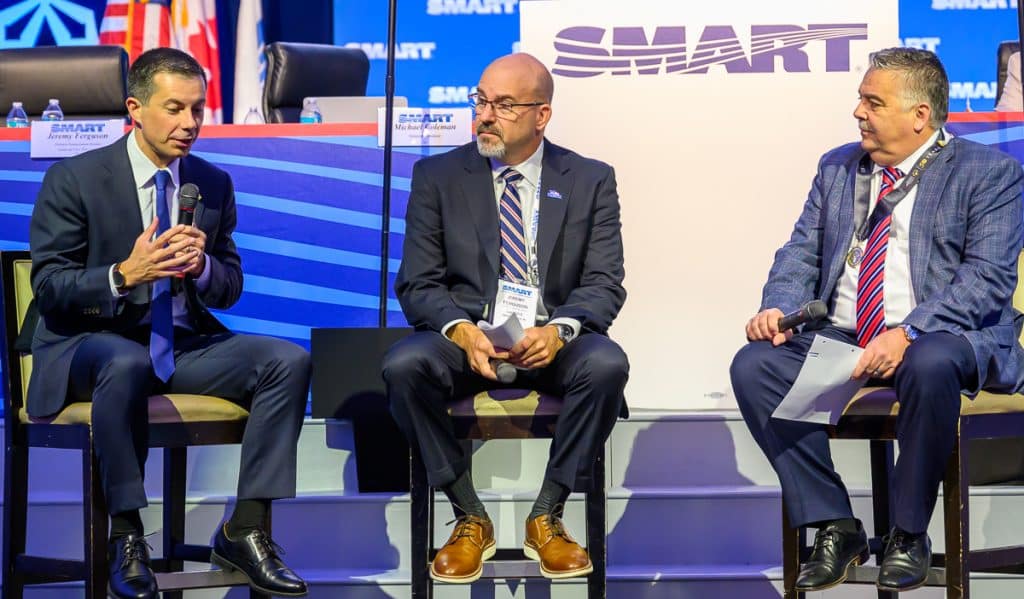 U.S. Secretary of Education Miguel Cardona spoke next, addressing how the Department of Education partnered with SMART on issues like indoor air quality and reopening schools amid the pandemic. He also talked about how the Department of Education is shifting focus away from the idea that a college degree is the only path forward for young people, particularly as federal legislation creates workforce opportunities.
"We have a job tsunami on the horizon. Career opportunities that will support families, strengthen communities and fuel America's competitiveness for decades," he said. "If we don't prepare our young people for these careers, then shame on us! If we don't fundamentally change our high schools to make sure we have pathways to these high-skill, high-paying careers, then we are failing our kids."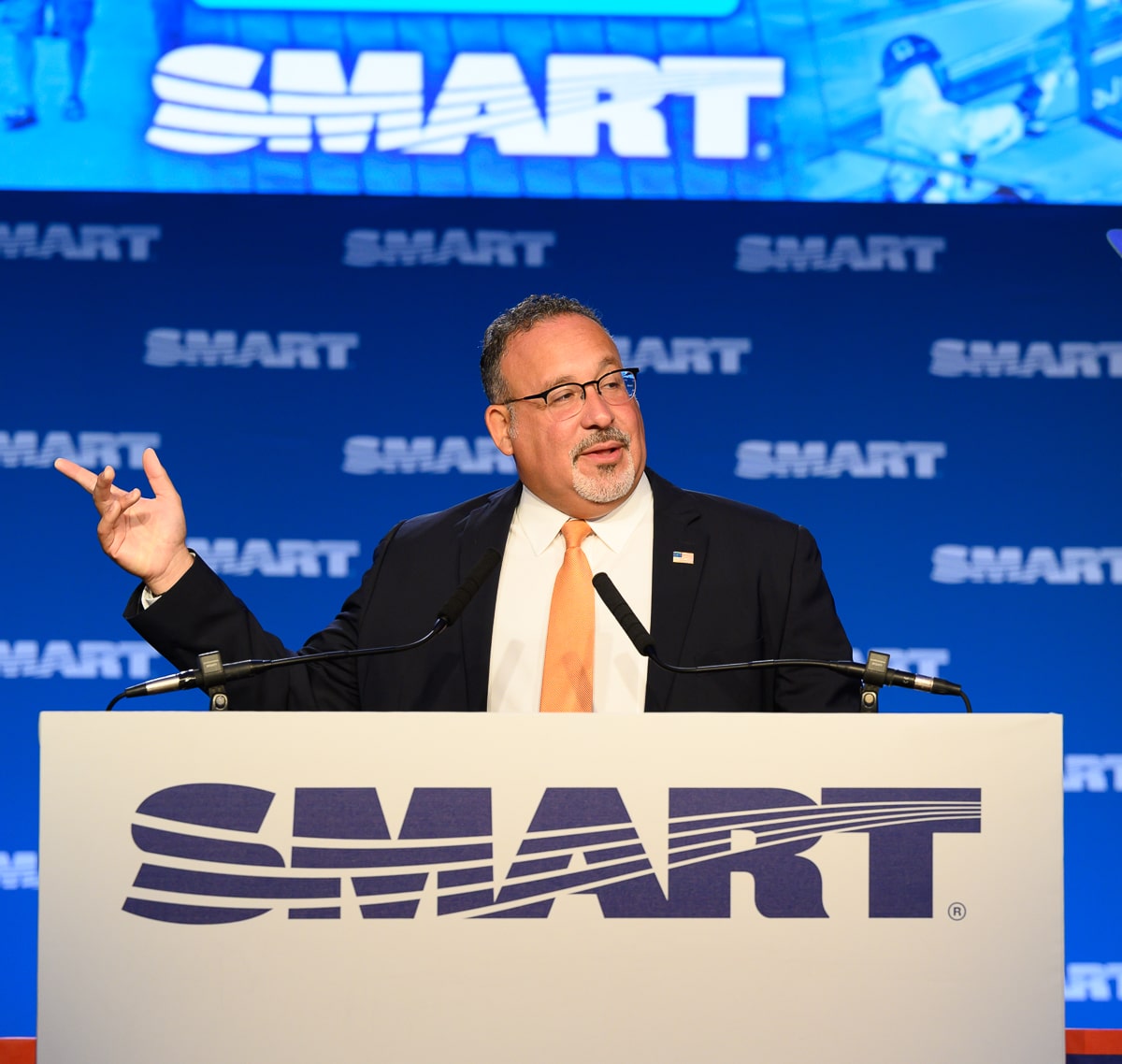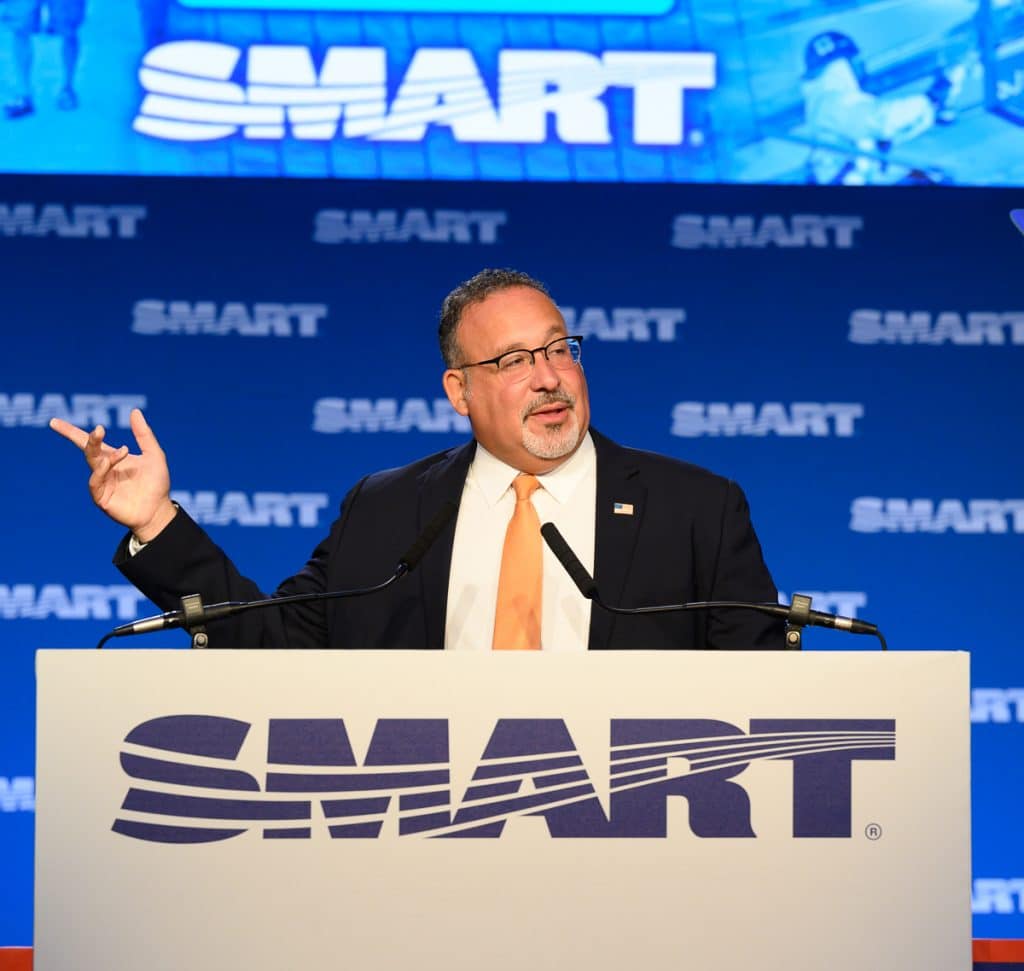 Former U.S. Labor Secretary and National Hockey League Players Association Executive Director Marty Walsh delivered remarks focused largely on one theme: Elections have consequences. There's nothing more important, he said, than ensuring elected officials support union workers and act on our behalf. That's how pro-labor policy is made — and how we create an economy that works for SMART members.
"We stand on the shoulders of the founders of our local unions," Walsh said. "It's our obligation to continue what they started so the next generation has the same opportunity."
The American Rescue Plan, he explained, put working families back on the job and reopened the economy. While the last presidential administration talked about passing an infrastructure bill, this one actually did it with the Bipartisan Infrastructure Law. The CHIPS Act is bringing manufacturing back home. And the Inflation Reduction Act is creating green energy jobs to combat the climate crisis and lower costs for working families. All of that can only happen, Walsh reiterated, when unions work with pro-labor elected officials to make it happen.
Acting Labor Secretary Julie Su followed Walsh. Su stated that she was here, with SMART and in her position at the Department of Labor, to finish the good work that she and Walsh started. That takes several forms. First: by empowering and educating workers in everything the department does, putting workers at the center of the agenda, supporting workers' rights to organize and the collective bargaining process.
"We see workers' ability to demand more at the bargaining table not as a threat, but as a critical tool to advance and build a strong economy," she said.
Su also detailed the department's efforts to embed equity in everything the department does, including the distribution of federal funds, and to combat wage theft, protect pensions and more.
"We need to build the bridge from poverty to prosperity … the bridge that families need to the middle class," she said. "This is our time, this is your time, so let's build together."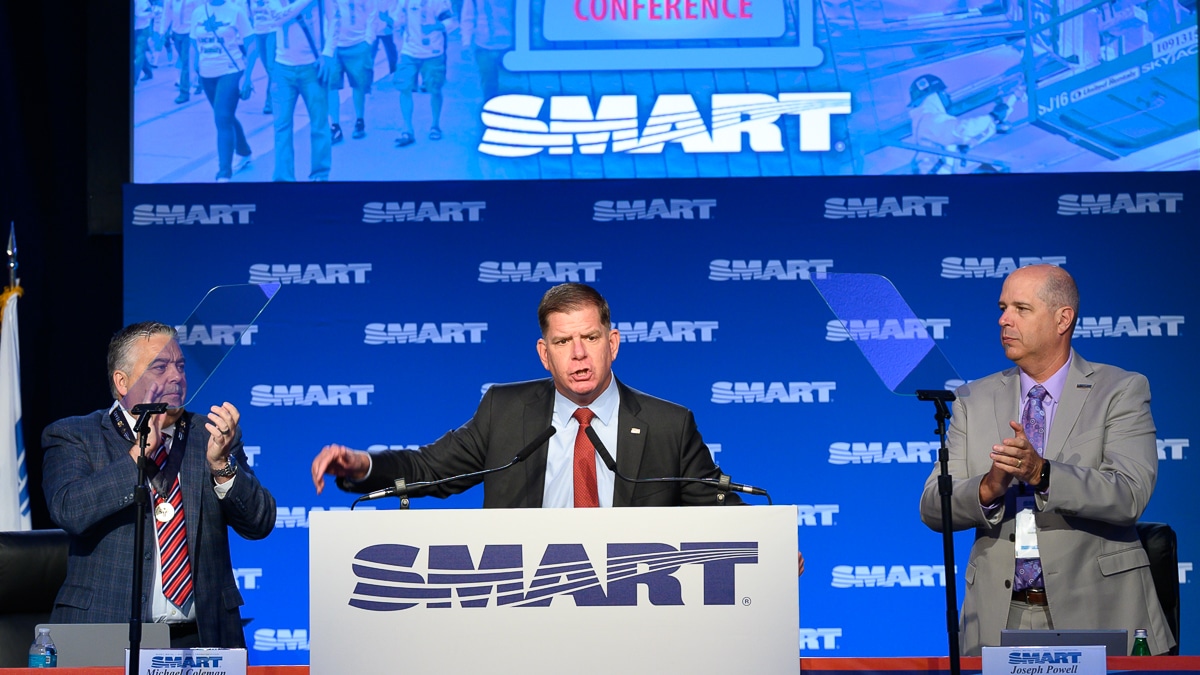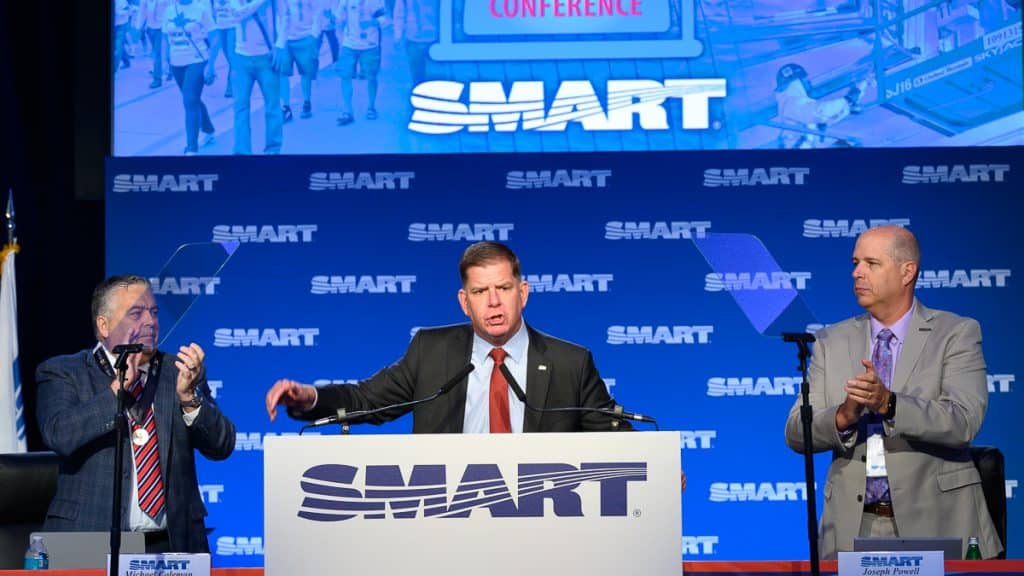 The joint session ended with visits from Deputy Secretary of Commerce Don Graves and White House Climate Advisor Ali Zaidi. Graves updated attendees on the work that the Department of Commerce is doing to help create an economy for and by working people, distributing billions of dollars in federal funding with the goal of American competitiveness. Importantly, the Department of Commerce is calling on companies and contractors to work with unions, requiring companies to submit workforce development plans that allow workers the freedom to organize.
"We believe that SMART members are going to be at the forefront of [future] work," Graves said.
Zaidi discussed the progress that SMART has made putting members to work on good, union jobs that tackle the climate crisis — like those in energy efficiency and public transit. If we only go from a dirty energy economy to a clean energy economy, we will have missed the opportunity, Zaidi said. This has to be a moment where we lift up the middle class and inspire a manufacturing renaissance.
"Folks, we're doing that," he declared, citing the 800,000 manufacturing jobs created by the Biden administration. "You all are the engine that's driving us forward to not just a strong economy, but a clean energy economy."
Sheet metal leaders were next joined by General Services Administration (GSA) Administrator Robin Carnahan, who has led GSA's efforts on initiatives including indoor air quality in federal buildings and project labor agreements on federal projects that cost more than $35 million. GSA is focused on delivering the Biden administration's agenda of investing in America, whether managing the country's largest portfolio of buildings or buying and managing power.
"Thanks to the Inflation Reduction Act, we are investing in sustainable building materials, updating HVAC systems and improving indoor air quality in building systems," she declared. "Through these once-in-a-generation investments, we have the money and momentum to improve America's infrastructure, bolster our economy and support healthier communities. We are going to need a lot of well-trained SMART members on projects all across the country."
Environmental Protection Agency (EPA) Administrator Michael Regan was the final guest speaker to join the sheet metal session. There are tens of millions of dollars flowing to communities to improve indoor air quality across the country, he noted, and billions of dollars to help school districts switch to EV buses — many of which are made by SMART members. And EPA has updated its master grant terms and conditions to make clear that anyone who receives a grant from EPA will not use EPA funds to oppose union organizing. That, Regan said, is due to EPA's holistic focus on working with labor to create our green energy future.
"We need to hear from you, we need to lean on you, and we need to continue to work alongside you," Regan concluded. "Addressing the climate crisis is a massive undertaking, but it's also an opportunity. To protect our environment and to treat workers with dignity."
General President Coleman then thanked the SMART staff, the UNITE HERE Local 25 members who worked the conference, General President Emeritus Joseph Sellers, General Secretary-Treasurer Powell, the General Executive Council and all attendees, bringing the conference to a close.
"We do great work. We change lives. How does it happen that that message gets lost?" Coleman concluded. "Somehow, we still have enemies out there. They've knocked us down in the past, but we now have a level playing field. So I have a message to our enemies: mess around and find out. Because I've got your back, and you've got mine. It's one fight, all fight."