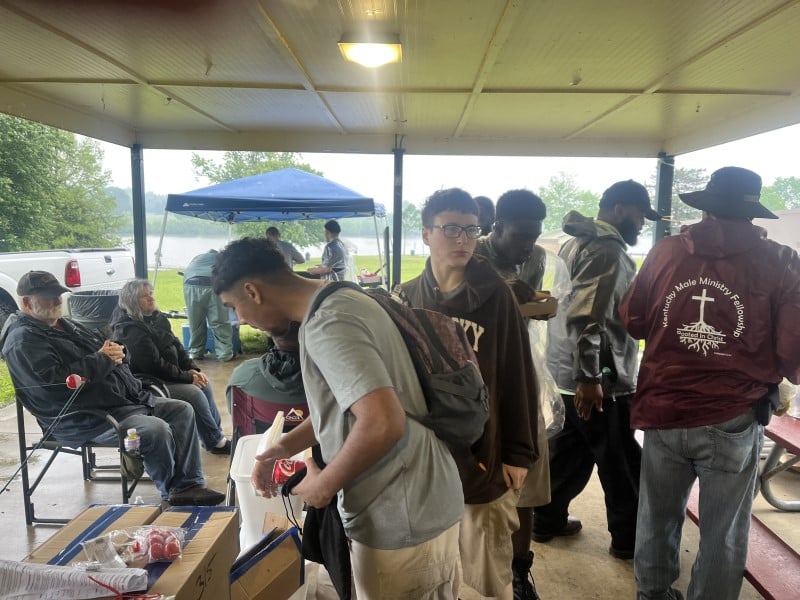 Young people from around Kentucky braved rainstorms to spend several hours honing their fishing skills on Saturday, May 20, during three separate Take Kids Fishing Day events hosted by SMART Local 110 (Louisville, Ky.), the Union Sportsmen's Alliance (USA) and the Kentucky Department of Fish & Wildlife Services.
While the weather may have dampened the venues — Jacobson Park in Lexington, Waverly Park in Louisville and Bob Noble Park in Paducah — it didn't lessen the kids' spirit or excitement, according to event organizer and Local 110 Business Manager Mark Adams.
"Every child received a free rod-and-reel from the USA and got the chance to catch a few fish," he said. "Everyone had a fantastic time, despite the weather."
In all, 75 children participated in the three events, learning how to bait hooks, cast a line and land catfish, bluegills and trout under the mentorship of Local 110 members who volunteered their time to coach the budding anglers. In Lexington, members of the Cadentown Mission Baptist Men's Group joined union volunteers in helping kids catch fish.
From the planning stage through the close of each event, union members donated 110 hours of their time to this community outreach program.
"This is the third year we've held the Take Kids Fishing Day events," Adams noted. "Our local members are sportsmen and women, and they know what they're doing. Our focus is on helping each kid catch fish, especially if it is their first time holding a fishing rod."
Recruiting new people into the sport of fishing, and hopefully igniting an interest in preserving and conserving the country's valuable natural resources, is only part of the goal in hosting events like these for the community, Adams added.
"They also help strengthen the bond between union workers and the people in their neighborhoods," he explained. "They help us show the community what the union is all about, supporting our neighbors while providing secure employment opportunities for our members. I guarantee SMART 110 will be holding this event for a long time to come."
"Too many children seldom get the opportunity to go fishing, or participate in any type of outdoor recreation," said Cody Campbell, USA conservation coordinator. "The Take Kids Fishing Days we and volunteers from union locals in various states host every year offer hundreds of kids that chance, at least for a day. The mentoring that union volunteers provide will hopefully give many of them the confidence to pursue fishing as a fun, life-long pastime."
The SMART Local 110 events were part of a series of free, community-based Take Kids Fishing Day events, organized through the USA's Work Boots on the Ground program with support from USA national partners Provost Umphrey Law Firm, Union Plus and Humana, as well as founding partners UIG, ULLICO, Bank of Labor, AFL-CIO Investment Trust Corporation and Buck Knives.