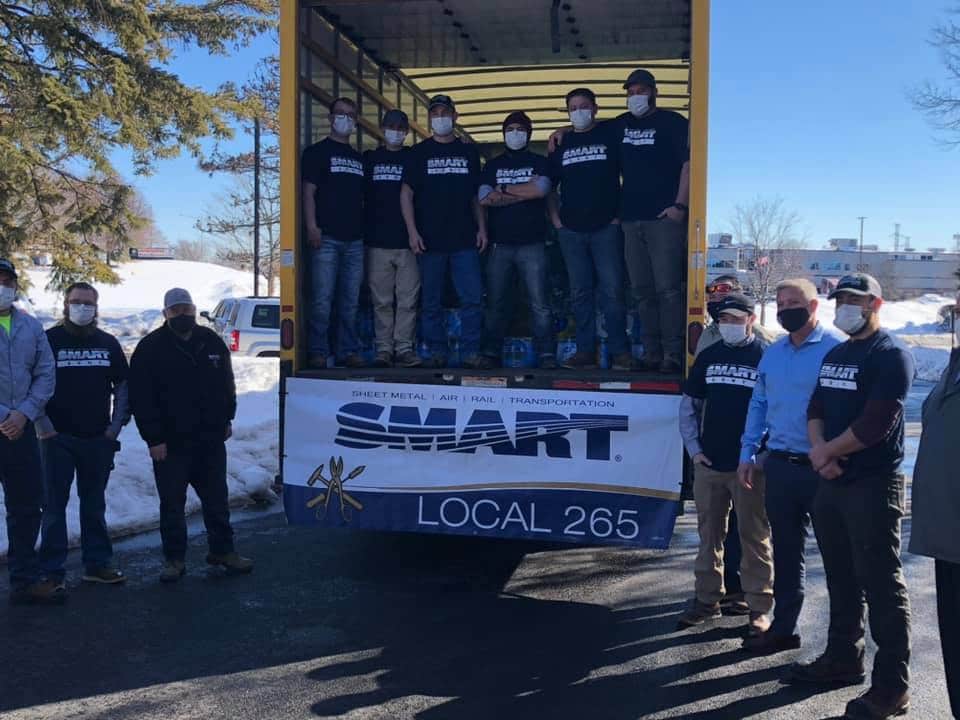 SMART Local 20 Ships $2k in Plumbing Supplies to TX Members
CAROL STREAM, IL – SMART Illinois Locals 73, 219 and 265 have organized a "Texas water drive" to gather donations of bottled water and ship truckloads to families in Texas who lack access to clean water in the wake of the state's recent winter storms and power outages.
As Texas' power grid collapsed during frigid temperatures, causing some households to also lose access to clean water due to interrupted supplies or burst pipes, SMART Local 265 members began asking what they could do to help. They communicated with other members of the union in Texas and were told people needed clean water more than anything else.
"I hope it helps them with a small amount of relief to have the very basic necessity of water," said Tom Syron, a Local 265 journeyperson who lives in Plainfield, Ill. Syron reached out to his local union president to see what they could do to assist and then helped spearhead the relief effort.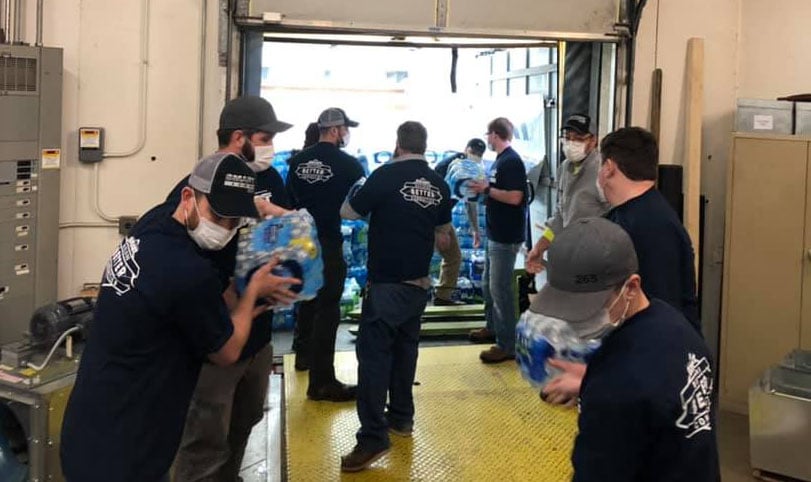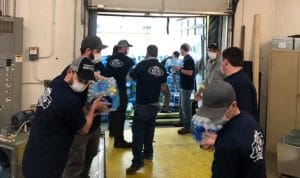 Local 265, which represents members serving the collar counties outside of Lake and Cook in Northeastern Illinois, launched a social media campaign to raise awareness of the specific need for water among its Texas members, as well as the community at large, and began to solicit donations. In less than 48 hours, the union mobilized to secure 16 pallets of water and two 26-foot trucks. Local 73 soon joined the effort, filling a third truck with donated water bottles. The three trucks rolled out from the Chicago suburbs for Texas early Wednesday morning, carrying a total of more than 30,000 bottles.
In Indiana, SMART Local 20 members purchased and donated more than $2,000 in residential plumbing supplies and fittings and shipped it all to SMART locals in Texas. The supplies will be given to members facing significant plumbing repairs after pipes froze and leaked during power outages.
"I could not be prouder of our members, our friends, our families and local employers that have contributed to this effort," said SMART Local 265 President/Business Manager John Daniel. "We stand together when our members or communities need support, whether that's in Illinois, Texas, or elsewhere. Actions like Tom's make it very clear, the members are the union!"
"We stand together when our members or communities need support, whether that's in Illinois, Texas, or elsewhere."

– SMART Local 265 President/
Business Manager John Daniel
Daniel said donations came from hard-working members of the three SMART locals, as well as area employers, including John Hancock (which does recordkeeping for the union's pension plan), The Dobbs Group of Greystone Consulting, Calibre CPA Group, Segal Consulting and Baum Sigman Auerbach & Neuman LTD.
SMART has more than 14,000 members in Illinois and over 7,500 members in Texas. Last Friday, the union contacted its locals across the country and quickly organized a national peer-to-peer text bank in which individual union activists from outside Texas reached out to members in Texas and asked how they were doing, did they need any help, and if so what would be most helpful. The text banking was critical to assessing what was actually happening on the ground, which Texas communities needed the most help, and where the union could set up staging areas for donated supplies as they arrived.