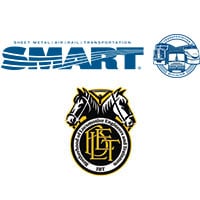 CLEVELAND (Nov. 23, 2021) — The Transportation Division of the International Association of Sheet Metal, Air, Rail, and Transportation Workers (SMART-TD) and the Brotherhood of Locomotive Engineers and Trainmen (BLET) are challenging Amtrak over its actions in implementing its COVID-19 vaccine policy without the bargaining mandated by the Railway Labor Act. The unions filed suit today against the nation's passenger railroad in the United States District Court for the Northern District of Illinois, Eastern Division.
The suit is similar to claims filed by the SMART-TD and BLET against Union Pacific (UP) and Norfolk Southern (NS) and the BNSF Railway (BNSF) regarding their vaccine policies. The unions have taken the position that Amtrak has no authority to unilaterally implement and enforce a COVID vaccination mandate among its employees, and that its actions in failing to negotiate terms of implementation violate the status quo requirement of the Railway Labor Act, thus engendering a major dispute.
SMART-TD President Jeremy Ferguson and BLET National President Dennis Pierce issued the following joint statement regarding their action:
"Amtrak has ordered all employees to submit proof prior to December 8, 2021, that they have received at least one vaccine shot, and submit proof by January 4, 2022, that they have received their final vaccine shot, or they will be subject to termination of employment. Amtrak is directly dealing with its employees instead of negotiating with us over its unilateral mandate.
"We have several objections to Amtrak's unilateral implementation of its policies mandating them and illegally dealing directly with its represented employees. We will continue to fight on behalf of all SMART–TD and BLET members in an effort to stop Amtrak's lawlessness in its tracks."
###
The SMART Transportation Division is comprised of approximately 125,000 active and retired members of the former United Transportation Union, who work in a variety of crafts in the transportation industry.
The Brotherhood of Locomotive Engineers and Trainmen represents nearly 57,000 professional locomotive engineers and trainmen throughout the United States. The BLET is the founding member of the Rail Conference, International Brotherhood of Teamsters.