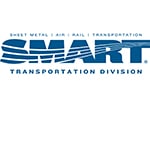 On January 23, 2020, SMART Transportation Division and nearly two dozen General Committees brought suit against the National Mediation Board (NMB) challenging its 2-1 decision which granted a National Railway Labor Conference (NRLC) request to appoint an arbitration board member concerning crew-consist moratoriums in local agreements. The NRLC acts as the representative of the carriers.
The carriers, through the NRLC, took the position that the moratoriums do not bar service of Section 6 bargaining notices regarding crew consist and urged the NMB, through a little-used provision of the Railway Labor Act (RLA) that allows the NMB to appoint a board member to an arbitration panel, to appoint a SMART-TD member to an arbitration board.
The SMART-TD rejected earlier attempts by the carriers to arbitrate the moratorium issue, noting that the language clearly bars any bargaining over crew consist and, moreover, that such matters can only be handled locally. Despite the organization's numerous arguments that such action was clearly improper, the NMB's majority, along party lines, named TD President Jeremy R. Ferguson as the union member of the board.
Through this action, the carriers are trying to force a single arbitration over more than two dozen crew-consist agreements that have been locally negotiated by the various General Committees.
According to the suit, "The NMB has unlawfully and without authority initiated an arbitration process involving the International Association of Sheet Metal, Air, Rail and Transportation Workers -Transportation Division ("SMART-TD") and multiple rail carriers, contrary to the provisions of the RLA."
The NMB majority consisted of Kyle Fortson and Gerald Fauth, Republican appointees of President Donald Trump. Chairwoman Linda Puchala dissented in the decision.
Puchala, in her dissent, said the decision by the two other board members circumvents decades of RLA precedent in how these disputes are handled.