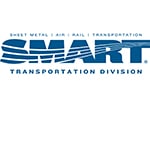 CLEVELAND, Ohio. (March 20, 2020) — SMART Transportation Division filed a request to both the Federal Transit Administration (FTA) and Federal Motor Carrier Safety Administration (FMCSA) urging them to issue Emergency Orders (EO) to address employee safety conditions in response to the national COVID-19 (coronavirus) outbreak.
"The employees we represent are essential to the health, safety, security, and transport of the nation's citizens," wrote SMART-TD President Jeremy R. Ferguson in his filing to the agencies. "Therefore, it is necessary that the carriers take immediate and appropriate precautions to mitigate against the spread of the virus amongst their workforces and passengers, to minimize the exposure of their employees to the virus during the performance of their duties, and to maintain sufficient staffing levels to compensate for reduced headcounts caused by sick employees and family members until the virus begins to subside."
Although President Donald Trump declared a national emergency regarding the COVID-19 viral outbreak on March 13, many transit agencies have been slow to adopt, or in some cases have neglected to adopt, Centers for Disease Control and Prevention (CDC) measures to mitigate the spread of the coronavirus.
SMART-TD's emergency order request includes, among other provisions, that transit agencies under the purview of both FTA and FMCSA adhere to CDC guidelines in the following areas:
• Sanitation of operators' stations
• Sanitation of vehicles
• Sanitation of employee common rooms
• Personal protective equipment (PPE) for employees monitoring fare boxes
• Monitoring of employee temperatures
• Sanitation at lodging facilities for away-from-home employees
Procedures requested by the SMART-TD on the handling of employees and passengers who are symptomatic of the coronavirus reflect CDC guidelines, which include isolation, PPE, transport, and self-quarantine.
Finally, President Ferguson wrote, 25% of furloughed transit personnel should immediately be recalled to service to deal with anticipated shortages and staffing needs, in accordance with President Trump's invocation of the Defense Production Act.
"To standardize and define the best protocols across the industry for the mitigation of the spread of the virus and the protection of employees, these safety precautions need to be immediately ordered by the FTA and FMCSA," President Ferguson stated.
Read the petition to the FMCSA.
Read the petition to the FTA.
###
The SMART Transportation Division is comprised of approximately 125,000 active and retired members of the former United Transportation Union, who work in a variety of different crafts, including as bus and commuter rail operators, in the transportation industry.